Carrier 5kW Allure Plus Series – 53QHG050-1
$3,650.00 Incl GST (-62%)
or 6 weekly interest-free payments from $228.33 with
Cooling Capacity:  5.00 kW
Heating Capacity:  5.35 kW
Calculate shipping price
Please fill in the fields below with the shipping destination details in order to calculate the shipping cost.
Beat the Heat with Allure Plus Series 5.0kW AC 🤩
Inverter Hi-Wall Split System – Allure

Cooling: 5.00 kW
Heating: 5.35 kW
Introducing the Inverter Hi-Wall Split System – Allure. Packed full of features that will bring comfort to your life in the extremes of Summer and Winter.
Follow Me The remote controller has a special sensor built into it, and so it knows your desired temperature, wherever you take it in the air-conditioned room.
In Cooling mode, the Carrier Allure range will still provide cooling at outdoor temperatures of up to 50°C without interruptions. It will provide heating at outdoor temperatures as low as -15°C.
Wi-Fi ready so you can turn it on/off set the temperature and timers for the week and control other features from anywhere a Wi-Fi connection is available.
The anti-corrosive coating on the outdoor units have a special protective coating designed to resist water droplets settling and forming rust and is effective in some seaside locations too.
Active Energy Control Active Energy Control offers three operating power options: 50%, 75%, and 100%. You can choose the power level to suit your energy needs.
This Carrier Fern split system comes with both indoor 2.2KW & outdoor 2KW units and 7 year warranty. With its sleek modern design, it features an Eco-friendly R32 refrigerant and precise air temp control. It is also WiFi operable.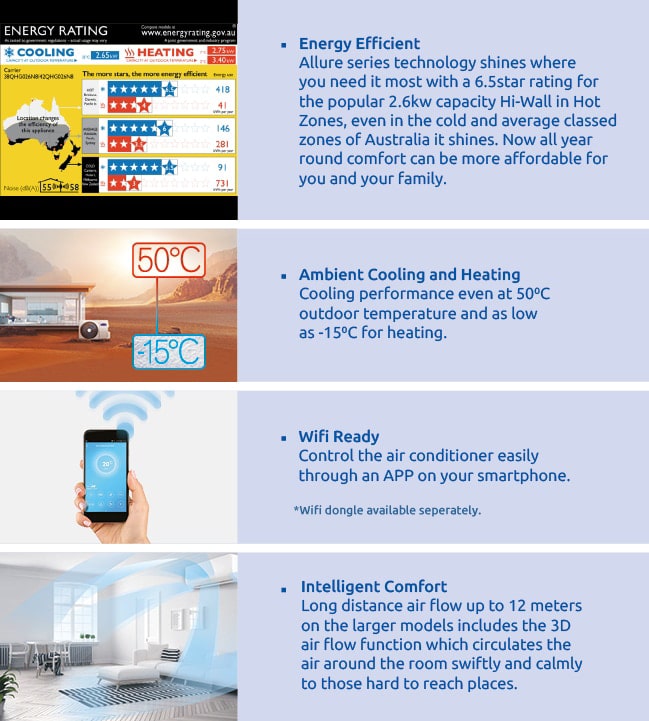 Key features
6.5 Star energy efficiency for the 2.6kW model ( popular for bedrooms, study, guest room)
WiFi Ready
Cools even when the outside temp is 50degrees
Smart Diagnosis
Follow me temperature sensor
Active energy control
Smart cleaning outdoor unit
Controller Features
MODE SET: Cool, Heat, Dry, Auto
MY MODE: Recalls your desired mode
ECO – SLEEP: Economy cycle night time
X-ECO: Energy Efficiency mode
HIGH POWER (TURBO): Activate fast cooling, heating or Self-Clean.
FOLLOW ME: Senses the temperature around the location of the controller
 
Model Number – System
 
53QHG020N8-1
53QHG026N8-1
53QHG035N8-1
53QHG050N8-1
53QHG060N8-1
53QHG070N8-1
53QHG080N8-1
 
– Indoor
 
42QHG020N8-1
42QHG026N8-1
42QHG035N8-1
42QHG050N8-1
42QHG060N8-1
42QHG070N8-1
42QHG080N8-1
–  Outdoor
 
38QHG020N8
38QHG026N8
38QHG035N8
38QHG050N8
38QHG060N8
38QHG070N8-1
38QHG080N8-1
 
Refrigerant Type
 
R32
Refrigerant amout
gm
620
900
1260
1400
Power Supply
Volts- Phase-Hz
220-240V,
1Ph,50Hz
COOLING
Capacity – Rated
kW
2
2.65
3.50
5.00
6.00
7.00
7.75
Capacity – Range (Min / Max)
kW
0.74/3.43
0.98/3.90
1.00/3.79
2.35/5.83
2.76/6.00
3.20/8.00
3.20/8.00
Power Input – Rated
kW
0.43
0.53
0.79
1.36
1.77
2.00
2.30
Power Input – Range
kW
0.16/1.06
0.18/1.05
0.18/1.03
0.48/1.88
0.58/1.88
0.67/2.65
0.67/2.65
Seasonal Efficiency (Hot / Average / Cold)
Star Rating
5.5 / 5 / 5
6.5 / 6 / 6.5
5 / 5 / 5
4 / 4 / 4
4 / 4 / 4
3.5 / 3.5 / 4
3.5 / 3.5 / 3.5
Operating Current
A
2.01
2.50
3.50
6.00
7.90
8.62
10.00
HEATING
Capacity – Rated
kW
2.20
2.75
3.75
5.35
6.20
7.60
8.20
Capacity – Range (Min / Max)
kW
0.86/4.36
1.02/4.21
1.06/4.55
2.41/6.03
2.41/6.40
2.26/8.82
2.26/8.82
Powr Input – Rated
kW
0.46
0.53
0.83
1.46
1.82
2.07
2.30
Powr Input – Range
kW
0.16/1.29
0.16/1.49
0.17/1.45
0.46/2.00
0.46/2.00
0.47/2.91
0.47/2.91
Seasonal Efficiency (Hot / Average / Cold)
Star Rating
3.5 / 3 / 2.5
4 / 3.5 / 3
4 / 3 / 2.5
3 / 2.5 / 2
3 / 2 / 1.5
3 / 2.5 / 2
3 / 2.5 / 2
Operating Current
A
2.12
2.31
3.68
6.52
8.20
9.04
9.98
INDOOR UNIT
Dimension (W×D×H)
mm
729x200x292
802x200x295
971x228x321
1082x234x337
Net Weight
kg
8.0
8.5
11.2
13.5
Cooling Airflow (Hi/Mi/Lo)
l/s
128/94/75
139/100/83
147/106/86
222/167/139
335/235/186
Moisture Removal
L/hr
0.48
0.50
0.87
1.73
2.47
2.24
2.92
Sound Pressure (Hi/Mi/Lo) – 1m
dB(A) (@spl)
38/31.5/30
37/31/29
39/32.5/30
44.5/38/34.5
50/42/26.5
OUTDOOR UNIT
Dimension (W×D×H)
mm
765x303x555
805x330x554
890x342x673
Net Weight
kg
26.5
32.2
37.9
42.4
Inverter Compressor
Rotary
SINGLE
Fan Motor Output
W
34
80
Cooling – (Sound Pressure) (H) at 1m distance
dB(A) (@spl)
55.5
54
55.5
59.5
60.5
Cooling Sound Power (H)
dB(A)
54
58
59
66
65
67
69
Cooling Usable Temperature Range
Celsius
0~50
Heating Usable Temperature Range
Celsius
-15~24
PIPE SIZE
Liquid Line Ø/Gas Line Ø
mm
6.35 / 9.52
6.35 / 12.7
6.35 / 15.9
Coupler Style
 
Flare Joint
Minimum Length
m
3
Maximum Length
m
25
30
50
Pre-Charge Length
m
5
Maximum Height Difference (Above/Below)
m
10
20
25
7 Years manufacturer's warranty included https://www.ahi-carrier.co.nz/about/about-AHI
Installation & Warranty Claims Note:
Installation must be undertaken by a professional licensed Aircon technician or/and Electrician
Additional information
| | |
| --- | --- |
| Weight | 11.2 kg |
| Dimensions | 228 × 971 × 321 mm |
| Cooling Capacity (kWs) | |
| Heating Capacity (kWs) | |
| Series | |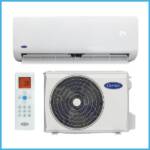 Carrier 5kW Allure Plus Series - 53QHG050-1
Your review
* Review is required
Email
* Email is required
Add photos or video to your review