Toshiba 5.0kW Edge Inverter Hi-Wall System E2KVSG18
$5,000.00 Incl GST (-58%)
or from $599.99 today & 5 weekly interest-free payments of $300.00 with

Seiya, Experience the sound of silence.
Toshiba 5.0kW SHORAI EDGE Inverter Hi-Wall System E2KVSG18
Cooling Capacity:  5.00 kW
Heating Capacity:  5.80 kW
Beautify your interior with a new stylish, contemporary design. With its straight line, matt finish and invisible piping pre-cuts, the new SHORAI Edge fits perfectly with any interior. Straight lines and matte finish. This is Edge, Toshiba's brand new inverter air conditioner with the most stylish and modern design. Its absolutely silent function will not disturb any of your activities: whether you are reading your favorite book, meditating, or simply sleeping, Edge will create the perfect atmosphere for you in silence. The new range offers 7 Models in the line up starting from 2.5-8.0kw of Heating and 2.0-7.1kw of Cooling.
Key Features
Uses R32 Environmentally friendly Refrigerant
Power Supply option to both Indoor or Outdoor
Power Selector Mode 50, 75 or 100%
8⁰C and Fire Place Mode
Quiet Mode
Wi-Fi Ready – Control from anywhere by adding optional Wi-Fi Controller
Invisible pre cut for a clean finish
Ionizer Technology
Magic Coil – Aqua Resin Coated Coil for Healthy Fresh Air
Self Cleaning – after shut down
Ultra Pure Filter for Cleaner & Healthier Air
Hada Air Flow
3D Air Flow – Independent Louvre Control
18- 24K Model
Features
Design and Reliability Innovation, efficiency, high reliability, energy savings – These are powerful values at the heart of everything we do at Toshiba. For over 50 years, Toshiba has been providing its customers with the precision and expertise of Japanese Quality.
Innovative Inverter Technology Toshiba's innovative rotary compressor technology combines exemplary performance with outstanding reliability. Minimising fluctuations to ensure a constant temperature, it increases efficiency while significantly reducing the risk of incidental noise. Toshiba's Inverter allows SHORAI Edge to regulate heating and cooling capacity at all times, by adjusting the compressor speed.
Innovation well being
Ultra Pure Filter PM2.5 purification 94% efficiency • PM2.5 refers to particulate matters coming from atmospheric pollution that have a diameter of less than 2.5 micrometers. • Studies have found a close link between exposure to fine particles and lung disease or worsen chronic disease. • Toshiba Ultra Pure filter captures up to 94% of PM2.5, creating healthy living spaces at home (1).
(1) Nantong deli purification equipment factory Co, Ltd.
Feeling of Freshness Built in Air-Ionizer
In forests, waterfalls, lakes and streams, negative ions make the air fabulously fresh, clean and relaxing. The exceptional atmosphere is emulated in spas and health clubs. Now you can enjoy this magical ambience in your own home through the Air-Ionizer.
Self-Cleaning Reduces Moisture. Reduces mould formation. Fan will turn off after 30 mins of unit shutdown.
HADA Care Flow (cooling mode) Set louver position to generate indirect air flow to user, with better air distribution to homogenize room temperature.
Magic and easy
Magic Coil acrylic resin coated Reduces water, oil formation and prevents dust from sticking to the coil of the unit. Easy Maintenance All components are designed for easy maintenance by service personnel. • Easy to remove drain pan (3 screws) • Easy to remove L/R louvers (2 screws) • Easy to remove FCU Fan
Improved comfort
3D Airflow Improved comfort by distributing powerful and stable air volume in 6 unique airflow patterns. (RAS-18 to RAS-24) 6 Airflow patterns Cooled air flows throughout the room, with highly efficient louver directions.
IR Remote and Smart APP
HADA Care Set louver position to generate indirect air flow to user, with better air distribution to homogenize room temperature. 3D Airflow The unit boasts a 3D smart airflow system, with independent louvers and 6 patterns for greater comfort (only sizes 18. 22 & 24). Silent Operation (outdoor unit) The unique noise reduction function of the outdoor unit minimizes disruption to the neighbourhood. Quiet mode (indoor unit) Press FAN button to adjust speed and reach Quiet Mode to operate at low noise level. Weekly timer Weekly timer allows to set «on and off» times or program settings every 24 hours. Up to 4 different settings/days and 7 different programs in a week. Smart App Customise your comfort, finding the perfect cooling or heating level for your family at any time, no matter where you are. When at home, simply replace your infrared remote control with the intuitive smart app. This also gives you easy access to your air conditioner while you are on the move, allowing you to adapt your comfort to lifestyle! * Optional Extra  
Warranty & Downloads
60 months manufacturer's warranty included
Installation & Warranty Claims Note:
Installation must be undertaken by a professional licensed Aircon technician or/and Electrician.
Additional information
| | |
| --- | --- |
| Weight | 14 kg |
| Dimensions | 320 × 1050 × 245 mm |
| Cooling Capacity (kWs) | |
| Heating Capacity (kWs) | |
| Series | |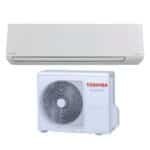 Toshiba 5.0kW Edge Inverter Hi-Wall System E2KVSG18
Your review
* Review is required
Email
* Email is required
Add photos or video to your review