Toshiba 3.5kW Seiya Inverter Hi-Wall System E2KVG13
$4,500.00 Incl GST (-65%)
or from $59.99 today & 5 weekly interest-free payments of $300.00 with
Calculate shipping price
Please fill in the fields below with the shipping destination details in order to calculate the shipping cost.

Seiya, Experience the sound of silence.
Toshiba 3.5kW SEIYA Inverter Hi-Wall System E2KVG13
Cooling Capacity:  3.50 kW
Heating Capacity:  4.00 kW
Brand new Range to our Residential line-up. This model will replace our current outgoing PKVSG Shorai Range. The new range includes 3 new capacities and a first for Toshiba offering a 9kw, 10kw and 11.5kw in the Residential Range. 10 Models in total completes the SEIYA line up starting from 2.5-11.5kw of Heating and 2.0-10.0kw of Cooling
Key Features
Uses R32 Environmentally friendly Refrigerant
Power Supply option to both Indoor or Outdoor
Wi-Fi Ready – Control from anywhere by adding optional Wi-Fi Controller
3-D Air Flow – Independent Louvre Control 22-36k Model
Infra-Red Controller also Wired connectable
8 Degree and Fire Place Mode
Quiet Mode
Magic Coil – Aqua Resin Coated Coil for Heathy Fresh Air
Self Cleaning – after shut down
Power Selection
Features
SILENCE IS GOLDEN
SEIYA is a cost-effective silent solution that uses the new Toshiba Inverter and compressor technology with R32 to offer powerful and efficient heating and cooling performance and year-round comfort.
Everyday Comfort
SEIYA has been designed with maximum comfort in mind. It offers exclusive features and high performance making everyday comfort a reality for all.
Give yourself
a  superior  treatment
SEIYA's a performance/price ratio makes it a unique product on the market. The entire range boasts AEER cooling and ACOP heating performance, which means optimal comfort with extra-low energy consumption.
The sound of silence
Toshiba is constantly innovating to guarantee air conditioning excellence in line with users expectations. To reduce noise and improve comfort, SEIYA 's Silent functions reduce the sound level of the outdoor unit by up to 20%, while its Quiet function reduces noise from the indoor unit to give you a good night's sleep.
TREAT
YOURSELF TO JAPANESE QUALITY
Design and reliability
Innovation, efficiency, high reliability, energy savings, respect for the environment. These powerful values are at the heart of everything we do at Toshiba. For over 50 years, Toshiba has been providing its clients with guaranteed precision and the expertise of flawless Japanese quality.
Toshiba's innovative inverter technology
Toshiba's innovative rotary compressor technology combines exemplary performance with outstanding reliability. Minimising fluctuations to ensure a constant temperature, it increases efficiency while eliminating the risk of incidental noise. Toshiba's Inverter Technology allows the SEIYA to regulate heating and cooling capacity at all times, by adjusting the compressor speed to demand of flawless Japanese quality.
Silent Operation:
The SEIYA unique Silent operation mode allows the user to reduce the outdoor noise level to ensure the neighbourhood will have a tight sleep at night. From a touch of the remote control, this mode will reduce the sound pressure level of the outdoor unit, prioritizing minimum outdoor sound level vs fast cooling and heating capacity demand. Quite mode can be activated by pressing the fan button to reduce the fan speed and the sound level of the indoor unit. Ultra-quiet.
Quiet mode for a quiet life.
Ultra-quiet system: Quiet Mode can be activated by pressing the fan button to reduce the fan speed and the sound level of the indoor unit.
MAKE YOUR HEAT PUMP SMART
Enhance your comfort at home or away Customise your comfort, finding the perfect cooling or heating level for your family at any time, no matter where you are. When at home, simply replace your infrared remote control with the intuitive smart app. This also gives you easy access to your heat pump on the move, allowing you to adapt your comfort to your lifestyle! Want to go home and immediately enjoy an ideal temperature?
Simply use the app to check the status, quickly and easily, adjust your comfort, no matter where you are!
Holiday frost protection mode
Fireplace mode Boost mode
Silent CDU to reduce the outdoor unit noise level
Wi-Fi Read
Take complete control of your comfort with the Toshiba Home AC Control App. Simple to use on your smartphone or tablet, both at home and on the move.
BETTER AIR SOLUTIONS FOR A BETTER WORLD
At Toshiba, we've always made sure our projects and objectives are designed with a better future in mind. Now, more than ever, attitudes are changing as technology continues to revolutionise our world. We don't simply follow or adapt to them; we predict them.
That's why the new generation of Toshiba heat pumps uses R32 refrigerants with low global warming potential.
MAGIC COIL ®
AQUA RESIN COATED
Healthy
fresh  air  for  longer
SEIYA is equipped with an aqua resin coated coil, which helps to prevent water and dust from sticking to the coil. When the air conditioning is switched off to drain the contaminated coil, the fan continues to operate to keep the coil clean and dry and to help to maintain the heat pump's high energy efficiency.
Coil WITHOUT Aqua Resin Coating
Coil WITH Aqua Resin Coating
WIRELESS SOLUTION FOR WELL-BEING ON DEMAND
Designed to maximize your comfort, Toshiba offers remote functions that make everyday life simpler.
3D Airflow
Improved comforts by distributing powerful and stable air vol. in 6 unique airflow patterns*
*only for 22-36 models
ON / OFF
8°C Heating Indoor temperature kept at 8°C, but temperature can set between 5 and 13°C.
Weekly Timer
Toshiba remote control provides a very convenient automatic
on and off operation, programmable up to 4 different settings/day and 7 different
programs in a week.
Temperature Control
5-Selectable Fan Speed plus Auto
Fire Place
Ensures the unit operates in fan mode to help move the heat generated by the fire place.
Silent Operation
Toshiba's unique noise reduction function of outdoor unit for your neighbourhood comfort.
Power Selector
Select between 50/75/100% for maximum power savings.
ECO
Achieve energy savings of up to 25% compared with standard settings with no compromise on comfort.*
Wire Connectable Controller
The infrared controller can also be hard-wired.
Warranty & Downloads
60 months manufacturer's warranty included
Installation & Warranty Claims Note:
Installation must be undertaken by a professional licensed Aircon technician or/and Electrician.
Additional information
| | |
| --- | --- |
| Weight | 10 kg |
| Dimensions | 293 × 798 × 230 mm |
| Cooling Capacity (kWs) | |
| Heating Capacity (kWs) | |
| Series | |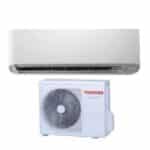 Toshiba 3.5kW Seiya Inverter Hi-Wall System E2KVG13
Your review
* Review is required
Email
* Email is required
Add photos or video to your review