Mitsubishi Heavy Industries 9.5kW Bronte SRK95ZRA-W Reverse Cycle Split System Air Conditioner
$6,500.00 Incl GST (-22%)
or from $3,549.99 today & 5 weekly interest-free payments of $300.00 with
Cooling Capacity:  9.50 kW
Heating Capacity:  10.30 kW

Mitsubishi Heavy Industries 9.5kW Bronte SRK95ZRA-W Reverse Cycle Split System Air Conditioner
Cooling Capacity:  9.50 kW
Heating Capacity:  10.30 kW
The Bronte® split system heat pump is our larger capacity series and the ideal solution for heating and cooling of larger spaces within your home.
Incorporating the same advanced fan blade technology used in the development of jet engines, the Bronte® heat pump features a market leading long reach airflow allowing it to efficiently deliver a powerful yet quiet and evenly distributed airflow.
Effortless Cooling and Heating with Bronte 9.5kW🤩
Keep your home cool and comfortable with the Mitsubishi Heavy Industries 9 5kW Bronte air conditioner Experience unbeatable cooling power and beat the heat
Mitsubishi Heavy Industries 9.5kW Bronte
Section 1: Stay Comfortable All Year Round with the Mitsubishi Heavy Industries 9.5kW Bronte Air Conditioner
The Mitsubishi Heavy Industries 9.5kW Bronte Air Conditioner is the perfect solution to keep your home or office comfortable no matter the season. This powerful air conditioning unit has a heating and cooling capacity of up to 9.5kW, making it ideal for large rooms or open-plan spaces. With its advanced technology, the Mitsubishi Heavy Industries 9.5kW Bronte Air Conditioner provides consistent, even temperature control, so you can stay comfortable all year round.
Section 2: Save Money and Energy with the Mitsubishi Heavy Industries 9.5kW Bronte Air Conditioner
The Mitsubishi Heavy Industries 9.5kW Bronte Air Conditioner is not only powerful, but also energy-efficient. It features advanced inverter technology that adjusts the compressor speed according to the temperature, so it uses only the energy it needs. This means you can enjoy a comfortable indoor climate without worrying about high electricity bills. Plus, the Mitsubishi Heavy Industries 9.5kW Bronte Air Conditioner is designed to operate quietly, so you won't be disturbed by any loud noises.
Section 3: Clean and Fresh Air with the Mitsubishi Heavy Industries 9.5kW Bronte Air Conditioner
The Mitsubishi Heavy Industries 9.5kW Bronte Air Conditioner features a built-in air purification system that removes impurities such as dust, pollen, and bacteria, ensuring that the air you breathe is clean and fresh. The air purification system also helps to reduce odors, so your home or office will always smell fresh and pleasant. With the Mitsubishi Heavy Industries 9.5kW Bronte Air Conditioner, you can enjoy a healthier and more comfortable indoor environment.
Possible
Stay Comfortable All Year Round
Energy-Efficient Climate Control
Clean and Fresh Air with Mitsubishi
Broad match keywords:
Mitsubishi Heavy Industries air conditioner
9.5kW Bronte air conditioner
energy-efficient air conditioner
indoor climate control
air purification system
Hot
Cooling
3 stars
Heating
3 stars
Average
Cooling
3 stars
Heating
2 stars
Cold
Cooling
3 stars
Heating
2 stars
| | |
| --- | --- |
| Indoor | 339x1197x262mm |
| Outdoor | 845×970(+89)x370mm |
Recommended by Consumer in 2021
Advanced jet air technology delivering long-reach airflow
Allergen clear system to capture allergens such as hair, pollen and dust and neutralise bacteria, mould and viruses
Wide range of convenient timer functions
Energy-efficient R32 refrigerant
Features
ENERGY SAVING
FUZZY AUTO MODE
Using fuzzy logic algorithms, the unit determines the operating mode and temperature settings automatically and adjusts the inverter frequency.
ECO MODE
Unit operates at slightly reduced capacity to reduce power consumption while maintaining a comfortable room temperature.
AIR FLOW
JET AIR TECHNOLOGY
Advanced fan blade technology, used in the development of jet engines, efficiently delivers powerful yet quiet and evenly distributed airflow.
3D AUTO AIRFLOW
One touch program that operates three independent motors which effectively distributes an even airflow across the entire room.
AUTO LOUVRE MODE
Depending on whether the unit is in heating or cooling mode this will automatically set the louvre at the optimum angle for even air distribution.
MEMORY LOUVRE
Set the louvre at the desired angle. Unit will automatically return the louvres to this position on every subsequent start up.
UP/DOWN LOUVRE SWING
The horizontal louvres will automatically swing up and down for even air distribution.
RIGHT/LEFT LOUVRE SWING
The vertical louvres will automatically swing left and right for even air distribution.
CLEAN AIR
ALLERGEN CLEAR OPERATION
Multi-stage operation that activates enzymes in the specially designed filter, neutralising and suppressing airborne allergens such as pollen, dust and hair.
SELF-CLEAN OPERATION
Dries the indoor unit and filter, preventing the growth of mould. Designed to be run regularly after use.
PHOTOCATALYTIC DEODORIZING FILTER
Easy to clean filter that catches airborne allergens and particles before neutralising odour causing bacteria within them.
REMOVABLE COVER
Removable front cover allowing access for easy cleaning and maintenance.
COMFORT & CONVENIENCE
DRY OPERATION
Reduces humidity by removing moisture from the air without effecting indoor temperature.
HI POWER OPERATION
Provides 15mins of boosted power to quickly heat or cool your home before returning to normal operation. Perfect for when you first turn on it the unit. Note: For FDE, FDT, FDTC, FDUA, and FDUM series can only be enabled using the RC-EX3 wired controller.
SILENT OPERATION
Set periods of time where the unit will operate with reduced noise levels, perfect for night time and an uninterrupted sleep.
NIGHT SETBACK
Designed for the colder seasons, this function ensures the room temperature is kept at around 10˚C, even while unoccupied.
WEEKLY TIMER
Set your unit to turn on and off at specific times for each day of the week to suit your needs.
SLEEP TIMER
Set a pre-determined amount of time between 30 and 240 mins that your unit will operate for before switching off.
ON/OFF TIMER
Set your unit to turn on and off once, at specific times, within a 24 hour period. Unit will then turn on and off at the specified times every day.
COMFORT START-UP
When using the ON-TIMER function, the unit will switch on slightly earlier than the SET time, to ensure the optimum temperature is reached at the ON TIME.
PRESET OPERATION
The desired preset operation mode can be enabled with a single touch of a button.
CHILD LOCK
Lock the remote control to prevent little ones from changing functions and other settings. Useful for families with curious young children.
POSITIONING OF INSTALLATION
Manually set the horizontal airflow direction to ensure even air distribution in situations where the indoor unit is installed in close proximity to a wall.
MAINTENANCE
MICROCOMPUTER-OPERATED DEFROSTING
Automatically activated during low ambient temperatures to prevent the frosting of the outdoor heat exchanger.
SELF-DIAGNOSTICS
In the unlikely event of a fault the internal microcomputer automatically runs a diagnostic of the system. This enables a service agent to quickly isolate and repair any issues.
AUTO RESTART FUNCTION
If there is a temporary loss of power, when power is restored, the unit will automatically restart in the same operating mode it was in.
Control Options
WIRELESS REMOTE CONTROL
Use the Mode button to select  from Cool, Heat, Dry, or Fan Only operation or let the unit do it automatically when you select Auto option.
Activate Hi Power mode to achieve the desired room temperature faster.
Activate Allergen Clear function with a simple click of a button. Run for approximately 90 minutes, this program is designed to eliminate the allergens commonly found in the room air and effectively lock them away from your airflow.
For maximum comfort, easily adjust Airflow Direction in your room by simply pressing  L/R (for horizontal swing) and U/D (for vertical swing) buttons.
By combining a start timer with a stop timer, you can register up to 4 timer operations a day (max 28 per week). Once set, the Weekly Timer will faithfully start or stop the system at a specified time of the day repeatedly.
Select 3D Auto button to activate the three independent air flow controls allowing for an even airflow to be delivered across the entire room.
Use Child Lock function to disable the controller and prevent inadvertent changes to the control settings from the youngest members of the family.
Enable Night Setback to maintain your room temperature during cold conditions, even when the room is unattended.
For more information on the functions available and how to access them on your remote control, please refer to your unit's user manual.
IS-IR-WI-FI-1
Control your system using your smart device (iPhone, iPad) or internet browser via to easy to use IntesisHome app.
Control the set temperature, operation mode and fan speed.
Control your system via your Google or Amazon smart speaker device.
Control your system using Voice Command.
Set up 'favourite' scenes and activate them with a single tap.
Set your system to respond to the weather, you arriving home, calendar events + more**.
Receive instant notifications and email updates and create usage logs**.
*Wi-Fi control requires MH-AC-WIFI-1 Wi-Fi adaptor (sold separately)
**In conjunction with IFTTT and other apps (must be downloaded separately).
***Some additional functions may not be available via IntesisHome app.
Warranty & Downloads
Warranty: 60 months manufacturer's warranty included
Installation & Warranty Claims Note: Installation must be undertaken by a professional licensed Aircon technician or/and Electrician.
Additional information
| | |
| --- | --- |
| Weight | 16.5 kg |
| Dimensions | 262 × 1197 × 339 mm |
| Cooling Capacity (kWs) | |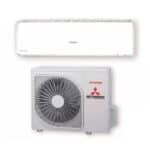 Mitsubishi Heavy Industries 9.5kW Bronte SRK95ZRA-W Reverse Cycle Split System Air Conditioner
Your review
* Review is required
Email
* Email is required
Add photos or video to your review