Raspberry Pi Embedded Pi – A Triple – play platform for Raspberry Pi, Arduino and 32-bit embeddedARM
Email when stock available
Features:
Embedded Pi is a triple-play platform for Raspberry Pi, Arduino™ and 32-bit embedded ARM. Blending all three communities together, Embedded Pi helps you to get the most out of each platform. The Embedded Pi is based on the STMicroelectronics STM32F103 MCU and form factor compatible with Arduino™ shields, it can operate as a bridge between Raspberry Pi and Arduino™ shields and in standalone mode as a Cortex-M3 evaluation board.
Depending on the jumper placement on the Embedded Pi, you can select each of the three modes of operation
STM32/Standalone Mode
The Embedded Pi works as a base platform, the STM32 controls the Arduino™ shields directly without the use of Raspberry Pi. It can interface with outside world and can control surroundings by sending & receiving input/output using wide variety of sensors; like controlling lights, motors, and other actuators.
A quick & easy embedded project can be built in C using CooCox development tools, a FREE and easy-to-use ARM development tool environment for Cortex-M MCU with flash programming & debugging capability (CoIDE, CoFlash, CoLinkEx etc), along with the integrated abundant reusable code shared by CooCox team and CoFans.
ST-Adapter Mode
The Embedded Pi STM32 controls the Arduino™ shields, and the Raspberry Pi works as the GUI or command line console to send commands/data to and receive data from Embedded Pi. This is an advanced mode which extends and strengthens the automation control capability of the Raspberry Pi, taking the advantage of STM32F103 NVIC (Nested Vectored Interrupt Controller), GPIOs, and more peripherals like ADC and PWM.
Raspberry Pi Mode
The Embedded Pi works as a hardware connection bridge between Raspberry Pi and Arduino™ shields, allowing the Raspberry Pi to interface directly with existing Arduino™ shields, having a number of sensors & control to interact with external environment. It offers all the possibilities of connecting digital and analog sensors using the Arduino™ shield but with the power and capabilities of Raspberry Pi.
The Embedded Pi, Raspberry Pi & Arduino™ shields together offers reasonably powerful embedded development platform with more processing power, greater I/O and fascinating display quality.
Features
– Provides Raspberry Pi with easy access to abundant Arduino shields
– Brings 32bit ARM MCU into the world of Arduino
– Raspberry Pi and STM32 can work with each other to control the Arduino shields or other accessories
– 128KB of flash memory and 20KB of SRAM
– Form factor compatible with Arduino shields
– Enhances the control capability of Raspberry Pi
– A complete set of FREE CooCox ARM development tool platform for ARM development
Applications
– Embedded Design & Development
– Sensing & Instrumentation
– Motor Drive & Control
– Hobby & Hardware Hacking
– Communications & Networking
Contents
Embedded Pi board, USB 2.0 cable, Two flat cables, Four rubber columns, Technical documents.
Footnotes
Compatible with Raspberry Pi Model A/B
Specifications:
Manufacturer Part No:
2301086
Brand:
Raspberry Pi
Product Type:
–
UPC
–
Product Family:
–
Shipping Weight:
0.246 kg
PB Part No:
SEVRBP0030
Product Model:
–
Warranty:
12 months *
* Warranty period is as stated above unless the manufacturer has chosen to specify a longer period.
All warranties are return to base unless otherwise specified.
Why is there a reasonable price displayed?
Discover the reason behind our incredibly reasonable prices! At our company, we prioritize your satisfaction and work tirelessly to offer you access to top-notch brands without breaking the bank. Our commitment to minimizing profit margins enables us to deliver affordability without compromising on quality. Shop with confidence and explore a wide range of reputable products at budget-friendly rates. Your satisfaction is our priority!
Raspberry Pi Embedded Pi - A Triple - play platform for Raspberry Pi, Arduino and 32-bit embeddedARM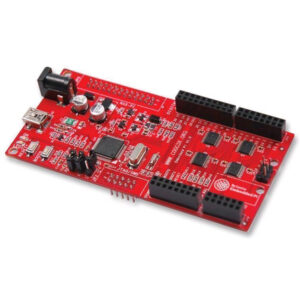 Embedded Pi is a triple-play platform for Raspberry Pi, Arduino™ and 32-bit embedded ARM. Blending all three communities together, Embedded Pi helps you to get the most out of each platform. The Embedded Pi is based on the STMicroelectronics STM32F103 MCU and form factor compatible with Arduino™ shields, it can operate as a bridge between Raspberry Pi and Arduino™ shields and in standalone mode as a Cortex-M3 evaluation board. Depending on the jumper placement on the Embedded Pi, you can select each of the three modes of operation STM32/Standalone Mode The Embedded Pi works as a base platform, the STM32 controls the Arduino™ shields directly without the use of Raspberry Pi. It can interface with outside world and can control surroundings by sending & receiving input/output using wide variety of sensors; like controlling lights, motors, and other actuators. A quick & easy embedded project can be built in C using CooCox development tools, a FREE and easy-to-use ARM development tool environment for Cortex-M MCU with flash programming & debugging capability (CoIDE, CoFlash, CoLinkEx etc), along with the integrated abundant reusable code shared by CooCox team and CoFans. ST-Adapter Mode The Embedded Pi STM32 controls the Arduino™ shields, and the Raspberry Pi works as the GUI or command line console to send commands/data to and receive data from Embedded Pi. This is an advanced mode which extends and strengthens the automation control capability of the Raspberry Pi, taking the advantage of STM32F103 NVIC (Nested Vectored Interrupt Controller), GPIOs, and more peripherals like ADC and PWM. Raspberry Pi Mode The Embedded Pi works as a hardware connection bridge between Raspberry Pi and Arduino™ shields, allowing the Raspberry Pi to interface directly with existing Arduino™ shields, having a number of sensors & control to interact with external environment. It offers all the possibilities of connecting digital and analog sensors using the Arduino™ shield but with the power and capabilities of Raspberry Pi. The Embedded Pi, Raspberry Pi & Arduino™ shields together offers reasonably powerful embedded development platform with more processing power, greater I/O and fascinating display quality. Features - Provides Raspberry Pi with easy access to abundant Arduino shields - Brings 32bit ARM MCU into the world of Arduino - Raspberry Pi and STM32 can work with each other to control the Arduino shields or other accessories - 128KB of flash memory and 20KB of SRAM - Form factor compatible with Arduino shields - Enhances the control capability of Raspberry Pi - A complete set of FREE CooCox ARM development tool platform for ARM development Applications - Embedded Design & Development - Sensing & Instrumentation - Motor Drive & Control - Hobby & Hardware Hacking - Communications & Networking Contents Embedded Pi board, USB 2.0 cable, Two flat cables, Four rubber columns, Technical documents. Footnotes Compatible with Raspberry Pi Model A/B
Product SKU: 2301086
Product Brand: Raspberry Pi
Product Currency: NZD
Price Valid Until: 1970-01-01
Product In-Stock: SoldOut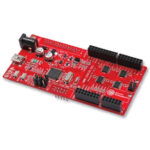 Raspberry Pi Embedded Pi - A Triple - play platform for Raspberry Pi, Arduino and 32-bit embeddedARM
Your review
* Review is required
Email
* Email is required
Add photos or video to your review