Raspberry Pi e-Paper 6 inch Display & HAT for Raspberry Pi/PC/Nucleo, 800×600 Supports USB/SPI/I80/I2C Ports
Out Of Stock
Roll over image to zoom in
Click to open expanded view
Email when stock available
Features:
Resource:
Demo Program Download
6inch e-Paper User Manual
Demo Code:
Demo code for Raspberry Pi
Demo code for STM32 (Open429I)
NOTE: 6inch e-Paper is big size screen, the glass panel and FPC is fragile, please be careful when use it for developing. we recommend you to reinforce the FPC with scotch tape when developing.
This is an E-Ink display HAT for Raspberry Pi, 6inch, 800×600 resolution, with embedded controller IT8951, communicating via USB/SPI/I80/I2C interface, supports partial refresh.
Due to the advantages like ultra low power consumption, wide viewing angle, clear display without electricity, it is an ideal choice for applications such as shelf label, industrial instrument, and so on.
Features:
– No backlight, keeps displaying last content for a long time even when power down
– Low power consumption, basically power is only required for refreshing
– Standard Raspberry Pi 40PIN GPIO extension header, supports Raspberry Pi series boards
– USB/SPI/I80/I2C interface, for connecting with host boards like Raspberry Pi/Nucleo, etc.
– Comes with development resources and manual (examples for Raspberry Pi/STM32)
How to connect cables:
SPI Pinouts
SYMBOL
DESCRIPTION
5V
Power input
GND
Ground
MISO
SPI MISO pin
MOSI
SPI MOSI pin
SCK
SPI SCK pin
CS
SPI chip selection, low active
RST
External reset, low active
HRDY
Busy status output, low active
Specifications:
Operating voltage
5V
Interface
USB/SPI/I80/I2C
Outline dimension
138.4mm × 101.8mm × 0.954mm
Display size
122.4mm × 90.6mm
Dot pitch
0.153mm × 0.151mm
Resolution
800 × 600
Display color
black, white
Gray scale
2-16 (1-4 bit)
Full refresh time
<1s Total refresh power 0.6W(typ.) Total standby power 0.3W(typ.) Viewing angle >170°
Manufacturer Part No:
SEVRBP0259
Brand:
Raspberry Pi
Product Type:
6 inch
UPC
–
Product Family:
e-Paper
Shipping Weight:
1 kg
PB Part No:
SEVRBP0259
Product Model:
–
Warranty:
12 months *
* Warranty period is as stated above unless the manufacturer has chosen to specify a longer period.
All warranties are return to base unless otherwise specified.
Why is there a reasonable price displayed?
Discover the reason behind our incredibly reasonable prices! At our company, we prioritize your satisfaction and work tirelessly to offer you access to top-notch brands without breaking the bank. Our commitment to minimizing profit margins enables us to deliver affordability without compromising on quality. Shop with confidence and explore a wide range of reputable products at budget-friendly rates. Your satisfaction is our priority!
Raspberry Pi e-Paper 6 inch Display & HAT for Raspberry Pi/PC/Nucleo, 800x600 Supports USB/SPI/I80/I2C Ports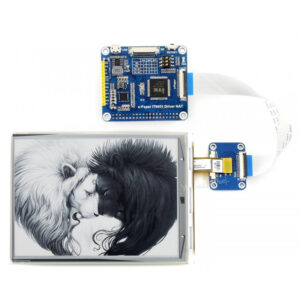 Resource: Demo Program Download 6inch e-Paper User Manual Demo Code: Demo code for Raspberry Pi Demo code for STM32 (Open429I) NOTE: 6inch e-Paper is big size screen, the glass panel and FPC is fragile, please be careful when use it for developing. we recommend you to reinforce the FPC with scotch tape when developing. This is an E-Ink display HAT for Raspberry Pi, 6inch, 800x600 resolution, with embedded controller IT8951, communicating via USB/SPI/I80/I2C interface, supports partial refresh. Due to the advantages like ultra low power consumption, wide viewing angle, clear display without electricity, it is an ideal choice for applications such as shelf label, industrial instrument, and so on. Features: - No backlight, keeps displaying last content for a long time even when power down - Low power consumption, basically power is only required for refreshing - Standard Raspberry Pi 40PIN GPIO extension header, supports Raspberry Pi series boards - USB/SPI/I80/I2C interface, for connecting with host boards like Raspberry Pi/Nucleo, etc. - Comes with development resources and manual (examples for Raspberry Pi/STM32) How to connect cables: SPI Pinouts SYMBOL DESCRIPTION 5V Power input GND Ground MISO SPI MISO pin MOSI SPI MOSI pin SCK SPI SCK pin CS SPI chip selection, low active RST External reset, low active HRDY Busy status output, low active
Product SKU: SEVRBP0259
Product Brand: Raspberry Pi
Product Currency: NZD
Price Valid Until: 1970-01-01
Product In-Stock: SoldOut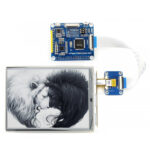 Raspberry Pi e-Paper 6 inch Display & HAT for Raspberry Pi/PC/Nucleo, 800x600 Supports USB/SPI/I80/I2C Ports
Your review
* Review is required
Email
* Email is required
Add photos or video to your review