Poly Voyager Free 60+ USB-C True Wireless Noise Cancelling In-Ear UC Earset – Carbon Black
Roll over image to zoom in
Click to open expanded view
$661.00
or 6 weekly interest-free payments from $110.16 with
Calculate shipping price
Please fill in the fields below with the shipping destination details in order to calculate the shipping cost.
Features:
Say Hello To Your New Work Buds
MEETING TIME. FOCUS TIME. ME TIME.
Voyager Free 60 Series is a hybrid work solution to meet every moment. With ANC and a three-mic array to isolate your voice, you're confident both sides of the call are crystal clear. Your IT department will also approve because they are certified to work with the latest meeting platforms including Microsoft Teams and Zoom, and they can be centrally managed from anywhere in the world.
Lift Your Voice. Lose The Noise.
ADVANCED MIC DESIGN AND AUDIO PROCESSING TECHNOLOGIES
Mic check, one, two, three. With a three-mic array in each earbud triangulating on your voice and minimizing the surrounding noise, you're loud and clear wherever you take your calls. And with WindSmart technology, you can breeze through conversations as you move through your day without interruption.
Tune In. Tune Out.
SUPERIOR NOISE CANCELING FOR UNINTERRUPTED LISTENING
Whether it's a crowded cafe or bustling commute, forget the commotion around you. The adaptive hybrid ANC automatically adjusts to your wearing style and cancels out just the right amount of noise for a quiet and comfortable experience. And with two-setting transparency mode, you can tune back into your natural surroundings without taking out your buds.
Hits All The Right Notes
IMMERSIVE STEREO SOUND
Go from work to playlists without missing a beat. The hi-fi sound and 10mm speaker drivers transform your buds into a portable stereo. So you can stream your music, shows, podcasts, and games when you need a break.
Won't Wear Out Its Welcome
COMFORT, COMFORT, COMFORT
Seamlessly switch from your 9-5 to your 5-9-and back again-without missing a beat thanks to the comfort-centric design of the Voyager Free 60 earbuds. Discreet and lightweight these 5.8 g wireless earbuds come with three conical-shaped earbud tip sizes engineered to minimize pressure in the ear while also providing ideal audio isolation. The advanced sidetone technology keeps you aware of how loud you are speaking so you aren't straining your voice.
Engineered For Enterprise Use
IT APPROVED!
Built for hybrid work means just that. The Voyager Free 60 UC Series comes with Poly Lens Desktop, iPhone and Android apps so users and IT can customize the experience. And because they were optimized for use with communications platforms and have certifications from the leading virtual meeting providers, they will deliver the highest standard of audio quality on their platforms. Using the Lens Cloud management software, IT can also proactively provision and manage their entire deployment of Poly headsets and gain insights and analytics on the health of the entire estate.
For more information:
https://www.poly.com/us/en/products/headsets/voyager/voyager-free-60
Specifications:
CONNECTS TO
Voyager Free 60+ UC: PC via included BT700 Bluetooth® adapter; smartphone via Bluetooth®, external audio source via 3.5 mm (listening only, cable included)
Voyager Free 60 UC: PC via included BT700 Bluetooth® adapter; smartphone via Bluetooth®
WEARING STYLE
In-ear true wireless earbuds with pressure relief design
Bluetooth® v5.3
Class 1
Multipoint connectivity
Headset connect to two devices at the same time, remembers up to 8 devices
Easily switch between the two active devices via smart charge case (Voyager Free 60+ UC only)
Supported Bluetooth profiles
A2DP
AVRCP
HSP
HFP
SPP
Supported Codecs
AAC, AptX, SBC, and mSBC
LC3 with BT700 only, in both mono and stereo telephony modes for improved density
Range
Up to 30 m / 98 ft with included BT700 Bluetooth® adapter
Up to 3 m / 9.8 ft streaming via smart charge case (Voyager Free 60+ UC only)
IP RATING
IP54 splash and dust resistant
CERTIFICATION
Made for iPhone
Qi Certified (charge case)
BATTERY
Battery Capacity
Each Ear Bud 70mAh, Charge Case 580mAh
Battery Type
Lithium ion
Talk time (using both earbuds)
Up to 16.5 hours (5.5 hours plus extra 11 hours with charge case)
Listening Time (ANC On)
Up to 24 hours (8 hours plus extra 16 hours with charge case)
Charge time (Earbuds)
Full charge 2 hours
Charge case
Full charge 3 hours
Fast Charge
Up to 1 hour 12 minutes of talk time after 15 mins of charge
Standby time
Up to 30 days including charging case
MICROPHONE AND TECHNOLOGY
Three microphones per earbud
WindSmart technology for protection against wind noise
Adjustable Sidetone
Low, Medium or High
HEADSET WEIGHT
Earbuds (Left/Right)
5.8 g / .01 lbs
Touchscreen charge case (Voyager Free 60+ UC)
80 g / .18 lbs
Basic charge case (Voyager Free 60/Voyager Free 60 UC)
52.6 g / .12 lbs
IP RATING
IP54
CHARGE CASE DIMENSIONS
Touchscreen charge case (Voyager Free 60+ UC)
54.5 x 72 x 33.1 mm / 2.15 x 2.83 x 1.30 in
Basic charge case (Voyager Free 60 UC)
53.5 x 72 x 28 mm / 2.11 x 2.83 x 1.10 in
Manufacturer Part No:
216066-02
Brand:
Poly
Product Type:
UC Earset
UPC
–
Product Family:
Voyager
Shipping Weight:
0.5 kg
PB Part No:
IPHPOL5742202
Product Model:
Free 60+
Warranty:
12 months *
* Warranty period is as stated above unless the manufacturer has chosen to specify a longer period.
All warranties are return to base unless otherwise specified.
Why is there a reasonable price displayed?
Discover the reason behind our incredibly reasonable prices! At our company, we prioritize your satisfaction and work tirelessly to offer you access to top-notch brands without breaking the bank. Our commitment to minimizing profit margins enables us to deliver affordability without compromising on quality. Shop with confidence and explore a wide range of reputable products at budget-friendly rates. Your satisfaction is our priority!
Poly Voyager Free 60+ USB-C True Wireless Noise Cancelling In-Ear UC Earset - Carbon Black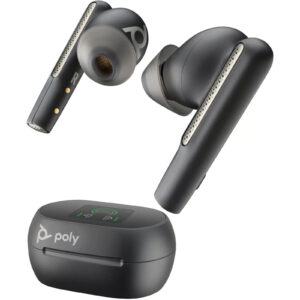 Say Hello To Your New Work Buds MEETING TIME. FOCUS TIME. ME TIME. Voyager Free 60 Series is a hybrid work solution to meet every moment. With ANC and a three-mic array to isolate your voice, you're confident both sides of the call are crystal clear. Your IT department will also approve because they are certified to work with the latest meeting platforms including Microsoft Teams and Zoom, and they can be centrally managed from anywhere in the world. Lift Your Voice. Lose The Noise. ADVANCED MIC DESIGN AND AUDIO PROCESSING TECHNOLOGIES Mic check, one, two, three. With a three-mic array in each earbud triangulating on your voice and minimizing the surrounding noise, you're loud and clear wherever you take your calls. And with WindSmart technology, you can breeze through conversations as you move through your day without interruption. Tune In. Tune Out. SUPERIOR NOISE CANCELING FOR UNINTERRUPTED LISTENING Whether it's a crowded cafe or bustling commute, forget the commotion around you. The adaptive hybrid ANC automatically adjusts to your wearing style and cancels out just the right amount of noise for a quiet and comfortable experience. And with two-setting transparency mode, you can tune back into your natural surroundings without taking out your buds. Hits All The Right Notes IMMERSIVE STEREO SOUND Go from work to playlists without missing a beat. The hi-fi sound and 10mm speaker drivers transform your buds into a portable stereo. So you can stream your music, shows, podcasts, and games when you need a break. Won't Wear Out Its Welcome COMFORT, COMFORT, COMFORT Seamlessly switch from your 9-5 to your 5-9-and back again-without missing a beat thanks to the comfort-centric design of the Voyager Free 60 earbuds. Discreet and lightweight these 5.8 g wireless earbuds come with three conical-shaped earbud tip sizes engineered to minimize pressure in the ear while also providing ideal audio isolation. The advanced sidetone technology keeps you aware of how loud you are speaking so you aren't straining your voice. Engineered For Enterprise Use IT APPROVED! Built for hybrid work means just that. The Voyager Free 60 UC Series comes with Poly Lens Desktop, iPhone and Android apps so users and IT can customize the experience. And because they were optimized for use with communications platforms and have certifications from the leading virtual meeting providers, they will deliver the highest standard of audio quality on their platforms. Using the Lens Cloud management software, IT can also proactively provision and manage their entire deployment of Poly headsets and gain insights and analytics on the health of the entire estate. For more information: https://www.poly.com/us/en/products/headsets/voyager/voyager-free-60
Product SKU: 216066-02
Product Brand: Poly
Product Currency: NZD
Product Price: 661.00
Price Valid Until: 1970-01-01
Product In-Stock: PreOrder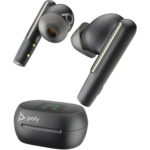 Poly Voyager Free 60+ USB-C True Wireless Noise Cancelling In-Ear UC Earset - Carbon Black
Your review
* Review is required
Email
* Email is required
Add photos or video to your review