Lenovo ThinkPad Essential 16-inch Topload (Eco) – Classic black nylon exterior, grey interior lining, with splashes of classic red accents
Roll over image to zoom in
Click to open expanded view
$50.00
or 6 weekly interest-free payments from $8.33 with
Calculate shipping price
Please fill in the fields below with the shipping destination details in order to calculate the shipping cost.
Features:
The ThinkPad Essential 16-Inch Topload (Eco) comes with all the perks you'd expect from a well-designed toploader case. Pack and unpack on the fly. And move from office to cafe and back without a hitch thanks to the padded, organized interior storage, easy-grip zippers, adjustable shoulder strap, and 16-inch notebook compartment. Get it all for a great price, and guilt-free too.
– Two main compartments, including a dedicated padded PC pocket, designed to fit Lenovo ThinkPad laptops up to 16″
– Two additional front zip pockets for quick accessory access
– Removable, adjustable shoulder strap for added comfort while carrying
– Convenient luggage strap on back panel for travel and commuting
– Easy-grip zippers for easy packing and unpacking
– Classic black nylon exterior, grey interior lining, with splashes of classic red accents
– Each bag contains the equivalent of at least two recycled plastic bottles
Specifications:
Fits Up To (L x D x H)
380.6 x 262 x 33.9 mm (15.0 x 10.3 x 1.3 in)
Color
Black
Brand
ThinkPad
OS Requirements
OS Independent
Packed Weight
0.68 kg (1.5 lbs)
Package Type
PE bag
Packed Dimensions (L x D x H)
405 x 65 x 290 mm (15.9 x 2.6 x 11.4 in)
Height
290 mm (11.4 in)
New Cable Length
405 mm (15.9 in)
Depth
65 mm (2.6 in)
Outside Fabric Material
Polyester, RPET, PVC
Padded Notebook Compartment
Yes
Weight
0.48kg (1.06 lbs)
Manufacturer Part No:
4X41C12469
Brand:
Lenovo
Product Type:
16-inch Topload (Eco)
UPC
195477802698
Product Family:
ThinkPad
Shipping Weight:
2 kg
PB Part No:
NBGLEN44112469
Product Model:
Essential
Warranty:
12 months *
* Warranty period is as stated above unless the manufacturer has chosen to specify a longer period.
All warranties are return to base unless otherwise specified.
Why is there a reasonable price displayed?
Discover the reason behind our incredibly reasonable prices! At our company, we prioritize your satisfaction and work tirelessly to offer you access to top-notch brands without breaking the bank. Our commitment to minimizing profit margins enables us to deliver affordability without compromising on quality. Shop with confidence and explore a wide range of reputable products at budget-friendly rates. Your satisfaction is our priority!
Lenovo ThinkPad Essential 16-inch Topload (Eco) - Classic black nylon exterior, grey interior lining, with splashes of classic red accents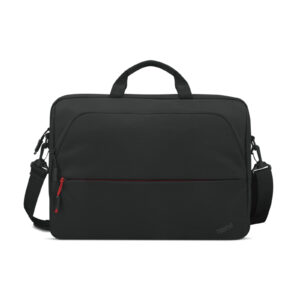 The ThinkPad Essential 16-Inch Topload (Eco) comes with all the perks you'd expect from a well-designed toploader case. Pack and unpack on the fly. And move from office to cafe and back without a hitch thanks to the padded, organized interior storage, easy-grip zippers, adjustable shoulder strap, and 16-inch notebook compartment. Get it all for a great price, and guilt-free too. - Two main compartments, including a dedicated padded PC pocket, designed to fit Lenovo ThinkPad laptops up to 16" - Two additional front zip pockets for quick accessory access - Removable, adjustable shoulder strap for added comfort while carrying - Convenient luggage strap on back panel for travel and commuting - Easy-grip zippers for easy packing and unpacking - Classic black nylon exterior, grey interior lining, with splashes of classic red accents - Each bag contains the equivalent of at least two recycled plastic bottles
Product SKU: 4X41C12469
Product Brand: Lenovo
Product Currency: NZD
Product Price: 39.00
Price Valid Until: 1970-01-01
Product In-Stock: PreOrder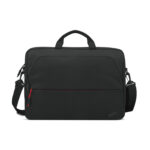 Lenovo ThinkPad Essential 16-inch Topload (Eco) - Classic black nylon exterior, grey interior lining, with splashes of classic red accents
Your review
* Review is required
Email
* Email is required
Add photos or video to your review