HP Business Travel Pack – Bundle Included – 14-15.6″ TopLoad Carry Bag – HP 65W USB-C Travel Charger – Foldable Aluminium Laptop Stand
Brand: HP
SKU:

3E5F8AA+671R3AA+AS012
Roll over image to zoom in
Click to open expanded view
$171.99
or 6 weekly interest-free payments from $28.66 with
Calculate shipping price
Please fill in the fields below with the shipping destination details in order to calculate the shipping cost.
Features:
HP Essential Travel Pack
This Business Travel Pack Included – 14-15.6″ TopLoad Carry Bag – HP 65W USB-C Travel Charger – Foldable Aluminium Laptop Stand
This Travel Pack is lightweight and stylish design suits to use at business trip, travel, work, school and more occasions.
HP Renew Business Top Load Carry Bag
Sustainable style
Carry and protect your laptop in style and feel good about it at the same time. The main material of the Renew Business Series 15.6-inch Laptop Bag is made from 100% ocean-bound plastics while all tags, strings and stuffing are sourced from 100% recycled biodegradable materials.
Safe and secure
Make it harder for light fingered thieves and electronic pickpockets. An RFID pocket protects your credit cards and data from scanners while double-coil, lockable zippers and slip pockets keep your possessions tucked away and secure. Plus there's a Bluetooth® tracker pocket to house your tracking devicethat locates your bag.
Grab and go organization
Stay organized with this clutter-free carry-all any time you need to move around, whether working from home or on the go. Numerous slip and zip pockets provide a secure home for your devices, peripherals and cables, plus a convenient cable pass-through keeps your phone, power bank or headphones connected while you are on the move.
HP 65W USB-C Travel AC Power Adapter
Charges Big or Small
Now with smart power that adapts to your charging needs, this laptop charger delivers 15W, 27W, 60W, or 65W of power 1. This will be the only charger you'll want in your bag.
A Universal Solution
Enjoy the flexibility to charge most USB-C® devices 1, whether it's your laptop, tablet, or phone.
Travel-Size
This compact, lightweight charger comfortably fits in your bag without weighing it down. The durable cable and built-in cable management keeps you organized when traveling or commuting.
Nulaxy AS012 Laptop Stand
Stand for superior and elegant
Extensive Compatibility
Nulaxy AS012 desktop stand is suitable for any laptop between 10-15.8″, like Apple Macbook, Mackbook Air, Macbook Pro, and more.
Ergonomic Design
AS012 laptop riser for desk offers you a comfortable angle for typing and viewing to relieve the pain in neck and shoulder.
Stable & Solid Aluminum Body
A sturdy aluminum computer stand provides decent stability and the anti-slip silicon pads will effectively protect your laptop from damage.
4. CONVENIENT TO CARRY: Foldable design and light weighted, make it easy to put into your bag, and take this laptop desk stand to the office, coffee bar, and wherever you want to go. Also a laptop table for relaxing in bed or sofa.
Keep Neat & Save Space
Cable management feature on the back of this standing stand allows to organize the charging cable neatly and its foldable feature helps save space to make a simple and clean environment while not in use.
PB Tech is a HP Gold Partner
Specifications:
HP Prelude Top Load Carry Bag for 14-15.6″ Laptop/Notebook
Family Brand
Essential
Usage
Everyday computing
Hardware Compatibility
Fits most 15.6-inch diagonal laptops.
Product Sub Type
Topload
Display Size (Diagonal)
15.6″
Product Material
Body materials: 300D Cross-dyed woven; 180G Air mesh; Poly mesh lining: 100% Poly (210D)
Colour
Gray
HP Original 65W USB-C Slim Travel AC Power Adapter
Compatibility
Compatible with most USB-C® devices
Input operating current
1.6 A at 90 VAC and maximum load
Output voltages
5V/9V/12V/15V/20V
Cable length
180 cm
Connector description
USB Type-C®
Minimum dimensions (W x D x H)
97 x 53.5 x 21 mm
Package dimensions (W x D x H)
97 x 75 x 237 mm
Weight
0.21 kg
Package weight
0.497 kg
Minimum System Requirements
USB Type-C®
What's in the box
HP 65W USB-C Laptop Charger; Power cord; Product notice; Warranty card
Nulaxy AS012 Laptop Stand
Material
Aluminium Alloy
Brand
Nulaxy AS012
Colour
Silver
Compatible Devices
Apple MacBook Air / MacBook Pro, Dell XPS, HP, Lenovo More 10-16″ Laptops
Manufacturer Part No:
3E5F8AA+671R3AA+AS012
Brand:
HP
Product Type:
– Bundle Included
UPC
–
Product Family:
Business Travel Pack
Shipping Weight:
1.45 kg
PB Part No:
BDLHNB0014
Product Model:
–
Warranty:
12 months *
* Warranty period is as stated above unless the manufacturer has chosen to specify a longer period.
All warranties are return to base unless otherwise specified.
Why is there a reasonable price displayed?
Discover the reason behind our incredibly reasonable prices! At our company, we prioritize your satisfaction and work tirelessly to offer you access to top-notch brands without breaking the bank. Our commitment to minimizing profit margins enables us to deliver affordability without compromising on quality. Shop with confidence and explore a wide range of reputable products at budget-friendly rates. Your satisfaction is our priority!
HP Business Travel Pack - Bundle Included - 14-15.6" TopLoad Carry Bag - HP 65W USB-C Travel Charger - Foldable Aluminium Laptop Stand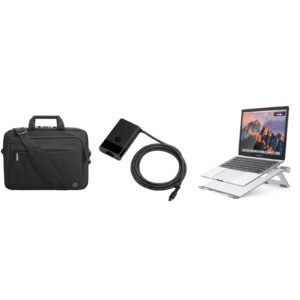 HP Essential Travel Pack This Business Travel Pack Included - 14-15.6" TopLoad Carry Bag - HP 65W USB-C Travel Charger - Foldable Aluminium Laptop Stand This Travel Pack is lightweight and stylish design suits to use at business trip, travel, work, school and more occasions. HP Renew Business Top Load Carry Bag Sustainable style Carry and protect your laptop in style and feel good about it at the same time. The main material of the Renew Business Series 15.6-inch Laptop Bag is made from 100% ocean-bound plastics while all tags, strings and stuffing are sourced from 100% recycled biodegradable materials. Safe and secure Make it harder for light fingered thieves and electronic pickpockets. An RFID pocket protects your credit cards and data from scanners while double-coil, lockable zippers and slip pockets keep your possessions tucked away and secure. Plus there's a Bluetooth® tracker pocket to house your tracking devicethat locates your bag. Grab and go organization Stay organized with this clutter-free carry-all any time you need to move around, whether working from home or on the go. Numerous slip and zip pockets provide a secure home for your devices, peripherals and cables, plus a convenient cable pass-through keeps your phone, power bank or headphones connected while you are on the move. HP 65W USB-C Travel AC Power Adapter Charges Big or Small Now with smart power that adapts to your charging needs, this laptop charger delivers 15W, 27W, 60W, or 65W of power 1. This will be the only charger you'll want in your bag. A Universal Solution Enjoy the flexibility to charge most USB-C® devices 1, whether it's your laptop, tablet, or phone. Travel-Size This compact, lightweight charger comfortably fits in your bag without weighing it down. The durable cable and built-in cable management keeps you organized when traveling or commuting. Nulaxy AS012 Laptop Stand Stand for superior and elegant Extensive Compatibility Nulaxy AS012 desktop stand is suitable for any laptop between 10-15.8", like Apple Macbook, Mackbook Air, Macbook Pro, and more. Ergonomic Design AS012 laptop riser for desk offers you a comfortable angle for typing and viewing to relieve the pain in neck and shoulder. Stable & Solid Aluminum Body A sturdy aluminum computer stand provides decent stability and the anti-slip silicon pads will effectively protect your laptop from damage. 4. CONVENIENT TO CARRY: Foldable design and light weighted, make it easy to put into your bag, and take this laptop desk stand to the office, coffee bar, and wherever you want to go. Also a laptop table for relaxing in bed or sofa. Keep Neat & Save Space Cable management feature on the back of this standing stand allows to organize the charging cable neatly and its foldable feature helps save space to make a simple and clean environment while not in use. PB Tech is a HP Gold Partner
Product SKU: 3E5F8AA+671R3AA+AS012
Product Brand: HP
Product Currency: NZD
Product Price: 171.99
Price Valid Until: 1970-01-01
Product In-Stock: InStock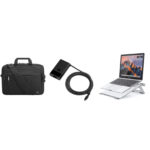 HP Business Travel Pack - Bundle Included - 14-15.6" TopLoad Carry Bag - HP 65W USB-C Travel Charger - Foldable Aluminium Laptop Stand
Your review
* Review is required
Email
* Email is required
Add photos or video to your review