Yealink YHS36 Dual Headset
$90.00
Email when stock available
Features:
YHS36 Dual/Mono
Wired Headset with QD to RJ Port
Perfectly Compatible with Yealink Phones
Runs right out of the box, a QD (Quick Disconnect) to RJ9 plug-and-play setup ensures the connectivity to Yealink Desk phones. Perfect match with Yealink desk phones give you optimized audio quality and more enhanced functions.
Noise-Canceling Microphone
The noise-canceling microphone allows for the most reduction of outside noise, so the listeners can focus more on the desired sound at hand, the nearby talkers are protected with most call privacy as well.
Excellent Audio Experience
Made for calls, this headset is kitted out with wideband HD audio technology and passive noise cancellation that ensures a richer and clearer conversations, eliminates background noises as well.
All Day Wearing Comfort
The over-the-head wearing style, ultra-lightweight materials, and bio-mimetic protein-based leather ear cushions make your head and ears feel relaxed. Its ergonomic design enables the YHS36 comfortable enough for long conference calls and all day use.
Download data sheet:
https://www.yealink.com/upfiles/products/datasheet/Yealink-YHS36-Datasheet.pdf
Specifications:
Main Features
Plug-and-play
– RJ9 connectivity to Yealink IP Phones, including T19(P)E2/T21(P)E2/T23P/
T23G/T27G/T29G/T30/T30P/T31/T31P/T31G/T33P/T33G/T40P/T40G/T41S/
T42S/T46S/T48S/T42U/T43U/T46U/T48U/T53/T53W/T54W/T57W/T58A/
VP59/T41S SFB/T42S SFB/T46S SFB/T48S SFB/T55A SFB/T56A SFB/T58A SFB/MP56
HD Voice/Wideband speaker performance
Noise-canceling microphone and passive noise cancellation
ActiveProtection technology safeguards users from acoustic injury
330° bendable boom arm for easy adjustment without breaking
General
Headset cable length: 0.9m
QD to RJ9 cable length: 1.2m
Color: Black and silver
Weight: YHS36 Mono: 124g/YHS36 Dual: 170g
Operating temperature: -10 °C to +50 °C
Microphone
Microphone frequency response range: 100 Hz-7 kHz
Microphone bandwidth: Wideband
Microphone Sensitivity: -44.0 dB re. 1 V/Pa
Speaker
Speaker sensitivity: 93 dB SPL @ 1 kHz, 60 mV
Speaker Frequency response range: 20 Hz-20 kHz
Speaker impedance: 32+/-4.8O, @ 1.0 kHz
Speaker input power: normal 5 mW, max 10 mW
Speaker bandwidth: Wideband
Package Features
Package content:
– YHS36 Mono Headset or YHS36 Dual Headset
– QD to RJ9 cable
– Quick Start Guide
Qty/CTN: 20 PCS
N.W/CTN: YHS36 Mono: 2.48kg/YHS36 Dual: 3.41kg
G.W/CTN: YHS36 Mono: 3.26kg/YHS36 Dual: 4.19kg
Giftbox size: 170 mm*195 mm*60 mm
Carton Meas: 345 mm*310 mm*400 mm
Manufacturer Part No:
YHS36 DUAL
Brand:
Yealink
Product Type:
Headset
UPC
–
Product Family:
–
Shipping Weight:
1 kg
PB Part No:
IPHYLK5135206
Product Model:
YHS36
Warranty:
12 months *
* Warranty period is as stated above unless the manufacturer has chosen to specify a longer period.
All warranties are return to base unless otherwise specified.
Why is there a reasonable price displayed?
Discover the reason behind our incredibly reasonable prices! At our company, we prioritize your satisfaction and work tirelessly to offer you access to top-notch brands without breaking the bank. Our commitment to minimizing profit margins enables us to deliver affordability without compromising on quality. Shop with confidence and explore a wide range of reputable products at budget-friendly rates. Your satisfaction is our priority!
Yealink YHS36 Dual Headset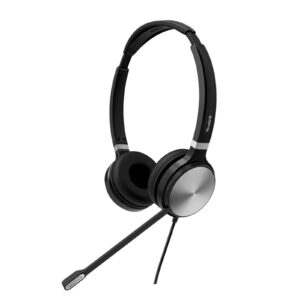 YHS36 Dual/Mono Wired Headset with QD to RJ Port Perfectly Compatible with Yealink Phones Runs right out of the box, a QD (Quick Disconnect) to RJ9 plug-and-play setup ensures the connectivity to Yealink Desk phones. Perfect match with Yealink desk phones give you optimized audio quality and more enhanced functions. Noise-Canceling Microphone The noise-canceling microphone allows for the most reduction of outside noise, so the listeners can focus more on the desired sound at hand, the nearby talkers are protected with most call privacy as well. Excellent Audio Experience Made for calls, this headset is kitted out with wideband HD audio technology and passive noise cancellation that ensures a richer and clearer conversations, eliminates background noises as well. All Day Wearing Comfort The over-the-head wearing style, ultra-lightweight materials, and bio-mimetic protein-based leather ear cushions make your head and ears feel relaxed. Its ergonomic design enables the YHS36 comfortable enough for long conference calls and all day use. Download data sheet: https://www.yealink.com/upfiles/products/datasheet/Yealink-YHS36-Datasheet.pdf
Product SKU: YHS36 DUAL
Product Brand: Yealink
Product Currency: NZD
Product Price: 90.00
Price Valid Until: 1970-01-01
Product In-Stock: PreOrder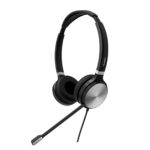 Yealink YHS36 Dual Headset
Your review
* Review is required
Email
* Email is required
Add photos or video to your review