Yealink WH63 Teams DECT Wireless Headset
$253.85
or 6 weekly interest-free payments from $42.30 with
Calculate shipping price
Please fill in the fields below with the shipping destination details in order to calculate the shipping cost.
Features:
Yealink WH63 Teams DECT Wireless Headset
Deliver HD Voice with Yealink Acoustic Shield
With Yealink Acoustic Shield technology, the headsets could well filter out background noise by 2x microphones while you are on a call, which provides a HD voice quality for your listeners, and ensures distraction-free conversation.
Match Your Platform
Thanks to the broad compatibility of Yealink personal collaboration devices such as headsets, speakerphones and USB cameras, users can enjoy consistent call experience across UC platforms, which promises better communication quality, higher productivity and lower IT costs. Certified for Microsoft Teams, the devices designed with a dedicated Teams button for activating Microsoft Teams with one touch.
*Please check the compatibility list for more details.
Compatible with all Yealink Personal Collaboration Devices
Ensure Your Communication with Comfort
To meet various preferences of users, Yealink created the lightweight designed headset with adjustable headband, replaceable ear cushions, and two wearing styles, namely mono and dual options to ensure all-day comfort.
Wireless Freedom & All Day Power
No matter when and where your conversation begins, the headsets can always catch up your steps. With up to 160m wireless range and 14 hours talk time, it is suitable for users' daily communication needs. In addition, the product supports high density installation in the open office, which allows up to 200 users (Europe) enjoy the wireless communication at the same time.
One For All Devices Management
Yealink USB Connect is available for the management of multiple Yealink USB devices, including headsets, speakerphones, and webcams.
All the settings can be done through Yealink USB Connect, for example, the setting of the basic and premium function of WH66, which is convenient and efficient for daily use.
Download data sheet:
https://www.yealink.com/upfiles/products/datasheet/Yealink-WH63-Datasheet-V1.0.pdf
Specifications:
General
5 feature buttons
2 micro USB 2.0 port
USB connectivity to PC and IP phone
Integrated busylight LED indicator
Charging stand (for headset)
Battery
Talk time: up to 8 hours
Standby time: 54 hours
Charging time: 2.5 hours (5V/1.2A)
DECT
Wireless range: up to 120m/394 feet
Secure DECT (level): Step B – authentication – DSAA,encryption – DSC (64bit)
Cordless Advanced Technology: CAT-iq 2.0
Audio (Headset)
Microphone type: dual microphone
Microphone sensitivity: -38.0+/-2 dBV
Microphone frequency range: 100 Hz-10 kHz
Speaker size: 13.6 Ef
Speaker sensitivity: 116+/-3 dB, 0.179 V
Speaker impedance: 32+/-4.8 O
Speaker max output power: 10 mW
Speaker frequency range: 20 Hz-10 kHz
Speaker bandwidth – talk mode: wideband
Speaker bandwidth – music mode: super wideband (Pending)
Audio (Base)
Ringer size: 20 Ef
Ringer sensitivity: 87+/-3 dB, 0.1 W, 0.1 M
Ringer impedance: 8+/-1.2 O
Ringer max output power: 1.5 W
Ringer frequency range: 100 Hz-10 kHz
Easy Call Management
Answer/End/Reject a call
Volume up/down
Microphone mute
Package Features
Package contents:
– Base
– Headset
– Earhook & eartips
– Headband
– Power Adapter
– 1.2m USB 2.0 Cable
– 0.8m USB 2.0 Cable
– Quick Start Guide
Optional accessories:
– Neckband
– Busylight BLT60
Base: 124g, Headset: 19g
Qty/CNT: 10 PCS
N.W/CTN: 5.8 kg
Giftbox size: 201mm*181mm*112mm
Carton Meas: 592mm*384mm*220mm
Manufacturer Part No:
WH63 TEAMS
Brand:
Yealink
Product Type:
Headset
UPC
841885105110
Product Family:
–
Shipping Weight:
1.01 kg
PB Part No:
IPHYLK5075155
Product Model:
WH63
Warranty:
12 months *
* Warranty period is as stated above unless the manufacturer has chosen to specify a longer period.
All warranties are return to base unless otherwise specified.
Why is there a reasonable price displayed?
Discover the reason behind our incredibly reasonable prices! At our company, we prioritize your satisfaction and work tirelessly to offer you access to top-notch brands without breaking the bank. Our commitment to minimizing profit margins enables us to deliver affordability without compromising on quality. Shop with confidence and explore a wide range of reputable products at budget-friendly rates. Your satisfaction is our priority!
Yealink WH63 Teams DECT Wireless Headset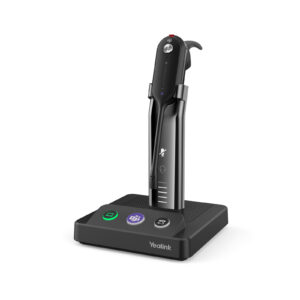 Yealink WH63 Teams DECT Wireless Headset Deliver HD Voice with Yealink Acoustic Shield With Yealink Acoustic Shield technology, the headsets could well filter out background noise by 2x microphones while you are on a call, which provides a HD voice quality for your listeners, and ensures distraction-free conversation. Match Your Platform Thanks to the broad compatibility of Yealink personal collaboration devices such as headsets, speakerphones and USB cameras, users can enjoy consistent call experience across UC platforms, which promises better communication quality, higher productivity and lower IT costs. Certified for Microsoft Teams, the devices designed with a dedicated Teams button for activating Microsoft Teams with one touch. *Please check the compatibility list for more details. Compatible with all Yealink Personal Collaboration Devices Ensure Your Communication with Comfort To meet various preferences of users, Yealink created the lightweight designed headset with adjustable headband, replaceable ear cushions, and two wearing styles, namely mono and dual options to ensure all-day comfort. Wireless Freedom & All Day Power No matter when and where your conversation begins, the headsets can always catch up your steps. With up to 160m wireless range and 14 hours talk time, it is suitable for users' daily communication needs. In addition, the product supports high density installation in the open office, which allows up to 200 users (Europe) enjoy the wireless communication at the same time. One For All Devices Management Yealink USB Connect is available for the management of multiple Yealink USB devices, including headsets, speakerphones, and webcams. All the settings can be done through Yealink USB Connect, for example, the setting of the basic and premium function of WH66, which is convenient and efficient for daily use. Download data sheet: https://www.yealink.com/upfiles/products/datasheet/Yealink-WH63-Datasheet-V1.0.pdf
Product SKU: WH63 TEAMS
Product Brand: Yealink
Product Currency: NZD
Product Price: 253.85
Price Valid Until: 1970-01-01
Product In-Stock: InStock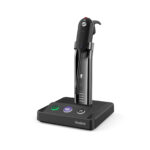 Yealink WH63 Teams DECT Wireless Headset
Your review
* Review is required
Email
* Email is required
Add photos or video to your review