Yealink MVC840 Microsoft Teams Room System For Medium and Large Rooms, 1x PTZ Camera, 1x Mini PC Built-in Teams Room, 2x Array Microphone, 1x SoundBar, 1x Touch Panel
$2,907.80
or from $1,407.80 today & 5 weekly interest-free payments of $300.00 with
Calculate shipping price
Please fill in the fields below with the shipping destination details in order to calculate the shipping cost.
Features:
Yealink MVC840
Microsoft Teams Rooms system for large rooms
Start Teams Meeting with MVC840 Bundle Solution
Designed for large meeting rooms, the Yealink MVC840 Microsoft Teams Room system is a bundle video solution with MCore mini-PC, touch panel, UVC84 4K camera, VCM34 and MSpeaker II audio system,  bringing everything you need to interact, connect, and collaborate with internal and external users seamlessly and intelligently.
4K Performance Capture All Movements
Featured 4K sensor and 12x optical zoom, the UVC84 camera achieves a gorgeous video experience perfectly for medium and large rooms.
The Auto Framing enables the UVC84 to recognize attendees and frame everyone automatically in the most appropriate view in rooms of any size.
The auto-privacy protection design secures the safety of your meetings.
Catch Voice Covering Large Spaces
The Yealink VCM34 array microphone supports a 20ft (6-meter) / 360° voice pickup range and works with the Yealink Soundbar together to guarantee a high-quality audio solution. The Yealink Noise Proof technology ensures all participants can enjoy crystal-clear voice even in a large meeting space with background and noise distractions.
Multi-mounting Options, Simplified Connections
The MCore mini-PC can be set up according to particular room layout. Mounting on the wall, sticking to the table can be realized. Also, in all Yealink MVC II room systems, the MCore cable management solution integrates data and power supply into one CAT5e cable, simplifying the complicated connections and reducing the deployment time.
One-Click to Share
Users can enjoy plugging in the Yealink WPP20 with one click to share the screen wirelessly, or connecting the laptop to the meeting through the USB-C or HDMI port easily. In the Yealink MVC II room system, all participants have the flexibility of choosing either wireless or wired ways of content sharing.
Remote Management
Yealink MVC II series video solution supports the Yealink Device Management Platform/Cloud Service. You can manage, monitor, configure, update and diagnose all Yealink audio and video devices and peripherals on this platform remotely
Specifications:
Package Content
MCore Mini-PC
MTouch II touch panel
UVC84 USB PTZ camera
Two or three VCM34 array microphones (optional)
One or two Yealink soundbars (optional)
WPP20 wireless presentation pod (optional)
Preload
Windows 10 IoT Enterprise X64
Windows 10 IoT Enterprise License
Microsoft Teams Rooms App, support Skype for Business on-premise/online and Teams meetings
Yeallink RoomConnect
MCore Mini-PC
8th-gen Intel® QUAD-CORE i5
Memory: 8GB (2 x 4GB)
Storage: 128GB SSD
2 x HDMI video output with CEC supported
Bluetooth and Wi-Fi
1x Yealink VCH port (RJ45), connect to MTouch II
4 x USB3.0 Type-A
1 x 10/100/1000M Ethernet port
1 x Power port
1 x Security lock slot
Integrated cable management
MTouch II touch panel
8-inch IPS screen
1280 x 800 resolution
10-point capacitive touch screen
3.5mm headset jack
Human Motion Sensor
Angle adjustable bracket (28° ~ 50°)
1080P/30FPS FHD for sharing
Support wired and wireless content sharing
Built-in Wi-Fi AP for Yealink wireless presentation device
HDMI/USB-C HD video input
UVC84 USB PTZ Camera
4K camera
12x optical zoom
Field of view (diagonal): 80°
Auto Framing
Camera presets
Pan range: 200°
Tilt range: 130°
1 x Line-out (3.5mm)
1 x Yealink Microphone port (RJ-45)
1 x USB 2.0 Type-B
1 x Power port
1 x Security lock slot
1 x Reset slot
VCM34 Array Microphone
Built-in 3-microphone array
360° 20ft (6-meter) voice pickup range
Cascade connection up to 6 units
Mute button with bicolor LED
Yealink Soundbar
Frequent response:100Hz – 20KHz
S/N:=70dB
1 x Line-in (3.5mm)
Package Features (2 x VCM34)
N.W/CTN: 10.4Kg
G.W/CTN: 11.6Kg
Carton Meas: 595mm x 535mm x 320mm
Package Features(3x VCM34)
N.W/CTN: 12.9Kg
G.W/CTN: 14.1Kg
Carton Meas: 595mm x 535mm x 320mm
Package Features(without audio)
N.W/CTN: 6.6Kg
G.W/CTN: 7.3Kg
Carton Meas: 595mm x 393mm x 258mm
Manufacturer Part No:
MVC840-C2-211
Brand:
Yealink
Product Type:
Microsoft Teams Room
UPC
841885106186
Product Family:
–
Shipping Weight:
11.9 kg
PB Part No:
IPHYLK5134333
Product Model:
MVC840
Warranty:
12 months *
* Warranty period is as stated above unless the manufacturer has chosen to specify a longer period.
All warranties are return to base unless otherwise specified.
Why is there a reasonable price displayed?
Discover the reason behind our incredibly reasonable prices! At our company, we prioritize your satisfaction and work tirelessly to offer you access to top-notch brands without breaking the bank. Our commitment to minimizing profit margins enables us to deliver affordability without compromising on quality. Shop with confidence and explore a wide range of reputable products at budget-friendly rates. Your satisfaction is our priority!
Yealink MVC840 Microsoft Teams Room System For Medium and Large Rooms, 1x PTZ Camera, 1x Mini PC Built-in Teams Room, 2x Array Microphone, 1x SoundBar, 1x Touch Panel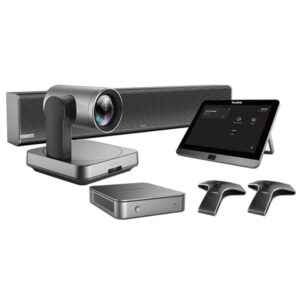 Yealink MVC840 Microsoft Teams Rooms system for large rooms Start Teams Meeting with MVC840 Bundle Solution Designed for large meeting rooms, the Yealink MVC840 Microsoft Teams Room system is a bundle video solution with MCore mini-PC, touch panel, UVC84 4K camera, VCM34 and MSpeaker II audio system,  bringing everything you need to interact, connect, and collaborate with internal and external users seamlessly and intelligently. 4K Performance Capture All Movements Featured 4K sensor and 12x optical zoom, the UVC84 camera achieves a gorgeous video experience perfectly for medium and large rooms. The Auto Framing enables the UVC84 to recognize attendees and frame everyone automatically in the most appropriate view in rooms of any size. The auto-privacy protection design secures the safety of your meetings. Catch Voice Covering Large Spaces The Yealink VCM34 array microphone supports a 20ft (6-meter) / 360° voice pickup range and works with the Yealink Soundbar together to guarantee a high-quality audio solution. The Yealink Noise Proof technology ensures all participants can enjoy crystal-clear voice even in a large meeting space with background and noise distractions. Multi-mounting Options, Simplified Connections The MCore mini-PC can be set up according to particular room layout. Mounting on the wall, sticking to the table can be realized. Also, in all Yealink MVC II room systems, the MCore cable management solution integrates data and power supply into one CAT5e cable, simplifying the complicated connections and reducing the deployment time. One-Click to Share Users can enjoy plugging in the Yealink WPP20 with one click to share the screen wirelessly, or connecting the laptop to the meeting through the USB-C or HDMI port easily. In the Yealink MVC II room system, all participants have the flexibility of choosing either wireless or wired ways of content sharing. Remote Management Yealink MVC II series video solution supports the Yealink Device Management Platform/Cloud Service. You can manage, monitor, configure, update and diagnose all Yealink audio and video devices and peripherals on this platform remotely
Product SKU: MVC840-C2-211
Product Brand: Yealink
Product Currency: NZD
Product Price: 8,799.00
Price Valid Until: 1970-01-01
Product In-Stock: PreOrder
Additional information
| | |
| --- | --- |
| Brand | |
| Part Number | |
| MPN | |
| GTIN | |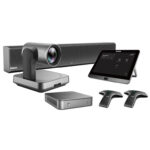 Yealink MVC840 Microsoft Teams Room System For Medium and Large Rooms, 1x PTZ Camera, 1x Mini PC Built-in Teams Room, 2x Array Microphone, 1x SoundBar, 1x Touch Panel
Your review
* Review is required
Email
* Email is required
Add photos or video to your review