Velcro VEL30945 One-Wrap Cable Tie. 12.5mm x 22.8m. Designed for easy cable management. Improve airflow, energy & decrease costs. Continuous roll. Easy cut to size. Green colour
$54.00
or 6 weekly interest-free payments from $9.00 with
Calculate shipping price
Please fill in the fields below with the shipping destination details in order to calculate the shipping cost.
Features:
VELCRO One-Wrap Cable Tie. 12.5mm x 22.8m. Designed for easy cable management. Improve airflow, energy & decrease costs. Continuous roll. Easy cut to size. Green colour
VELCRO® BRAND ONE-WRAP® Cable Ties
The easiest way to understand the importance of cable management is to start by understanding the ecosystem between a data centre or a central office network or facility systems. A change in one will create a change in the other one.
Good cable management is designed to do the following:
-Design to improve airflow
-Energy efficiencies improve
-Energy costs decrease
It's important to install cable management that is:
-Easy to install
-Easy to make a change at a later time
-Easy to troubleshoot
Installing VELCRO® Brand Ties & Tape translates to:
-Labour costs savings
-Higher time off
v
Specifications:
Brand
VELCRO
Product name
One-Wrap Cable Tie
Length
22.8m
Width
12.5mm
Color
Green
Manufacturer Part No:
VEL30945
Brand:
Velcro
Product Type:
–
UPC
075967309459
Product Family:
–
Shipping Weight:
0.2 kg
PB Part No:
CABVCR1026
Product Model:
–
Warranty:
12 months *
* Warranty period is as stated above unless the manufacturer has chosen to specify a longer period.
All warranties are return to base unless otherwise specified.
Why is there a reasonable price displayed?
Discover the reason behind our incredibly reasonable prices! At our company, we prioritize your satisfaction and work tirelessly to offer you access to top-notch brands without breaking the bank. Our commitment to minimizing profit margins enables us to deliver affordability without compromising on quality. Shop with confidence and explore a wide range of reputable products at budget-friendly rates. Your satisfaction is our priority!
Velcro VEL30945 One-Wrap Cable Tie. 12.5mm x 22.8m. Designed for easy cable management. Improve airflow, energy & decrease costs. Continuous roll. Easy cut to size. Green colour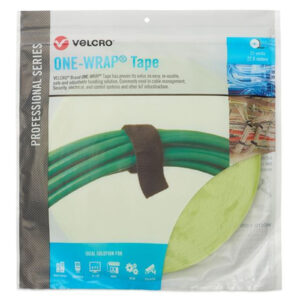 VELCRO One-Wrap Cable Tie. 12.5mm x 22.8m. Designed for easy cable management. Improve airflow, energy & decrease costs. Continuous roll. Easy cut to size. Green colour VELCRO® BRAND ONE-WRAP® Cable Ties The easiest way to understand the importance of cable management is to start by understanding the ecosystem between a data centre or a central office network or facility systems. A change in one will create a change in the other one. Good cable management is designed to do the following: -Design to improve airflow -Energy efficiencies improve -Energy costs decrease It's important to install cable management that is: -Easy to install -Easy to make a change at a later time -Easy to troubleshoot Installing VELCRO® Brand Ties & Tape translates to: -Labour costs savings -Higher time off v
Product SKU: VEL30945
Product Currency: NZD
Product Price: 54.00
Price Valid Until: 1970-01-01
Product In-Stock: PreOrder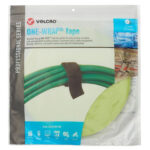 Velcro VEL30945 One-Wrap Cable Tie. 12.5mm x 22.8m. Designed for easy cable management. Improve airflow, energy & decrease costs. Continuous roll. Easy cut to size. Green colour
Your review
* Review is required
Email
* Email is required
Add photos or video to your review