Vaddio CeilingMIC Microphone
Email when stock available
Features:
The white CeilingMIC Microphone from Vaddio is a ceiling-mounted microphone with a frequency response of 100 Hz to 16 kHz. It is designed to eliminate table clutter and provides a full 360° pickup coverage. This microphone supports up to 100′ cable distance from the interface box to the connected device via Cat 5 cable and a drop-down cable length of up to 15′. A silicone split strain relief boot, a 3′ Cat 5 cable, a CeilingMIC interface box, a cable clamp grommet, two ceiling trim ring plates with mounting screws, and a ceiling tile brace are included.
Key Features:
-Creates a clean look in your conference room or meeting space
-Works with Vaddio products designed with an EasyMIC port (AV Bridge MATRIX PRO, ConferenceSHOT AV cameras, EasyUSB MicPOD I/O, EasyUSB Mixer/Amp)
-Three-element array head with LED mute status indicator
-Each unidirectional cardioid microphone is equipped with integrated echo cancellation and Digital Signal Processing (DSP), including equalization, filtering, and automatic gain control (AGC)
-Supports both referenced and non-referenced AEC
-For drop-tile ceilings and open-ceiling environments
-Plug-and-play design
-New design for simplicity and ease of connection
-Two-piece trim plate design can be installed after the rest of the installation is complete
-Cloth-wrapped microphone body design with improved geometry for better audio pickup
-Split strain-relief boot with easy access to the cable connector in the microphone body for quick installation and easy substitution of custom drop-down cable
Specifications:
Color:
White
Certifications:
CE Approved, FCC Approved
Signal Type:
Audio
Operating Temperature:
32° to 104°F (0° to 40°C)
Manufacturer Part No:
999-85100-000
Brand:
Vaddio
Product Type:
–
UPC
–
Product Family:
–
Shipping Weight:
1.01 kg
PB Part No:
CCTVDO1033
Product Model:
–
Warranty:
12 months *
* Warranty period is as stated above unless the manufacturer has chosen to specify a longer period.
All warranties are return to base unless otherwise specified.
Why is there a reasonable price displayed?
Discover the reason behind our incredibly reasonable prices! At our company, we prioritize your satisfaction and work tirelessly to offer you access to top-notch brands without breaking the bank. Our commitment to minimizing profit margins enables us to deliver affordability without compromising on quality. Shop with confidence and explore a wide range of reputable products at budget-friendly rates. Your satisfaction is our priority!
Vaddio CeilingMIC Microphone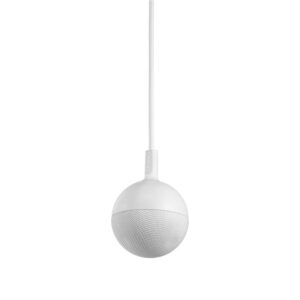 The white CeilingMIC Microphone from Vaddio is a ceiling-mounted microphone with a frequency response of 100 Hz to 16 kHz. It is designed to eliminate table clutter and provides a full 360° pickup coverage. This microphone supports up to 100' cable distance from the interface box to the connected device via Cat 5 cable and a drop-down cable length of up to 15'. A silicone split strain relief boot, a 3' Cat 5 cable, a CeilingMIC interface box, a cable clamp grommet, two ceiling trim ring plates with mounting screws, and a ceiling tile brace are included. Key Features: -Creates a clean look in your conference room or meeting space -Works with Vaddio products designed with an EasyMIC port (AV Bridge MATRIX PRO, ConferenceSHOT AV cameras, EasyUSB MicPOD I/O, EasyUSB Mixer/Amp) -Three-element array head with LED mute status indicator -Each unidirectional cardioid microphone is equipped with integrated echo cancellation and Digital Signal Processing (DSP), including equalization, filtering, and automatic gain control (AGC) -Supports both referenced and non-referenced AEC -For drop-tile ceilings and open-ceiling environments -Plug-and-play design -New design for simplicity and ease of connection -Two-piece trim plate design can be installed after the rest of the installation is complete -Cloth-wrapped microphone body design with improved geometry for better audio pickup -Split strain-relief boot with easy access to the cable connector in the microphone body for quick installation and easy substitution of custom drop-down cable
Product SKU: 999-85100-000
Product Currency: NZD
Price Valid Until: 1970-01-01
Product In-Stock: SoldOut
Vaddio CeilingMIC Microphone
Your review
* Review is required
Email
* Email is required
Add photos or video to your review