StarTech WKSTNCM2 4.6m (15′) Cable Management Sleeve – Flexible Coiled Cable Wrap – 1.0-1.5″ dia. Expandable Sleeve – Polyester Cord Manager/Protector/Concealer – Black Trimmable Cable Organizer
$57.76
or 6 weekly interest-free payments from $9.62 with
Calculate shipping price
Please fill in the fields below with the shipping destination details in order to calculate the shipping cost.
Features:
This flexible and lightweight cable-management sleeve, made of polyester and nylon fabric, provides an easy and inexpensive solution for managing cable clutter. Use it to keep cables organized behind your computer monitor, while still providing access to cables when needed. The extra-long 15 ft. (4.6 m) cable sleeve is trimmable, providing flexible use in a wide range of applications.
Easy and Versatile Use
The flexible cord concealer helps you keep cables and wires hidden, anywhere you work. Organize cables at your workstation, above and below your desk. Manage cables in an AV studio. Keep electrical cables organized in a networking setting. You can use the cable sleeve for a single cable, or multiple cables (up to 10 depending on thickness).
Wraps Easily Around your Cables
Simply open the rolled fabric from the side to guide your cables through. The flexible cable sleeve automatically recoils to wrap around your cables. It can also expand to cover additional cables as needed. There are no tools required, and the cables don't need to be disconnected from the computer to be inserted into the cable-management sleeve.
Trims to Any Length
Using sharp scissors, you can cut the cable-management sleeve to your desired length, to fit neatly under your desk or table, or behind your media center.
Applications
– Keep cables organized behind your computer in a business setting, or home office
– Manage cables in an AV studio
– Keep electrical cables organized in a networking setting
– Fix the cable clutter behind your TV entertainment center
Specifications:
Performance
General Specifications
Expands from 25 mm to 38 mm (approx. 1 in. to 1.5 in.)
Physical characteristics
Color
Black
Enclosure Type
Polyester and Nylon
Product Height
1.4 in [3.5 cm] Product Length
181.1 in [4600 mm] Product Width
3.9 in [98 mm] Weight of Product
6.5 oz [184 g] Manufacturer Part No:
WKSTNCM2
Brand:
StarTech
Product Type:
–
UPC
065030882972
Product Family:
–
Shipping Weight:
0.1 kg
PB Part No:
CABSTT4548319
Product Model:
WKSTNCM2
Warranty:
12 months *
* Warranty period is as stated above unless the manufacturer has chosen to specify a longer period.
All warranties are return to base unless otherwise specified.
Why is there a reasonable price displayed?
Discover the reason behind our incredibly reasonable prices! At our company, we prioritize your satisfaction and work tirelessly to offer you access to top-notch brands without breaking the bank. Our commitment to minimizing profit margins enables us to deliver affordability without compromising on quality. Shop with confidence and explore a wide range of reputable products at budget-friendly rates. Your satisfaction is our priority!
StarTech WKSTNCM2 4.6m (15') Cable Management Sleeve - Flexible Coiled Cable Wrap - 1.0-1.5" dia. Expandable Sleeve - Polyester Cord Manager/Protector/Concealer - Black Trimmable Cable Organizer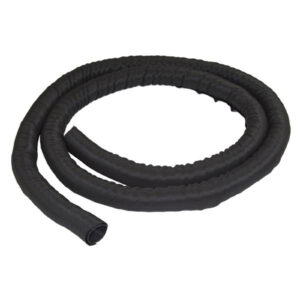 This flexible and lightweight cable-management sleeve, made of polyester and nylon fabric, provides an easy and inexpensive solution for managing cable clutter. Use it to keep cables organized behind your computer monitor, while still providing access to cables when needed. The extra-long 15 ft. (4.6 m) cable sleeve is trimmable, providing flexible use in a wide range of applications. Easy and Versatile Use The flexible cord concealer helps you keep cables and wires hidden, anywhere you work. Organize cables at your workstation, above and below your desk. Manage cables in an AV studio. Keep electrical cables organized in a networking setting. You can use the cable sleeve for a single cable, or multiple cables (up to 10 depending on thickness). Wraps Easily Around your Cables Simply open the rolled fabric from the side to guide your cables through. The flexible cable sleeve automatically recoils to wrap around your cables. It can also expand to cover additional cables as needed. There are no tools required, and the cables don't need to be disconnected from the computer to be inserted into the cable-management sleeve. Trims to Any Length Using sharp scissors, you can cut the cable-management sleeve to your desired length, to fit neatly under your desk or table, or behind your media center. Applications - Keep cables organized behind your computer in a business setting, or home office - Manage cables in an AV studio - Keep electrical cables organized in a networking setting - Fix the cable clutter behind your TV entertainment center
Product SKU: WKSTNCM2
Product Brand: StarTech
Product Currency: NZD
Product Price: 61.00
Price Valid Until: 1970-01-01
Product In-Stock: PreOrder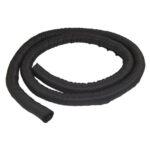 StarTech WKSTNCM2 4.6m (15') Cable Management Sleeve - Flexible Coiled Cable Wrap - 1.0-1.5" dia. Expandable Sleeve - Polyester Cord Manager/Protector/Concealer - Black Trimmable Cable Organizer
Your review
* Review is required
Email
* Email is required
Add photos or video to your review