SAMSON ESWXPD2HQ6 STAGE XPD2 USB WIRELESS MICROPHONE SYSTEM WITH HANDHELD MICROPHONE – COMPATIBLE WITH MAC,PC, SMARTPHONE AND SAMSON EXP
Email when stock available
Features:
The Samson XPD2 Handheld Microphone System allows you to bring a wireless microphone to a variety of sound applications via its uniquely designed USB stick receiver. Offering simple setup, professional full-range audio and 100′ of wireless operation, the XPD2 Handheld is perfect for live performances, digital communications and mobile productions.
The XPD2 Handheld system combines incredible audio quality, simple operation and micro receiver technology to make integrating a wireless microphones into your audio production extremely easy and affordable.
The USB stick receiver connects directly to PC or Mac computers, or with any Samson Expedition Series Portable PA System that features a USB Wireless port. An added feature from the previous generation system, the 1/8″ (3.5mm) output allows for headphone monitoring or the XPD2 Handheld to be used with any device that has an analog line input, including smartphones and other mobile devices.
XPD2 wireless delivers its high-quality audio via digital transmission. This type of wireless technology enables the HXD2 handheld microphone transmitter to send uncompressed signal to the receiver. The result is greater signal-to-noise when compared to a traditional wireless system, and a performance that sounds as good as using a wired microphone.
– 2.4 GHz USB digital wireless system
– Ideal for broadcasting, live streaming, presentations, and more
– Plug-and-play operation with Mac and Windows
– Works with iPad via Apple's Lightning to USB Camera Adapter
– Works with Android devices via a host OTG adapter
– Receiver features a 3.5mm headphone/monitor output
– HXD1 handheld microphone transmitter with Samson Q6 dynamic microphone element
– Transmitter offers 20 hours of battery life using two AA batteries (not included)
– 100′ operating range (line of sight, environment dependant)
– 1-touch pairing, adjustable volume controls on transmitter
– Compatible with Samson Expedition Series Portable PAs that feature USB wireless ports
– Includes mic clip and USB extension cable
Specifications:
System
# Of Simultaneous Systems
2
Working Range
100′ line of sight
Working Frequency
2.404~2.476 GHz
Modulation Type
GFSK
Audio Frequency Response
20 Hz to 17 kHz (-1 dB)
Total Harmonic Distortion (THD)
<0.1% (at 1 kHz, -10 dBu) Signal to Noise >85 dB
Operating Temperature
14 to 104°F / -10 to 40°C
Handheld Transmitter
Microphone Element
Q6 dynamic
RF Power
<10 mW EIRP Power Requirements 2 x AA (LR6) alkaline batteries Battery Life 20 hours Audio Sample Rate 32 kHz Dimensions (L x Diam) 25.9 x 5.3 cm Weight 218 g Receiver Maximum Audio Output Level Analogue 9 dBu Headphone Output 22 mW into 16 or 32 Ohms Operating Voltage 5 VDC Dimensions (L x D x H) 8.9 x 2.3 x 0.8 cm Weight 10 g Manufacturer Part No: ESWXPD2HQ6 Brand: SAMSON Product Type: - UPC 809164220398 Product Family: - Shipping Weight: 1.01 kg PB Part No: AUDSMS11065 Product Model: ESWXPD2HQ6 Warranty: 12 months * * Warranty period is as stated above unless the manufacturer has chosen to specify a longer period. All warranties are return to base unless otherwise specified.
Why is there a reasonable price displayed?
Discover the reason behind our incredibly reasonable prices! At our company, we prioritize your satisfaction and work tirelessly to offer you access to top-notch brands without breaking the bank. Our commitment to minimizing profit margins enables us to deliver affordability without compromising on quality. Shop with confidence and explore a wide range of reputable products at budget-friendly rates. Your satisfaction is our priority!
SAMSON ESWXPD2HQ6 STAGE XPD2 USB WIRELESS MICROPHONE SYSTEM WITH HANDHELD MICROPHONE - COMPATIBLE WITH MAC,PC, SMARTPHONE AND SAMSON EXP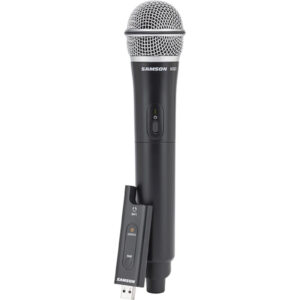 The Samson XPD2 Handheld Microphone System allows you to bring a wireless microphone to a variety of sound applications via its uniquely designed USB stick receiver. Offering simple setup, professional full-range audio and 100' of wireless operation, the XPD2 Handheld is perfect for live performances, digital communications and mobile productions. The XPD2 Handheld system combines incredible audio quality, simple operation and micro receiver technology to make integrating a wireless microphones into your audio production extremely easy and affordable. The USB stick receiver connects directly to PC or Mac computers, or with any Samson Expedition Series Portable PA System that features a USB Wireless port. An added feature from the previous generation system, the 1/8" (3.5mm) output allows for headphone monitoring or the XPD2 Handheld to be used with any device that has an analog line input, including smartphones and other mobile devices. XPD2 wireless delivers its high-quality audio via digital transmission. This type of wireless technology enables the HXD2 handheld microphone transmitter to send uncompressed signal to the receiver. The result is greater signal-to-noise when compared to a traditional wireless system, and a performance that sounds as good as using a wired microphone. - 2.4 GHz USB digital wireless system - Ideal for broadcasting, live streaming, presentations, and more - Plug-and-play operation with Mac and Windows - Works with iPad via Apple's Lightning to USB Camera Adapter - Works with Android devices via a host OTG adapter - Receiver features a 3.5mm headphone/monitor output - HXD1 handheld microphone transmitter with Samson Q6 dynamic microphone element - Transmitter offers 20 hours of battery life using two AA batteries (not included) - 100' operating range (line of sight, environment dependant) - 1-touch pairing, adjustable volume controls on transmitter - Compatible with Samson Expedition Series Portable PAs that feature USB wireless ports - Includes mic clip and USB extension cable
Product SKU: ESWXPD2HQ6
Product Brand: SAMSON
Product Currency: NZD
Price Valid Until: 1970-01-01
Product In-Stock: SoldOut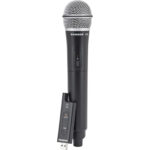 SAMSON ESWXPD2HQ6 STAGE XPD2 USB WIRELESS MICROPHONE SYSTEM WITH HANDHELD MICROPHONE - COMPATIBLE WITH MAC,PC, SMARTPHONE AND SAMSON EXP
Your review
* Review is required
Email
* Email is required
Add photos or video to your review