Rivacase Regent Carry Bag With Logitech M171 Wireles Mouse Bundle – for 15.6 inch Notebook / Laptop – Black – Black Mouse – Perfect Essentials for Business & Study
Roll over image to zoom in
Click to open expanded view
$41.15
or 6 weekly interest-free payments from $6.85 with
Calculate shipping price
Please fill in the fields below with the shipping destination details in order to calculate the shipping cost.
Features:
Rivacase Regent Carry Bag With Logitech M171 Wireles Mouse Bundle
This elegant slim Laptop bag embodies our brand DNA, engineered for both versatility and style. At an entry-level price, its sophisticated and rich colour scheme communicates both a casualness and a sense of formality, making it suitable for any occasion. It is perfect for all people, especially working professionals and students because of the mobility, durability and comfort it offers.
– Multifunctional bag aimed at entry price level for Laptops up to 15.6"
– Made of durable polyester fabric
– Padded Laptop compartment provides extra protection
– Front zipped pocket for smartphone, business cards, accessories
– Dual zipper pulls for quick and easy access
– Comfortable padded handles and a removable, adjustable strap
Logitech M171 Wireless Mouse – Black
With Logitech M171 wireless mouse, choose the reliability of a cord with the convenience of wireless and a 10-metre range thanks to Logitech Advanced 2.4 GHz wireless technology. This affordable, no-hassle mouse is compatible with Windows, Mac and Chrome.
– 10 Metre range
– Plug-and-play receiver
Specifications:
Rivacase Regent Carry Bag Specifications
Product Weight:
0.47 kg
External dimensions:
420x290x55 mm
Material:
Polyester
Laptop pocket size
400x285x45 mm
Logitech M171 Wireles Mouse Specifications
Dimensions
Mouse (height x width x depth):
97.7 mm x 61.5 mm x 35.2 mm
Mouse Weight:
70.5 g with battery
Nano receiver (height x width x depth):
6.6 mm   x  14.4 mm  x  18.7 mm
Nano receiver Weight:
2.0 g
Technical Specs
Connection Type:
2.4 Ghz wireless
Wireless range:
10 m
Battery:
1 x AA
Package Contents
Mouse
Receiver
User documentation
Manufacturer Part No:
BDLRVC0001
Brand:
Rivacase
Product Type:
Carry Bag With
UPC
–
Product Family:
Regent
Shipping Weight:
0.378 kg
PB Part No:
BDLRVC0001
Product Model:
–
Warranty:
3 months *
* Warranty period is as stated above unless the manufacturer has chosen to specify a longer period.
All warranties are return to base unless otherwise specified.
Why is there a reasonable price displayed?
Discover the reason behind our incredibly reasonable prices! At our company, we prioritize your satisfaction and work tirelessly to offer you access to top-notch brands without breaking the bank. Our commitment to minimizing profit margins enables us to deliver affordability without compromising on quality. Shop with confidence and explore a wide range of reputable products at budget-friendly rates. Your satisfaction is our priority!
Rivacase Regent Carry Bag With Logitech M171 Wireles Mouse Bundle - for 15.6 inch Notebook / Laptop - Black - Black Mouse - Perfect Essentials for Business & Study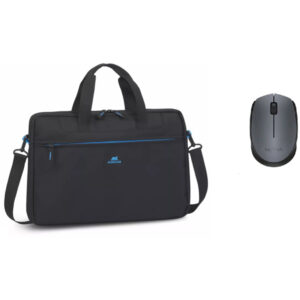 Rivacase Regent Carry Bag With Logitech M171 Wireles Mouse Bundle This elegant slim Laptop bag embodies our brand DNA, engineered for both versatility and style. At an entry-level price, its sophisticated and rich colour scheme communicates both a casualness and a sense of formality, making it suitable for any occasion. It is perfect for all people, especially working professionals and students because of the mobility, durability and comfort it offers. - Multifunctional bag aimed at entry price level for Laptops up to 15.6'' - Made of durable polyester fabric - Padded Laptop compartment provides extra protection - Front zipped pocket for smartphone, business cards, accessories - Dual zipper pulls for quick and easy access - Comfortable padded handles and a removable, adjustable strap Logitech M171 Wireless Mouse - Black With Logitech M171 wireless mouse, choose the reliability of a cord with the convenience of wireless and a 10-metre range thanks to Logitech Advanced 2.4 GHz wireless technology. This affordable, no-hassle mouse is compatible with Windows, Mac and Chrome. - 10 Metre range - Plug-and-play receiver
Product SKU: BDLRVC0001
Product Brand: Rivacase
Product Currency: NZD
Product Price: 43.00
Price Valid Until: 1970-01-01
Product In-Stock: InStock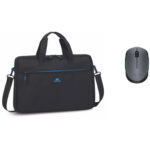 Rivacase Regent Carry Bag With Logitech M171 Wireles Mouse Bundle - for 15.6 inch Notebook / Laptop - Black - Black Mouse - Perfect Essentials for Business & Study
Your review
* Review is required
Email
* Email is required
Add photos or video to your review