Raspberry Pi PiFace Control & Display I/O Board with LCD Display / A Plug and Play Device tocontrolRaspberry Pi
Out Of Stock
Roll over image to zoom in
Click to open expanded view
Email when stock available
Features:
PiFace Control & Display
PiFace Control & Display is a plug and play device that allows to use and control Raspberry Pi without a keyboard, mouse and monitor. It saves space and power by removing the need for a monitor whilst still providing a simple, yet capable interactive user interface. PiFace Control & Display is supplied with easy to use software that enables the easy creation of custom bitmap icons. Getting started is quick and simple by using the single line install script that pulls in all the driver software that is needed to run predesigned examples. PiFace Control & Display features a 16 character by 2 line alpha numeric display, which is able to display status information, messages and menus. Flexible control of the Raspberry Pi is enhanced with an IR remote control or the onboard buttons.
– 16 character by 2 line alpha numeric display
– User definable custom characters
– LED display backlight
– IR receiver for infrared remote control
– 3 position navigation switch
– 5 tactile switches for control and menu navigation
– Python libraries provided to quickly and easily build menus
Applications
– Imaging, Video & Vision
– Audio
Warning: PiFace Control & Display is sensitive to electrostatic discharge (ESD), please observe ESD best practice when handling.
Operating Instructions (757.64KB) EN
Safety Data Sheet (529.26KB) EN
Specifications:
Core Architecture
ARM
Core Sub-Architecture
ARM1176JZF-S
Features
Saves Space & Power, Display Status Info, Messages, Menus & Control your Pi with an IR Remote
For Use With
Compatible with Raspberry Pi Model B/A
Kit Contents
Add-on board with display
Kit Features
Internet Radio, Streaming Media, XBMC Media Centre
Silicon Core Number
BCM2835
Silicon Family Name
BCM2xxx
Silicon Manufacturer
Broadcom
Manufacturer Part No:
2344458
Brand:
Raspberry Pi
Product Type:
–
UPC
–
Product Family:
–
Shipping Weight:
0.07 kg
PB Part No:
SEVRBP0031
Product Model:
–
Warranty:
12 months *
* Warranty period is as stated above unless the manufacturer has chosen to specify a longer period.
All warranties are return to base unless otherwise specified.
Why is there a reasonable price displayed?
Discover the reason behind our incredibly reasonable prices! At our company, we prioritize your satisfaction and work tirelessly to offer you access to top-notch brands without breaking the bank. Our commitment to minimizing profit margins enables us to deliver affordability without compromising on quality. Shop with confidence and explore a wide range of reputable products at budget-friendly rates. Your satisfaction is our priority!
Raspberry Pi PiFace Control & Display I/O Board with LCD Display / A Plug and Play DevicetocontrolRaspberry Pi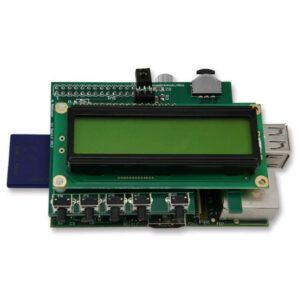 PiFace Control & Display PiFace Control & Display is a plug and play device that allows to use and control Raspberry Pi without a keyboard, mouse and monitor. It saves space and power by removing the need for a monitor whilst still providing a simple, yet capable interactive user interface. PiFace Control & Display is supplied with easy to use software that enables the easy creation of custom bitmap icons. Getting started is quick and simple by using the single line install script that pulls in all the driver software that is needed to run predesigned examples. PiFace Control & Display features a 16 character by 2 line alpha numeric display, which is able to display status information, messages and menus. Flexible control of the Raspberry Pi is enhanced with an IR remote control or the onboard buttons. - 16 character by 2 line alpha numeric display - User definable custom characters - LED display backlight - IR receiver for infrared remote control - 3 position navigation switch - 5 tactile switches for control and menu navigation - Python libraries provided to quickly and easily build menus Applications - Imaging, Video & Vision - Audio Warning: PiFace Control & Display is sensitive to electrostatic discharge (ESD), please observe ESD best practice when handling. Operating Instructions (757.64KB) EN Safety Data Sheet (529.26KB) EN
Product SKU: 2344458
Product Brand: Raspberry Pi
Product Currency: NZD
Price Valid Until: 1970-01-01
Product In-Stock: SoldOut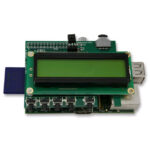 Raspberry Pi PiFace Control & Display I/O Board with LCD Display / A Plug and Play Device tocontrolRaspberry Pi
Your review
* Review is required
Email
* Email is required
Add photos or video to your review