Raspberry Pi Official 7″ Touch Screen Display with 10 Finger Capacitive Touch
Out Of Stock
Roll over image to zoom in
Click to open expanded view
Email when stock available
Features:
Note: Raspberry Pi and power supply are NOT included! Compatible with Raspberry Pi 3, Raspberry Pi 2, Model B+, and Model A+. The display will technically work with the Model A and Model B boards (connecting it to the DSI port on the Pi board), however the mounting holes on the back of the display will only line up with the newer board designs (A+, B+, Pi 2, and Pi 3).
NOTE: DO NOT CONNECT TO RASPBERRY PI 4 MODEL B. Pi's power supply is marginal or insufficient for its requirements. Please check
SEVRBP0087
for RPI4 use.
Technical Datasheet
The 7″ Touchscreen Monitor for Raspberry Pi gives users the ability to create all-in-one, integrated projects such as tablets, infotainment systems and embedded projects. The 800 x 480 display connects via an adapter board which handles power and signal conversion. It is truly interactive as the latest software drivers will support a virtual 'on screen' keyboard, so there is no need to plug in a keyboard and mouse.
Turn your Raspberry Pi into a touch screen tablet, infotainment system, or standalone device
10 finger capacitive touch
Screen Dimensions: 194mm x 110mm x 20mm
Viewable screen size: 155mm x 86mm
Screen Resolution 800 x 480 pixels
Applications:
Consumer Electronics; Embedded Design & Development; Hobby & Education; Multimedia; Portable Devices
Kit Contents:
– 7″ Touch screen Display
– Adapter Board
– DSI Ribbon cable
– 4 x stand-offs and screws (used to mount the adapter board and Raspberry Pi board to the back of the display
– 4 x jumper wires (used to connect the power from the Adapter Board and the GPIO pins on the Pi so the 2Amp power is shared across both units)
Specifications:
Display
7inch 800 x 480 pixel resolution, 10 finger multi-point touchscreen
Screen Dimensions: 194mm x 110mm x 20mm (including standoffs)
Viewable screen size
155mm x 86mm
Screen Resolution
800 x 480 pixels
Connects to the Raspberry Pi board using a ribbon cable connected to the DSI port.
Adapter board is used to power the display and convert the parallel signals from the display to the serial (DSI) port on the Raspberry Pi.
Will require the latest version of Raspbian OS to operate correctly.
Manufacturer Part No:
3649109
Brand:
Raspberry Pi
Product Type:
–
UPC
640522710829
Product Family:
–
Shipping Weight:
0.402 kg
PB Part No:
SEVRBP0074
Product Model:
–
Warranty:
12 months *
* Warranty period is as stated above unless the manufacturer has chosen to specify a longer period.
All warranties are return to base unless otherwise specified.
Why is there a reasonable price displayed?
Discover the reason behind our incredibly reasonable prices! At our company, we prioritize your satisfaction and work tirelessly to offer you access to top-notch brands without breaking the bank. Our commitment to minimizing profit margins enables us to deliver affordability without compromising on quality. Shop with confidence and explore a wide range of reputable products at budget-friendly rates. Your satisfaction is our priority!
Raspberry Pi Official 7" Touch Screen Display with 10 Finger Capacitive Touch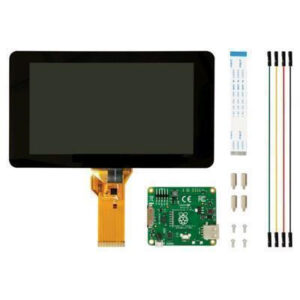 Note: Raspberry Pi and power supply are NOT included! Compatible with Raspberry Pi 3, Raspberry Pi 2, Model B+, and Model A+. The display will technically work with the Model A and Model B boards (connecting it to the DSI port on the Pi board), however the mounting holes on the back of the display will only line up with the newer board designs (A+, B+, Pi 2, and Pi 3). NOTE: DO NOT CONNECT TO RASPBERRY PI 4 MODEL B. Pi's power supply is marginal or insufficient for its requirements. Please check SEVRBP0087 for RPI4 use. Technical Datasheet The 7" Touchscreen Monitor for Raspberry Pi gives users the ability to create all-in-one, integrated projects such as tablets, infotainment systems and embedded projects. The 800 x 480 display connects via an adapter board which handles power and signal conversion. It is truly interactive as the latest software drivers will support a virtual 'on screen' keyboard, so there is no need to plug in a keyboard and mouse. Turn your Raspberry Pi into a touch screen tablet, infotainment system, or standalone device 10 finger capacitive touch Screen Dimensions: 194mm x 110mm x 20mm Viewable screen size: 155mm x 86mm Screen Resolution 800 x 480 pixels Applications: Consumer Electronics; Embedded Design & Development; Hobby & Education; Multimedia; Portable Devices Kit Contents: - 7" Touch screen Display - Adapter Board - DSI Ribbon cable - 4 x stand-offs and screws (used to mount the adapter board and Raspberry Pi board to the back of the display - 4 x jumper wires (used to connect the power from the Adapter Board and the GPIO pins on the Pi so the 2Amp power is shared across both units)
Product SKU: 3649109
Product Brand: Raspberry Pi
Product Currency: NZD
Price Valid Until: 1970-01-01
Product In-Stock: SoldOut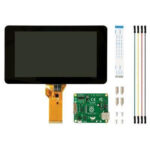 Raspberry Pi Official 7" Touch Screen Display with 10 Finger Capacitive Touch
Your review
* Review is required
Email
* Email is required
Add photos or video to your review