Raspberry Pi Display 1.3inch OLED Module for Raspberry Pi Pico, 64×128, SPI/I2C
Out Of Stock
Roll over image to zoom in
Click to open expanded view
Email when stock available
Features:
NOTE: Raspberry Pi Pico is NOT included. The pictures are for reference ONLY.
1.3inch OLED Display Module For Raspberry Pi Pico, 64×128 Pixels, SPI/I2C Interface
Features:
– Adopts both 4-wire SPI and I2C interface, better compatibility, fast data rate
– 2 x user buttons for easy interacting
– Standard Raspberry Pi Pico header, supports Raspberry Pi Pico series boards
OLED and its controller:
– This OLED integrates the SH1107 controller which has 128×128 bits SRAM, supports 128×128 resolution. The controller features SPI/IIC/ 6800/8080 interface and 256 brightness levels. The resolution of this 1.3inch OLED is only 64×128, only half of the SRAM is used.
– This OLED uses four-line SPI and I2C interface for communicating, which supports higher compatibility and speed.
Protocol:
Note: The MISO pin is hidden, for more details, you can refer to Datasheet Page11.
– CS: Chip selection of the slaver, the chip is activated when CS is Low;
– SI(D1): This is MOSI pin, the pin is used to transmit data from master to slaver;
– SCL(D0)is the SPI clock
– A0: This is the DC pin, it is used to determine the data input, DC=0: command is sent;
– SPI communication has data transfer timing, which is combined by CPHA and CPOL.
– CPOL determines the level of the serial synchronous clock at an idle state. When CPOL = 0, the level is Low. However, CPOL has little effect on the transmission.
– CPHA determines whether data is collected at the first clock edge or at the second clock edge of the serial synchronous clock; when CPHL = 0, data is collected at the first clock edge.
– According to the figure, SCL is high in idle and it starts to transmit data at the second edge. therefore the timing is Mode 3 (0x11). Data is transmitted in MSB format.
User Guides, Resoures, please check
HERE
Specifications:
Operating voltage
3.3V
Communication Interface
4-wire SPI, I2C
Display Panel
OLED
Driver
SH1107
Resolution
64×128 pixels
Display size
14.70 × 29.42mm
Pixel size
0.15 × 0.15mm
Dimensions
52.00 × 25.00mm
Manufacturer Part No:
19376
Brand:
Raspberry Pi
Product Type:
Module
UPC
–
Product Family:
Display
Shipping Weight:
1 kg
PB Part No:
SEVRBP0341
Product Model:
1.3inch OLED
Warranty:
12 months *
* Warranty period is as stated above unless the manufacturer has chosen to specify a longer period.
All warranties are return to base unless otherwise specified.
Why is there a reasonable price displayed?
Discover the reason behind our incredibly reasonable prices! At our company, we prioritize your satisfaction and work tirelessly to offer you access to top-notch brands without breaking the bank. Our commitment to minimizing profit margins enables us to deliver affordability without compromising on quality. Shop with confidence and explore a wide range of reputable products at budget-friendly rates. Your satisfaction is our priority!
Raspberry Pi Display 1.3inch OLED Module for Raspberry Pi Pico, 64x128, SPI/I2C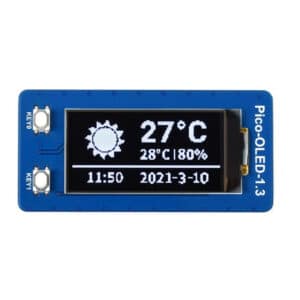 NOTE: Raspberry Pi Pico is NOT included. The pictures are for reference ONLY. 1.3inch OLED Display Module For Raspberry Pi Pico, 64x128 Pixels, SPI/I2C Interface Features: - Adopts both 4-wire SPI and I2C interface, better compatibility, fast data rate - 2 x user buttons for easy interacting - Standard Raspberry Pi Pico header, supports Raspberry Pi Pico series boards OLED and its controller: - This OLED integrates the SH1107 controller which has 128x128 bits SRAM, supports 128x128 resolution. The controller features SPI/IIC/ 6800/8080 interface and 256 brightness levels. The resolution of this 1.3inch OLED is only 64x128, only half of the SRAM is used. - This OLED uses four-line SPI and I2C interface for communicating, which supports higher compatibility and speed. Protocol: Note: The MISO pin is hidden, for more details, you can refer to Datasheet Page11. - CS: Chip selection of the slaver, the chip is activated when CS is Low; - SI(D1): This is MOSI pin, the pin is used to transmit data from master to slaver; - SCL(D0)is the SPI clock - A0: This is the DC pin, it is used to determine the data input, DC=0: command is sent; - SPI communication has data transfer timing, which is combined by CPHA and CPOL. - CPOL determines the level of the serial synchronous clock at an idle state. When CPOL = 0, the level is Low. However, CPOL has little effect on the transmission. - CPHA determines whether data is collected at the first clock edge or at the second clock edge of the serial synchronous clock; when CPHL = 0, data is collected at the first clock edge. - According to the figure, SCL is high in idle and it starts to transmit data at the second edge. therefore the timing is Mode 3 (0x11). Data is transmitted in MSB format. User Guides, Resoures, please check HERE
Product SKU: 19376
Product Brand: Raspberry Pi
Product Currency: NZD
Price Valid Until: 1970-01-01
Product In-Stock: SoldOut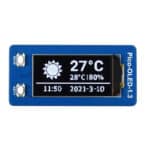 Raspberry Pi Display 1.3inch OLED Module for Raspberry Pi Pico, 64x128, SPI/I2C
Your review
* Review is required
Email
* Email is required
Add photos or video to your review