Poly Voyager Focus 202652-101 UC BT Headset
$349.45
or 6 weekly interest-free payments from $58.24 with
Calculate shipping price
Please fill in the fields below with the shipping destination details in order to calculate the shipping cost.
Features:
VOYAGER FOCUS UC
Make it your business to hear and be heard with the Plantronics Voyager Focus UC Stereo Bluetooth headset. Move fluidly between PC and smartphone and between work and entertainment with rich, immersive stereo and active noise canceling designed to keep your focus on work, not on the chaos
around you.
INTUITIVE/USER FRIENDLY FEATURES
– Works seamlessly across laptops, Bluetooth-enabled desk phones, mobile phones and tablets
– Smart sensors answer calls by simply putting on the headset, mute by taking the headset off and pause/resume music
– Enhanced voice alerts announce caller ID, mute and connection status, talk time level
– Dynamic Mute Alert feature senses and alerts you when you try to talk when muted
– Smart mic boom: wear on either side and maintain locations of R/L stereo and volume/track buttons
GREAT AUDIO ON BOTH SIDES OF THE CALL
– Precision tuned triple-mics with enhanced DSP for superior background noise canceling
– On-demand active noise cancellation so you can focus on your call or work
– High-quality stereo design provides hi-fi stereo sound and an immersive audio experience
– OpenMic button allows you to hear your surroundings when you need to
COMFORT AND DURABILITY
– Leatherette ear cushions wrapped around pillow-soft memory foam
– Cushioned metal headband provides durability while maintaining a comfortable, secure fit
– Easily take the headset on the go with folding ear cushions and included carrying case
Specifications:
Connects to
Laptops via USB adapter, Bluetooth-enabled desk phones, mobile phones, tablets, and smart watches
Ideal for
Mobile professionals with extensive PC/Mac and mobile communications in noisy environments; featuring Active
Noise Canceling and smart sensor technology
Talk/Listen time
Talk time: Up to 12 hours (10 ANC on) Listening time: Up to 15 hours (12 ANC on)
Roaming range
Up to 98 feet (30 meters) with adaptive power (with Class 1 supported devices)
Headset weight
155 grams
Wireless frequency
Bluetooth® v4.1
Audio performance
Active noise canceling technology, wideband (voice), hi-fi stereo, A2DP, DSP
Hearing protection
SoundGuard DIGITAL: protects against sound levels above 118dBA;
Anti-startle (during calls) detects and eliminates any large sudden increase in signal level; Time-Weighted Average prevents average daily noise exposure from exceeding 85dBA
Model
B825: UC Standard version built for UC applications and softphones from Avaya, Cisco, Skype and more*
Manufacturer Part No:
202652-101
Brand:
Poly
Product Type:
Headset
UPC
017229173392
Product Family:
Voyager Focus
Shipping Weight:
1.01 kg
PB Part No:
HSTPOL4999651
Product Model:
202652-101
Warranty:
12 months *
* Warranty period is as stated above unless the manufacturer has chosen to specify a longer period.
All warranties are return to base unless otherwise specified.
Why is there a reasonable price displayed?
Discover the reason behind our incredibly reasonable prices! At our company, we prioritize your satisfaction and work tirelessly to offer you access to top-notch brands without breaking the bank. Our commitment to minimizing profit margins enables us to deliver affordability without compromising on quality. Shop with confidence and explore a wide range of reputable products at budget-friendly rates. Your satisfaction is our priority!
Poly Voyager Focus 202652-101 UC BT Headset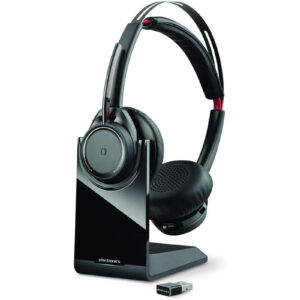 VOYAGER FOCUS UC Make it your business to hear and be heard with the Plantronics Voyager Focus UC Stereo Bluetooth headset. Move fluidly between PC and smartphone and between work and entertainment with rich, immersive stereo and active noise canceling designed to keep your focus on work, not on the chaos around you. INTUITIVE/USER FRIENDLY FEATURES - Works seamlessly across laptops, Bluetooth-enabled desk phones, mobile phones and tablets - Smart sensors answer calls by simply putting on the headset, mute by taking the headset off and pause/resume music - Enhanced voice alerts announce caller ID, mute and connection status, talk time level - Dynamic Mute Alert feature senses and alerts you when you try to talk when muted - Smart mic boom: wear on either side and maintain locations of R/L stereo and volume/track buttons GREAT AUDIO ON BOTH SIDES OF THE CALL - Precision tuned triple-mics with enhanced DSP for superior background noise canceling - On-demand active noise cancellation so you can focus on your call or work - High-quality stereo design provides hi-fi stereo sound and an immersive audio experience - OpenMic button allows you to hear your surroundings when you need to COMFORT AND DURABILITY - Leatherette ear cushions wrapped around pillow-soft memory foam - Cushioned metal headband provides durability while maintaining a comfortable, secure fit - Easily take the headset on the go with folding ear cushions and included carrying case
Product SKU: 202652-101
Product Brand: Poly
Product Currency: NZD
Product Price: 349.99
Price Valid Until: 1970-01-01
Product In-Stock: InStock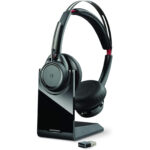 Poly Voyager Focus 202652-101 UC BT Headset
Your review
* Review is required
Email
* Email is required
Add photos or video to your review