Poly VOYAGER 4320 218478-01 Headset
$297.72
or 6 weekly interest-free payments from $49.62 with
Features:
PRO-QUALITY AUDIO IN AN AFFORDABLE BLUETOOTH HEADSET
Free yourself from your desk with the perfect entry-level Bluetooth® wireless headset. Meet the Voyager 4300 UC Series. It's everything you need to stay productive and connected to all your devices whether at home or in the office. Long day of calls made easier with all-day comfort and dual-mic Acoustic Fence technology that eliminates background noise. Phenomenal flexibility, connectivity, and freedom? Yes please!
MOVE MORE AND FOR LONGER
Walk-and-talk with ease with up to 50 meters/164 feet of wireless range, up to 24 hours of talk time and all-day comfort to match. Make those long conference calls a little easier.
FLEXIBILITY TO WORK WHERE YOU NEED TO
Move easily between the home and the office with portable design and travel pouch. Working somewhere noisy? No problem. The dual-mic Acoustic Fence technology eliminates background noise. And with a mute button that is super easy to find and dynamic mute alert, you are in control.
ONE HEADSET – MANY DEVICES
Multiple device connections are at your fingertips. PC/Mac, smartphone, desk phone (with office base, sold separately). No need for battery anxiety, if you need more charge just plug it in and use as a corded headset.
CHOOSE WHAT TO HEAR AND HOW YOU WEAR IT
Want to listen to music or block out the noise around you? Chose the Voyager 4320, stereo version. Prefer to keep one ear free to hear what's around you? Then go with the Voyager 4310, mono version. Both have outstanding audio and include Poly's SoundGuard DIGITAL for your acoustic protection.
BUILT FOR COMPATIBILITY
All Poly USB headsets and personal speakerphones are compatible with the most popular voice platforms – we just work. Poly solutions provide excellent audio quality for both you and those on the other end of the call – no matter your platform of choice.
Features
– Noise-canceling dual-mic with Acoustic Fence technology
– Acoustic hearing protection with SoundGuard DIGITAL
– Designed for portability: use at home and in the office
– Comfortable, adjustable padded headband
– Mono and stereo wearing styles
Specifications:
Interfaces/Ports
Host Interface
USB Type C
Technical Information
Cable Length
150 cm
Sound Mode
Stereo
Sound Pressure Level
102 dB
Connectivity Technology
Wired/Wireless
Features
Wideband Audio
LED Indicator
Padded Headband
Mute Button
Acoustic Fence Technology
Fast Charging
Equalizer
Multipoint
SoundGuard Technology
Comfortable
Hands-free
Flexible Microphone
Rechargeable Battery
Headphone Spatial Processing (HSP)
Audio/Video Remote Control Profile (AVRCP)
Adjustable Headband
Wireless Technology
Bluetooth
Minimum Frequency Response
20 Hz
Maximum Frequency Response
20 kHz
Wireless Operating Distance
5000 cm
Miscellaneous
Compatibility
PC
Mac
Mobile Phone
Earpiece
Earpiece Design
Over-the-head
Earpiece Type
Binaural
Physical Characteristics
Weight (Approximate)
162 g
Form Factor
Ear-cup
Microphone
Microphone Technology
Noise Cancelling
Microphone Design
Boom
Detachable Microphone
No
Integrated Microphone
Yes
Manufacturer Part No:
218478-01
Brand:
Poly
Product Type:
Headset
UPC
017229174344
Product Family:
VOYAGER 4320
Shipping Weight:
0.5 kg
PB Part No:
IPHPOL5313480
Product Model:
218478-01
Warranty:
12 months *
* Warranty period is as stated above unless the manufacturer has chosen to specify a longer period.
All warranties are return to base unless otherwise specified.
Why is there a reasonable price displayed?
Discover the reason behind our incredibly reasonable prices! At our company, we prioritize your satisfaction and work tirelessly to offer you access to top-notch brands without breaking the bank. Our commitment to minimizing profit margins enables us to deliver affordability without compromising on quality. Shop with confidence and explore a wide range of reputable products at budget-friendly rates. Your satisfaction is our priority!
Poly VOYAGER 4320 UC 218478-01 Headset USB-C, STEREO BLUETOOTH HEADSET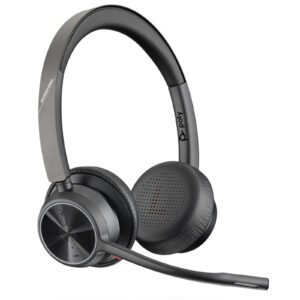 PRO-QUALITY AUDIO IN AN AFFORDABLE BLUETOOTH HEADSET Free yourself from your desk with the perfect entry-level Bluetooth® wireless headset. Meet the Voyager 4300 UC Series. It's everything you need to stay productive and connected to all your devices whether at home or in the office. Long day of calls made easier with all-day comfort and dual-mic Acoustic Fence technology that eliminates background noise. Phenomenal flexibility, connectivity, and freedom? Yes please! MOVE MORE AND FOR LONGER Walk-and-talk with ease with up to 50 meters/164 feet of wireless range, up to 24 hours of talk time and all-day comfort to match. Make those long conference calls a little easier. FLEXIBILITY TO WORK WHERE YOU NEED TO Move easily between the home and the office with portable design and travel pouch. Working somewhere noisy? No problem. The dual-mic Acoustic Fence technology eliminates background noise. And with a mute button that is super easy to find and dynamic mute alert, you are in control. ONE HEADSET - MANY DEVICES Multiple device connections are at your fingertips. PC/Mac, smartphone, desk phone (with office base, sold separately). No need for battery anxiety, if you need more charge just plug it in and use as a corded headset. CHOOSE WHAT TO HEAR AND HOW YOU WEAR IT Want to listen to music or block out the noise around you? Chose the Voyager 4320, stereo version. Prefer to keep one ear free to hear what's around you? Then go with the Voyager 4310, mono version. Both have outstanding audio and include Poly's SoundGuard DIGITAL for your acoustic protection. BUILT FOR COMPATIBILITY All Poly USB headsets and personal speakerphones are compatible with the most popular voice platforms - we just work. Poly solutions provide excellent audio quality for both you and those on the other end of the call - no matter your platform of choice. Features - Noise-canceling dual-mic with Acoustic Fence technology - Acoustic hearing protection with SoundGuard DIGITAL - Designed for portability: use at home and in the office - Comfortable, adjustable padded headband - Mono and stereo wearing styles
Product SKU: 218478-01
Product Brand: Poly
Product Currency: NZD
Product Price: 286.36
Price Valid Until: 1970-01-01
Product In-Stock: InStock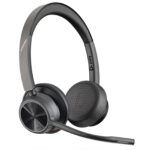 Poly VOYAGER 4320 218478-01 Headset
Your review
* Review is required
Email
* Email is required
Add photos or video to your review