Poly EncorePro 78714-101 HW720 Wired Binaural Headset
$186.73
or 6 weekly interest-free payments from $31.12 with
Features:
Anything else is just a headset
Reward your top performers with our top-of-the-line Plantronics EncorePro 700 headset series, designed for customer service representatives. Its distinctive design is slim and stylish with an elegant satin finish. Its featherweight materials and leatherette ear pads ensure luxurious comfort, while its unique curved, telescoping microphone and pivoting boom deliver crystal-clear, private conversations. The EncorePro 700 Series – the thoroughbred of headsets.
Luxurious comfort. Distinctive design.
-Elegant, satin finish and slim, stylish design make anyone proud to wear it
-Conveniently situated microphone arm stays clear of wearer's peripheral vision
-Premium nylon composite materials provide an ultra light weight design
-Soft and comfortable leatherette earpads
-Adjustable fit enhances all-day wearing comfort, ensuring that representatives stay fresh and engaged
-Quick Disconnect feature provides walkaway convenience and compatibility with all Plantronics USB and desk phone audio processors and with direct connect cables
Exceptional audio
-Unique, extendable boom ensures precise positioning, enables optimal noise cancelation, and means customers hear every word
-Wideband audio delivers richer, clearer conversations, and reduces listening fatigue
-SoundGuard technology protects hearing against sounds above 118 dBA
Long-term reliability
-Designed for the rigors of call-intensive environments, minimizing operational disruptions and costly downtime
-Reinforced, lightweight headband provides strength and durability
Slim, supple, but extremely durable cables
Specifications:
Manufacturer
Poly
Product No.
78714-101
Colour
Black
Connects to
PC or desk phone with Plantronics audio processors
Ideal for
Telephone-intensive users, including formal customer care centers, help desks, telesales, and customer service organizations
Hearing protection
SoundGuard technology: acoustic limiting for protection against sounds above 118 dBA
Limited warranty
Two years
Audio performance
Wideband audio (up to 6,800 Hz), noise-canceling microphone
Weight
78g
Manufacturer Part No:
78714-101
Brand:
Poly
Product Type:
Binaural Headset
UPC
017229147157
Product Family:
EncorePro
Shipping Weight:
0.5 kg
PB Part No:
HSTPLA0714
Product Model:
78714-101 HW720
Warranty:
24 months *
* Warranty period is as stated above unless the manufacturer has chosen to specify a longer period.
All warranties are return to base unless otherwise specified.
Why is there a reasonable price displayed?
Discover the reason behind our incredibly reasonable prices! At our company, we prioritize your satisfaction and work tirelessly to offer you access to top-notch brands without breaking the bank. Our commitment to minimizing profit margins enables us to deliver affordability without compromising on quality. Shop with confidence and explore a wide range of reputable products at budget-friendly rates. Your satisfaction is our priority!
Poly EncorePro 78714-101 HW720 Wired Binaural Headset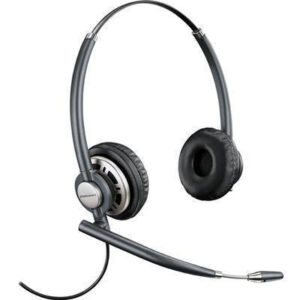 Anything else is just a headset Reward your top performers with our top-of-the-line Plantronics EncorePro 700 headset series, designed for customer service representatives. Its distinctive design is slim and stylish with an elegant satin finish. Its featherweight materials and leatherette ear pads ensure luxurious comfort, while its unique curved, telescoping microphone and pivoting boom deliver crystal-clear, private conversations. The EncorePro 700 Series - the thoroughbred of headsets. Luxurious comfort. Distinctive design. -Elegant, satin finish and slim, stylish design make anyone proud to wear it -Conveniently situated microphone arm stays clear of wearer's peripheral vision -Premium nylon composite materials provide an ultra light weight design -Soft and comfortable leatherette earpads -Adjustable fit enhances all-day wearing comfort, ensuring that representatives stay fresh and engaged -Quick Disconnect feature provides walkaway convenience and compatibility with all Plantronics USB and desk phone audio processors and with direct connect cables Exceptional audio -Unique, extendable boom ensures precise positioning, enables optimal noise cancelation, and means customers hear every word -Wideband audio delivers richer, clearer conversations, and reduces listening fatigue -SoundGuard technology protects hearing against sounds above 118 dBA Long-term reliability -Designed for the rigors of call-intensive environments, minimizing operational disruptions and costly downtime -Reinforced, lightweight headband provides strength and durability Slim, supple, but extremely durable cables
Product SKU: 78714-101
Product Brand: Poly
Product Currency: NZD
Product Price: 193.75
Price Valid Until: 1970-01-01
Product In-Stock: InStock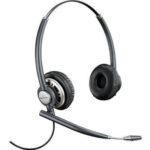 Poly EncorePro 78714-101 HW720 Wired Binaural Headset
Your review
* Review is required
Email
* Email is required
Add photos or video to your review