Poly Encorepro 203194-01 HW540D Wired Digital Over-the-Head Monaural Headset
$93.47
or 6 weekly interest-free payments from $15.57 with
Calculate shipping price
Please fill in the fields below with the shipping destination details in order to calculate the shipping cost.
Features:
Enhanced interactions. Better control.
The EncorePro 500 Digital Series with DA90 USB audio processor and Plantronics Manager Pro, an additional service, is a fully integrated audio and asset management solution for customer service centers. Centralized management with Plantronics Manager Pro enables IT to track detailed insights about devices. And all-day comfort with superior audio quality- including a noise-cancelling microphone with wideband audio-gives customer service representatives the tools they need to provide outstanding customer interactions.
Many designs. One great performance.
From over-the-head to over-the-ear to convertible designs, the EncorePro 500 Digital Series is our dependable, all-day workhorse, engineered for the demanding needs of the modern customer service center and office. An adjustable fit with flexible boom offers precise, quick microphone positioning, enhancing wearability, and helps ensure that customer service representatives stay fresh and focused on the customer throughout the day.
Plantronics manager pro
Headset management, simplified.
With Plantronics Manager Pro, an additional service, IT can remotely monitor, manage, and maintain headsets company-wide, to help ensure that customer service representatives are ready to take every customer call. No IT help desk backlogs, no more running from user to user for adjustments, fixes, or updates. For IT, it means simplicity. For the customer service representative, consistency. And for the customer, satisfaction.
– Flexible unibody boom
– Aircraft-grade aluminum joints
– Laser-welded construction
– Viusal and tactile positioning guides
– Noise-cancelling microphone
– Adjustable fit
– Inventory management
– Monaural and stereo wearing styles
– Over-the-ear design
– 3-in-1 convertible
Specifications:
Wideband Audio
Yes
SoundGuard (Hearing Protection)
Yes
Noise Cancelling Microphone
Yes
Manufacturer Part No:
203194-01
Brand:
Poly
Product Type:
Monaural Headset
UPC
017229146617
Product Family:
Encorepro
Shipping Weight:
0.21 kg
PB Part No:
HSTPLA0541
Product Model:
203194-01 HW540D
Warranty:
12 months *
* Warranty period is as stated above unless the manufacturer has chosen to specify a longer period.
All warranties are return to base unless otherwise specified.
Why is there a reasonable price displayed?
Discover the reason behind our incredibly reasonable prices! At our company, we prioritize your satisfaction and work tirelessly to offer you access to top-notch brands without breaking the bank. Our commitment to minimizing profit margins enables us to deliver affordability without compromising on quality. Shop with confidence and explore a wide range of reputable products at budget-friendly rates. Your satisfaction is our priority!
Poly Encorepro 203194-01 HW540D Wired Digital Over-the-Head Monaural Headset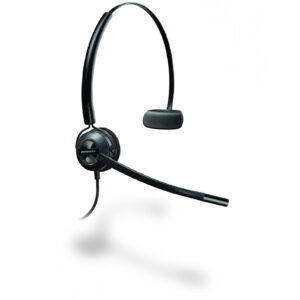 Enhanced interactions. Better control. The EncorePro 500 Digital Series with DA90 USB audio processor and Plantronics Manager Pro, an additional service, is a fully integrated audio and asset management solution for customer service centers. Centralized management with Plantronics Manager Pro enables IT to track detailed insights about devices. And all-day comfort with superior audio quality- including a noise-cancelling microphone with wideband audio-gives customer service representatives the tools they need to provide outstanding customer interactions. Many designs. One great performance. From over-the-head to over-the-ear to convertible designs, the EncorePro 500 Digital Series is our dependable, all-day workhorse, engineered for the demanding needs of the modern customer service center and office. An adjustable fit with flexible boom offers precise, quick microphone positioning, enhancing wearability, and helps ensure that customer service representatives stay fresh and focused on the customer throughout the day. Plantronics manager pro Headset management, simplified. With Plantronics Manager Pro, an additional service, IT can remotely monitor, manage, and maintain headsets company-wide, to help ensure that customer service representatives are ready to take every customer call. No IT help desk backlogs, no more running from user to user for adjustments, fixes, or updates. For IT, it means simplicity. For the customer service representative, consistency. And for the customer, satisfaction. - Flexible unibody boom - Aircraft-grade aluminum joints - Laser-welded construction - Viusal and tactile positioning guides - Noise-cancelling microphone - Adjustable fit - Inventory management - Monaural and stereo wearing styles - Over-the-ear design - 3-in-1 convertible
Product SKU: 203194-01
Product Brand: Poly
Product Currency: NZD
Product Price: 124.42
Price Valid Until: 1970-01-01
Product In-Stock: InStock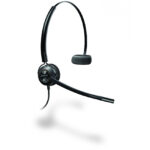 Poly Encorepro 203194-01 HW540D Wired Digital Over-the-Head Monaural Headset
Your review
* Review is required
Email
* Email is required
Add photos or video to your review