Poly Blackwire C3215 USB-C Monaural Headset
$123.00
or 6 weekly interest-free payments from $20.50 with
Calculate shipping price
Please fill in the fields below with the shipping destination details in order to calculate the shipping cost.
Features:
BLACKWIRE 3200 SERIES – C3215
The Blackwire 3200 Series corded UC headsets are durable, lightweight, easy to deploy and come in a variety of connectivity and wearing options. Add insights from Plantronics Manager Pro, an additional service, and you've got a future proof solution. The Blackwire 3200 series with Plantronics signature audio provides top notch features at a price you can afford.
– Available in monaural (C3210/C3215) or hi-fi stereo with passive noise reduction (C3220/C3225)
– Variants include universal USB or USB-C
– Connectivity to smartphone and tablet via 3.5 mm (C3215/C3225)
– Intuitive inline controls to answer/end calls, control volume, and mute
– PC wideband audio with noise-canceling microphones for high-quality PC telephony
– Plantronics Manager Pro, an additional purchase, enables your IT team to gain insight into every compatible Plantronics headset being used company-wide
Specifications:
Connects to
PC via USB/USB-C, connects to mobile devices and tablets via 3.5 mm and devices that support USB-C
Compatible with
Windows® or Mac OS
Ideal for
Users transitioning to PC telephony for webinars, conference calls, music, and other multimedia applications
PC audio performance
Dynamic EQ, microphone frequency response 100 Hz-10 kHz optimal for PC wideband voice telephony (up to 6,800 Hz), hi-fi stereo (C3220/ C3225).
Receive output from 20 Hz-20 kHz, enhanced digital signal processing (DSP), noise-canceling microphone, adjustable audio alerts with Plantronics Hub software (mute/volume)*
*Download the latest release of Plantronics Hub software to get one-touch call answer/end with these softphones.
Hearing protection
SoundGuard: Acoustic limiting for protection against sounds above 118 dBA
Remote call control
Call answer/ignore/end/hold, redial, mute, volume +/-
Weight (grams)
Total weight
96
Headset top
64
Bottom cable to USB
32
Manufacturer Part No:
209750-201
Brand:
Poly
Product Type:
Monaural Headset
UPC
017229173163
Product Family:
Blackwire
Shipping Weight:
0.15 kg
PB Part No:
HSTPOL1004
Product Model:
C3215
Warranty:
12 months *
* Warranty period is as stated above unless the manufacturer has chosen to specify a longer period.
All warranties are return to base unless otherwise specified.
Why is there a reasonable price displayed?
Discover the reason behind our incredibly reasonable prices! At our company, we prioritize your satisfaction and work tirelessly to offer you access to top-notch brands without breaking the bank. Our commitment to minimizing profit margins enables us to deliver affordability without compromising on quality. Shop with confidence and explore a wide range of reputable products at budget-friendly rates. Your satisfaction is our priority!
Poly Blackwire C3215 USB-C Monaural Headset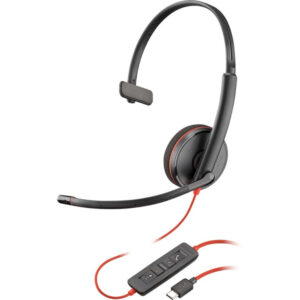 BLACKWIRE 3200 SERIES - C3215 The Blackwire 3200 Series corded UC headsets are durable, lightweight, easy to deploy and come in a variety of connectivity and wearing options. Add insights from Plantronics Manager Pro, an additional service, and you've got a future proof solution. The Blackwire 3200 series with Plantronics signature audio provides top notch features at a price you can afford. - Available in monaural (C3210/C3215) or hi-fi stereo with passive noise reduction (C3220/C3225) - Variants include universal USB or USB-C - Connectivity to smartphone and tablet via 3.5 mm (C3215/C3225) - Intuitive inline controls to answer/end calls, control volume, and mute - PC wideband audio with noise-canceling microphones for high-quality PC telephony - Plantronics Manager Pro, an additional purchase, enables your IT team to gain insight into every compatible Plantronics headset being used company-wide
Product SKU: 209750-201
Product Brand: Poly
Product Currency: NZD
Product Price: 123.00
Price Valid Until: 1970-01-01
Product In-Stock: PreOrder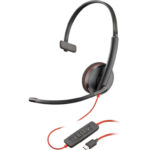 Poly Blackwire C3215 USB-C Monaural Headset
Your review
* Review is required
Email
* Email is required
Add photos or video to your review