Poly BLACKWIRE C3210 209744-201 USB Monaural Headset
$71.94
or 6 weekly interest-free payments from $11.99 with
Calculate shipping price
Please fill in the fields below with the shipping destination details in order to calculate the shipping cost.
Features:
SUPERIOR SOUND THAT WON'T BREAK THE BANK
The Blackwire 3200 Series provides a best-in-class audio experience in a headset that's built for enterprise needs. Even better, people want to wear it-so your investment pays off. With a sleek design and flexible microphone boom for a customizable fit, what's not to love? Plus, it sounds as good as it looks. Enjoy the high-quality audio you expect from Poly.
SUPERIOR AUDIO QUALITY
Enjoy a truly outstanding sound experience-ideal for voice, music and multimedia. The Blackwire 3200 Series offers PC wideband, noise-canceling microphone and hi-fi stereo sound options. Dynamic EQ optimizes call quality and automatically adjusts the settings when you're listening to multimedia.
ADVANCED CONNECTIVITY
Ideal for managing calls on PC, mobile phone or tablet. Combine the comfort and durability of a corded headset with greater flexibility-all at an entry-level price point.
ALL-DAY COMFORT + PORTABILITY
Relax while you talk knowing your headset is secure-lightweight metal headband offers durability plus a custom fit. Leatherette ear cushions fold flat for easy portability. It even comes with a convenient carrying case (C3215/C3225) so you can take it with you wherever you go.
EASY TO SET UP
Get everyone on board fast with simple deployment plus customizable settings. Plantronics Hub for desktop lets you select your language and features, and the latest firmware keeps your device up to date. Plantronics Manager Pro gives IT teams remote management, headset inventory and usage monitoring.
BUILT FOR COMPATIBILITY
All Poly USB headsets and personal speakerphones are compatible with the most popular voice platforms – we just work. Poly solutions provide excellent audio quality for both you and those on the other end of the call – no matter your platform of choice.
– Microsoft Teams
– Skype for Business
– Zoom
– Cisco
– Google
– Mitel
– Ribbon
– Avaya
– ALE
– AWS
Specifications:
CONNECTS TO
PC via USB
COMPATIBLE WITH
Windows® or Mac OS
IDEAL FOR
Users transitioning to PC telephony for webinars, conference calls, music, and other multimedia applications
PC AUDIO PERFORMANCE
Dynamic EQ, microphone frequency response 100 Hz-10 kHz optimal for PC wideband voice telephony (up to 6,800 Hz), hi-fi stereo (C3220/ C3225). Receive output from 20 Hz-20 kHz, enhanced digital signal processing (DSP), noise-canceling microphone, adjustable audio alerts with Plantronics Hub software (mute/volume)*
HEARING PROTECTION
SoundGuard: Acoustic limiting for protection against sounds above 118 dBA
REMOTE CALL CONTROL
Call answer/ignore/end/hold, redial, mute, volume +/-
Manufacturer Part No:
209744-201
Brand:
Poly
Product Type:
Monaural Headset
UPC
017229173118
Product Family:
BLACKWIRE C3210
Shipping Weight:
0.05 kg
PB Part No:
HSTPOL4904728
Product Model:
209744-201
Warranty:
12 months *
* Warranty period is as stated above unless the manufacturer has chosen to specify a longer period.
All warranties are return to base unless otherwise specified.
Why is there a reasonable price displayed?
Discover the reason behind our incredibly reasonable prices! At our company, we prioritize your satisfaction and work tirelessly to offer you access to top-notch brands without breaking the bank. Our commitment to minimizing profit margins enables us to deliver affordability without compromising on quality. Shop with confidence and explore a wide range of reputable products at budget-friendly rates. Your satisfaction is our priority!
Poly BLACKWIRE C3210 209744-201 USB Monaural Headset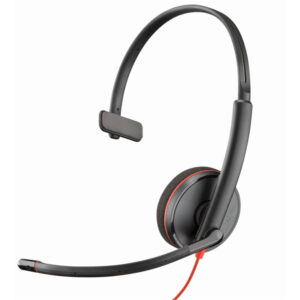 SUPERIOR SOUND THAT WON'T BREAK THE BANK The Blackwire 3200 Series provides a best-in-class audio experience in a headset that's built for enterprise needs. Even better, people want to wear it-so your investment pays off. With a sleek design and flexible microphone boom for a customizable fit, what's not to love? Plus, it sounds as good as it looks. Enjoy the high-quality audio you expect from Poly. SUPERIOR AUDIO QUALITY Enjoy a truly outstanding sound experience-ideal for voice, music and multimedia. The Blackwire 3200 Series offers PC wideband, noise-canceling microphone and hi-fi stereo sound options. Dynamic EQ optimizes call quality and automatically adjusts the settings when you're listening to multimedia. ADVANCED CONNECTIVITY Ideal for managing calls on PC, mobile phone or tablet. Combine the comfort and durability of a corded headset with greater flexibility-all at an entry-level price point. ALL-DAY COMFORT + PORTABILITY Relax while you talk knowing your headset is secure-lightweight metal headband offers durability plus a custom fit. Leatherette ear cushions fold flat for easy portability. It even comes with a convenient carrying case (C3215/C3225) so you can take it with you wherever you go. EASY TO SET UP Get everyone on board fast with simple deployment plus customizable settings. Plantronics Hub for desktop lets you select your language and features, and the latest firmware keeps your device up to date. Plantronics Manager Pro gives IT teams remote management, headset inventory and usage monitoring. BUILT FOR COMPATIBILITY All Poly USB headsets and personal speakerphones are compatible with the most popular voice platforms - we just work. Poly solutions provide excellent audio quality for both you and those on the other end of the call - no matter your platform of choice. - Microsoft Teams - Skype for Business - Zoom - Cisco - Google - Mitel - Ribbon - Avaya - ALE - AWS
Product SKU: 209744-201
Product Brand: Poly
Product Currency: NZD
Product Price: 68.88
Price Valid Until: 1970-01-01
Product In-Stock: PreOrder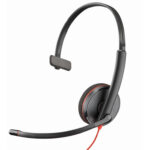 Poly BLACKWIRE C3210 209744-201 USB Monaural Headset
Your review
* Review is required
Email
* Email is required
Add photos or video to your review