Poly Blackwire 8225 214406-01 USB Headset
$287.63
or 6 weekly interest-free payments from $47.93 with
Calculate shipping price
Please fill in the fields below with the shipping destination details in order to calculate the shipping cost.
Features:
Plantronics Blackwire 8225
Ideal for noisy work environments, the Blackwire 8225 On-Ear Stereo Headset from Plantronics features a swivel boom microphone with four integrated digital microphones, Acoustic Fence and hybrid active noise cancellation technologies. Acoustic Fence utilizes two of the microphones to help ensure that whomever you're speaking with only hears your voice, and not distracting background office noise. Three different ANC settings allow you to adjust noise cancellation levels to suit your environment. Stereo on-ear earpads and 32mm drivers work to provide high-quality audio and passive noise isolation, so you can hear others better and focus on important calls.
– Dual 32mm Drivers
– Swivel Boom Mic & 4 x Digital Mics
– Acoustic Fence & Hybrid ANC
– Three Noise Cancellation Settings
– Inline Volume & Call Controls
– SoundGuard DIGITAL Hearing Protection
– LED Do Not Disturb Indicator
– 180° Pivoting Speakers
– Cushioned & Adjustable Headband
– Soft Leatherette Ear Cushions
Voice Platform Compatibility
The Blackwire 8225 headset supports many top voice communication platforms, such as Skype, Zoom, Cisco, Microsoft Teams, Google Cloud, Mitel, Ribbon, Avaya, Alcatel-Lucent Enterprise, and AWS.
SoundGuard DIGITAL Hearing Protection
A variety of technologies are employed to help decrease the chances of damaging your hearing with regular use. Acoustic limiting protects your ears against sounds above 118 dBA. G616 anti-startle protection limits the noise level on calls to 102 dB SPL. Finally, time-weighted average prevents the average daily noise exposure from exceeding 80 or 85 dBa (time-weighted average requires Plantronics Hub software).
Do Not Disturb Indicator
Two integrated LEDs on the outside of the boom microphone's earpad lights up to let others know that you're on a call.
Inline Controls
Included inline controls gives you the ability to manage your calls and ANC settings.
Customize & Manage
Plantronics gives both users and IT departments the ability to manage Blackwire 8225 headsets. As a user, you can select your preferred language and adjust settings. IT professionals can update the headset's firmware, remotely manage the headset, monitor headset inventory, and headset usage.
Additional Features
– 180° pivoting speakers
– Voice alerts for volume minimum/maximum, mute on/off, noise canceling off, and call answering
– Adjustable cushioned headband
– Soft leatherette ear cushions
– Compatible with PCs and desk phones with a USB Type-A connection
– Supports both Windows and macOS
– Dynamic EQ optimized for PC wideband voice telephony up to 7 kHz or for multimedia 20 Hz to 20 kHz
Specifications:
Headset Features
Answer/End Controls, Hearing Protection, Mute Function, Noise Cancellation, Volume Control
Microphone
Microphone Design
Boom
Microphone Frequency Response
100 Hz to 10 kHz (Wideband)
Microphone Sensitivity
-35 dB
Speaker
Driver Size
32.00 mm
Cushion
Leatherette
Earpiece
Design On-Ear
Listening Mode
Binaural
Speaker Sensitivity
84 dB
Impedance
32 Ohms
Connectivity
Host Connection
1 x USB Type-A
General
Wearing Style
Over-the-Head
Physical
Cable Length
7.22′ / 2.2 m
Weight
6.56 oz / 186 g
Packaging Info
Package Weight
0.725 lb
Box Dimensions (LxWxH)
8.3 x 7.2 x 2.2″
Manufacturer Part No:
214406-01
Brand:
Poly
Product Type:
Headset
UPC
017229168473
Product Family:
Blackwire 8225
Shipping Weight:
1.01 kg
PB Part No:
IPPPOL4895542
Product Model:
214406-01
Warranty:
12 months *
* Warranty period is as stated above unless the manufacturer has chosen to specify a longer period.
All warranties are return to base unless otherwise specified.
Why is there a reasonable price displayed?
Discover the reason behind our incredibly reasonable prices! At our company, we prioritize your satisfaction and work tirelessly to offer you access to top-notch brands without breaking the bank. Our commitment to minimizing profit margins enables us to deliver affordability without compromising on quality. Shop with confidence and explore a wide range of reputable products at budget-friendly rates. Your satisfaction is our priority!
Poly Blackwire 8225 214406-01 USB Headset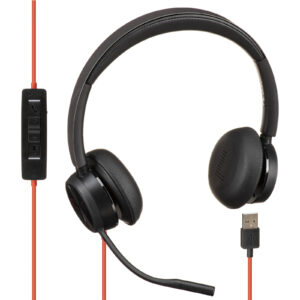 Plantronics Blackwire 8225 Ideal for noisy work environments, the Blackwire 8225 On-Ear Stereo Headset from Plantronics features a swivel boom microphone with four integrated digital microphones, Acoustic Fence and hybrid active noise cancellation technologies. Acoustic Fence utilizes two of the microphones to help ensure that whomever you're speaking with only hears your voice, and not distracting background office noise. Three different ANC settings allow you to adjust noise cancellation levels to suit your environment. Stereo on-ear earpads and 32mm drivers work to provide high-quality audio and passive noise isolation, so you can hear others better and focus on important calls. - Dual 32mm Drivers - Swivel Boom Mic & 4 x Digital Mics - Acoustic Fence & Hybrid ANC - Three Noise Cancellation Settings - Inline Volume & Call Controls - SoundGuard DIGITAL Hearing Protection - LED Do Not Disturb Indicator - 180° Pivoting Speakers - Cushioned & Adjustable Headband - Soft Leatherette Ear Cushions Voice Platform Compatibility The Blackwire 8225 headset supports many top voice communication platforms, such as Skype, Zoom, Cisco, Microsoft Teams, Google Cloud, Mitel, Ribbon, Avaya, Alcatel-Lucent Enterprise, and AWS. SoundGuard DIGITAL Hearing Protection A variety of technologies are employed to help decrease the chances of damaging your hearing with regular use. Acoustic limiting protects your ears against sounds above 118 dBA. G616 anti-startle protection limits the noise level on calls to 102 dB SPL. Finally, time-weighted average prevents the average daily noise exposure from exceeding 80 or 85 dBa (time-weighted average requires Plantronics Hub software). Do Not Disturb Indicator Two integrated LEDs on the outside of the boom microphone's earpad lights up to let others know that you're on a call. Inline Controls Included inline controls gives you the ability to manage your calls and ANC settings. Customize & Manage Plantronics gives both users and IT departments the ability to manage Blackwire 8225 headsets. As a user, you can select your preferred language and adjust settings. IT professionals can update the headset's firmware, remotely manage the headset, monitor headset inventory, and headset usage. Additional Features - 180° pivoting speakers - Voice alerts for volume minimum/maximum, mute on/off, noise canceling off, and call answering - Adjustable cushioned headband - Soft leatherette ear cushions - Compatible with PCs and desk phones with a USB Type-A connection - Supports both Windows and macOS - Dynamic EQ optimized for PC wideband voice telephony up to 7 kHz or for multimedia 20 Hz to 20 kHz
Product SKU: 214406-01
Product Brand: Poly
Product Currency: NZD
Product Price: 287.63
Price Valid Until: 1970-01-01
Product In-Stock: InStock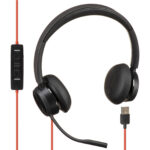 Poly Blackwire 8225 214406-01 USB Headset
Your review
* Review is required
Email
* Email is required
Add photos or video to your review