Poly Blackwire 3315-M USB Monaural Headset
$138.89
or 6 weekly interest-free payments from $23.14 with
Calculate shipping price
Please fill in the fields below with the shipping destination details in order to calculate the shipping cost.
Features:
BLACKWIRE 3300 SERIES
Blackwire 3300 Series provide a best-in-class audio experience in a headset built for enterprise deployment. Even better, workers want to wear it-so your investment pays off. The great appeal of the Blackwire 3300 Series is apparent at first sight: It has a modern, stylish design. Its microphone boom is flexible so workers can customize the fit. And the headset is fully adjustable with a comfort padded headband, pillow soft ear cushions, and 180-degree pivoting speakers. Not only that, it sounds as good as it looks- with high-quality audio you'd expect from Poly. And if it's starting to sound expensive, we've got good news. Blackwire 3300 Series is priced to fit your budget.
– Mono or stereo OTH (over-the-head) options
– Choose the variant for your device: PC USB-A or USB-C and/or 3.5 mm for mobile connectivity
– Corded simplicity and reliability
– Easy to use: no training necessary
BENEFITS
– Features great audio and a modern design-so workers want to wear it
– Best-in-class voice quality and a customized fit,the fully adjustable headset has 180-degree pivoting speakers and a flexible microphone boom
– Supports long-wearing comfort with a comfortable, padded headband and pillow soft ear cushions
– Microsoft Teams version to support an easy collaboration and communication with a dedicated Team button for instant access to the Teams App
Specifications:
CONNECTS TO
PC via USB/USB-C, connects to mobile devices and tablets via 3.5 mm (BW3315/BW3325) and devices that support USB-C
COMPATIBLE WITH
Windows® or Mac OS
PC AUDIO RECEIVE FREQUENCY RESPONSE
Dynamic EQ optimized for PC wideband voice telephony up to 6.8 kHz or for multimedia 20 Hz to 20 KHz (Hi-Fi Stereo BW3320/BW3325)
SPEAKER SENSITIVITY
94 dBSPL± 4 dB
SPEAKER IMPEDANCE
32 ohm
SPEAKER SENSITIVITY
94 dBSPL + 4 dB
SPEAKER IMPEDANCE
32 OHM
SPEAKER SIZE
32 mm
HEARING PROTECTION
SoundGuard: Acoustic limiting for protection against sounds above 118 dBA. G616 support limits the level to 102 dBSPL
MICROPHONE AND TECHNOLOGY
Flexible noise canceling microphone
MICROPHONE FREQUENCY RESPONSE
100 Hz to 10 kHz optimized for PC wideband audio up to 6.8 kHz
MICROPHONE SENSITIVITY
-38 dBV/Pa ± 4 dB
WEIGHT
Stereo: 130 g /4.59 oz including inline control, 96 g /3.39 oz headset only
Monaural: 102 g /3.60 oz including inline control, 70 g /2.47 oz headset only
CALL CONTROLS
BW33xx: Call answer/end button, volume, mute
BW33xx-M: Combined call answer/end and dedicated Microsoft Teams Button, volume, mute
TONE ALERTS
Tone alerts for mute on/off and volume maximum/minimum
APPLICATIONS SUPPORTED
Plantronics Hub desktop version only, available for Windows/Mac. Plantronics Manager Pro suites: Asset Management and Adoption, Call Quality and Analytics, Health and Safety
Manufacturer Part No:
214014-01
Brand:
Poly
Product Type:
Monaural Headset
UPC
017229167766
Product Family:
Blackwire
Shipping Weight:
0.2 kg
PB Part No:
HSTPOL1032
Product Model:
3315-M
Warranty:
12 months *
* Warranty period is as stated above unless the manufacturer has chosen to specify a longer period.
All warranties are return to base unless otherwise specified.
Why is there a reasonable price displayed?
Discover the reason behind our incredibly reasonable prices! At our company, we prioritize your satisfaction and work tirelessly to offer you access to top-notch brands without breaking the bank. Our commitment to minimizing profit margins enables us to deliver affordability without compromising on quality. Shop with confidence and explore a wide range of reputable products at budget-friendly rates. Your satisfaction is our priority!
Poly Blackwire 3315-M USB Monaural Headset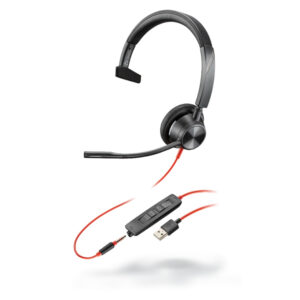 BLACKWIRE 3300 SERIES Blackwire 3300 Series provide a best-in-class audio experience in a headset built for enterprise deployment. Even better, workers want to wear it-so your investment pays off. The great appeal of the Blackwire 3300 Series is apparent at first sight: It has a modern, stylish design. Its microphone boom is flexible so workers can customize the fit. And the headset is fully adjustable with a comfort padded headband, pillow soft ear cushions, and 180-degree pivoting speakers. Not only that, it sounds as good as it looks- with high-quality audio you'd expect from Poly. And if it's starting to sound expensive, we've got good news. Blackwire 3300 Series is priced to fit your budget. - Mono or stereo OTH (over-the-head) options - Choose the variant for your device: PC USB-A or USB-C and/or 3.5 mm for mobile connectivity - Corded simplicity and reliability - Easy to use: no training necessary BENEFITS - Features great audio and a modern design-so workers want to wear it - Best-in-class voice quality and a customized fit,the fully adjustable headset has 180-degree pivoting speakers and a flexible microphone boom - Supports long-wearing comfort with a comfortable, padded headband and pillow soft ear cushions - Microsoft Teams version to support an easy collaboration and communication with a dedicated Team button for instant access to the Teams App
Product SKU: 214014-01
Product Brand: Poly
Product Currency: NZD
Product Price: 138.89
Price Valid Until: 1970-01-01
Product In-Stock: InStock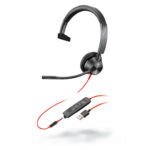 Poly Blackwire 3315-M USB Monaural Headset
Your review
* Review is required
Email
* Email is required
Add photos or video to your review