PB Pro Creator RTX 4080 Workstation PC
Roll over image to zoom in
Click to open expanded view
$5,598.99
or from $4,098.99 today & 5 weekly interest-free payments of $300.00 with
Calculate shipping price
Please fill in the fields below with the shipping destination details in order to calculate the shipping cost.
Features:
PB Professional PC systems come fully assembled, plug-in-and-play with the Windows operating system pre-installed along with drivers so you can get to work right away.
Microsoft Windows Pro
Windows Professional is the go-to operating system for business, packed full of modern features that make PC so great to use, with access to advanced applications and services.
Intel Core Processor
With Intel Core inside you can do more creating and sharing, with less time waiting, this new generation of processors is ready to take you to that new level. Working smarter than ever before your programs can run more effectively with an automatic burst of speed when you need it thanks to Intel turbo boost technology.
NVIDIA RTX Graphics
The NVIDIA Studio platform supercharges your creative process, enhancing your creative apps with a level of performance and ability that is nothing short of inspiring, epowering your workflows for the most ambitious projects.
DDR5 RAM
DDR5 memory fuels next-gen processors with faster speeds, greater bandwidth and better power efficiency.
Bluetooth Ready
Use Bluetooth to connect compatible devices with this PC.
WiFi Ready
Powerful WiFi for a strong, stable connection to your wireless network that's great for streaming Netflix, browsing the web or playing a game.
Frequently asked questions
Can I swap out parts and/or add/change/remove operating systems in a PB Tech PC?
We can add any part to a PC for a small fee as long as we don't need to remove an existing part for it to fit, for example adding more RAM, an extra hard drive, installing a Windows OS, or adding a graphics card to a PC without one (we can even SLI/Crossfire for you if it is compatible). We cannot change components that are part of an existing build e.g. Upgrade an existing graphics card or add a SSD with Windows installed if the PC only has a single hard drive (as the OS is already pre-installed). If you do have a specific requirement, then one of our experienced sales team will be happy to build a system that suits your needs.
Contact our WebSales team here
What parts are used in this PC?
The parts are subject to change depending on stock availability but the specifications listed in the title will always be correct. If you have specific parts you are after, one of our experienced sales team will be happy to build a system that suits your needs.
Once again, you can
contact our WebSales team here
Specifications:
Processor
Intel Core i7 13700KF 16 core CPU
Graphics
NVIDIA RTX 4080 16GB Graphics
Memory
64GB DDR5 RAM
Storage
2TB (1TB Gen4 NVMe SSD + 1TB SATA SSD)
Connectivity
AX WiFi + Bluetooth
Operating system
Windows 11 Professional
Power Supply
1000W MEPS PSU
Form factor
Mid Tower
Manufacturer Part No:
WKSPB58182
Brand:
PB
Product Type:
Workstation PC
UPC
–
Product Family:
Pro Creator
Shipping Weight:
16 kg
PB Part No:
WKSPB58182
Product Model:
–
Warranty:
12 months *
* Warranty period is as stated above unless the manufacturer has chosen to specify a longer period.
All warranties are return to base unless otherwise specified.
Why is there a reasonable price displayed?
Discover the reason behind our incredibly reasonable prices! At our company, we prioritize your satisfaction and work tirelessly to offer you access to top-notch brands without breaking the bank. Our commitment to minimizing profit margins enables us to deliver affordability without compromising on quality. Shop with confidence and explore a wide range of reputable products at budget-friendly rates. Your satisfaction is our priority!
PB Pro Creator RTX 4080 Workstation PC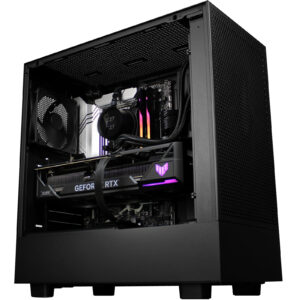 PB Professional PC systems come fully assembled, plug-in-and-play with the Windows operating system pre-installed along with drivers so you can get to work right away. Microsoft Windows Pro Windows Professional is the go-to operating system for business, packed full of modern features that make PC so great to use, with access to advanced applications and services. Intel Core Processor With Intel Core inside you can do more creating and sharing, with less time waiting, this new generation of processors is ready to take you to that new level. Working smarter than ever before your programs can run more effectively with an automatic burst of speed when you need it thanks to Intel turbo boost technology. NVIDIA RTX Graphics The NVIDIA Studio platform supercharges your creative process, enhancing your creative apps with a level of performance and ability that is nothing short of inspiring, empowering your workflows for the most ambitious projects. DDR5 RAM DDR5 memory fuels next-gen processors with faster speeds, greater bandwidth and better power efficiency. Bluetooth Ready Use Bluetooth to connect compatible devices with this PC. WiFi Ready Powerful WiFi for a strong, stable connection to your wireless network that's great for streaming Netflix, browsing the web or playing a game. Frequently asked questions Can I swap out parts and/or add/change/remove operating systems in a PB Tech PC? We can add any part to a PC for a small fee as long as we don't need to remove an existing part for it to fit, for example adding more RAM, an extra hard drive, installing a Windows OS, or adding a graphics card to a PC without one (we can even SLI/Crossfire for you if it is compatible). We cannot change components that are part of an existing build e.g. Upgrade an existing graphics card or add a SSD with Windows installed if the PC only has a single hard drive (as the OS is already pre-installed). If you do have a specific requirement, then one of our experienced sales team will be happy to build a system that suits your needs. Contact our WebSales team here What parts are used in this PC? The parts are subject to change depending on stock availability but the specifications listed in the title will always be correct. If you have specific parts you are after, one of our experienced sales team will be happy to build a system that suits your needs. Once again, you can contact our WebSales team here
Product SKU: WKSPB58182
Product Brand: PB
Product Currency: NZD
Product Price: 5,598.99
Price Valid Until: 1970-01-01
Product In-Stock: InStock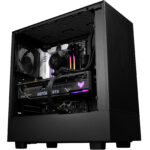 PB Pro Creator RTX 4080 Workstation PC
Your review
* Review is required
Email
* Email is required
Add photos or video to your review