MOXA Secure Router EDR-810-2GSFP 8 FE copper + 2 GbE SFP multiport industrial secure router
Email when stock available
Features:
Data sheet Download Here
https://www.moxa.com/getmedia/b49fa749-b7b6-46d6-9378-4eca183848f6/moxa-edr-810-series-datasheet-v1.4.pdf
8+2G SFP industrial multiport secure router with Firewall/NAT, -10 to 60°C operating temperature
Features and Benefits
8+2G all-in-one firewall/NAT/VPN/router/switch
Secure remote access tunnel with VPN
Stateful firewall protects critical assets
Inspect industrial protocols with PacketGuard technology
Easy network setup with Network Address Translation (NAT)
RSTP/Turbo Ring redundant protocol enhances network redundancy
-40 to 75°C operating temperature range (-T model)
Security features based on IEC 62443/NERC CIP
Check firewall settings with intelligent SettingCheck feature
Specifications:
Manufacturer Part No:
EDR-810-2GSFP
Brand:
MOXA
Product Type:
–
UPC
–
Product Family:
Secure Router
Shipping Weight:
1 kg
PB Part No:
IPCMXAEDR810001
Product Model:
EDR-810-2GSFP
Warranty:
60 months *
* Warranty period is as stated above unless the manufacturer has chosen to specify a longer period.
All warranties are return to base unless otherwise specified.
Why is there a reasonable price displayed?
Discover the reason behind our incredibly reasonable prices! At our company, we prioritize your satisfaction and work tirelessly to offer you access to top-notch brands without breaking the bank. Our commitment to minimizing profit margins enables us to deliver affordability without compromising on quality. Shop with confidence and explore a wide range of reputable products at budget-friendly rates. Your satisfaction is our priority!
MOXA Secure Router EDR-810-2GSFP 8 FE copper + 2 GbE SFP multiport industrial secure router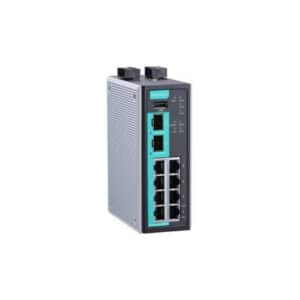 Data sheet Download Here https://www.moxa.com/getmedia/b49fa749-b7b6-46d6-9378-4eca183848f6/moxa-edr-810-series-datasheet-v1.4.pdf 8+2G SFP industrial multiport secure router with Firewall/NAT, -10 to 60°C operating temperature Features and Benefits 8+2G all-in-one firewall/NAT/VPN/router/switch Secure remote access tunnel with VPN Stateful firewall protects critical assets Inspect industrial protocols with PacketGuard technology Easy network setup with Network Address Translation (NAT) RSTP/Turbo Ring redundant protocol enhances network redundancy -40 to 75°C operating temperature range (-T model) Security features based on IEC 62443/NERC CIP Check firewall settings with intelligent SettingCheck feature
Product SKU: EDR-810-2GSFP
Product Brand: MOXA
Product Currency: NZD
Price Valid Until: 1970-01-01
Product In-Stock: SoldOut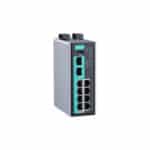 MOXA Secure Router EDR-810-2GSFP 8 FE copper + 2 GbE SFP multiport industrial secure router
Your review
* Review is required
Email
* Email is required
Add photos or video to your review