LUMI Lumi MPS06-1 PROFESSIONAL MICROPHONE BOOM ARM STAND
Out Of Stock
Roll over image to zoom in
Click to open expanded view
Email when stock available
Features:
Have you tired of squeaky, flimsy scissor booms? We are, too! Lumiaudio's MDS06-1 features a premium aluminum construction, internal springs and built-in cable management to provide you a studio-grade professional experience. The interior spring ensures an effortless full-degree adjustment means you're covered for any application. With 3/8 & 5/8 universal thread ports and pre-weighted arms, MDS06-1 is compatible with most broadcast mics in the market. No matter game streaming, podcasting and broadcasting, this is a perfect solution for you and will impress your audience or your composition.
– 360° Rotatable Boom with Rotary Knob: provides flexible angle adjustment and shift
– Clip-On Cable Holder: keeps cords out of the way
– Dual Suspension Springs on Each Boom Arm: protect microphone from shaking, suddenly dropping and making noise
– Foldable Scissor Arm Design: for compact storage and easy transport
– Thread Microphone Holder: suitable for most vocal and dynamic microphones
Specifications:
Product Category:
Suspension Boom Microphone Stand
Rank:
Premium
Material:
Steel,Plastic,Aluminum
Surface Finish:
Powder Coating
Color:
Matte Black
Dimensions:
61x72x1095mm (2.4″x2.8″x43.1″)
Weight Capacity:
1kg (2.2lbs)
Microphone Holder Type:
3/8?5/8
Boom Arm Length:
825mm (32.5″)
Boom Tube Diameter:
45x23mm
Boom Locking Type:
Plastic(PA) Rotary Knob
Height Range:
949mm (37.4″)
Vertical Shaft Tube Diameter:
45x23mm
Manufacturer Part No:
BT-MPS06-1
Brand:
LUMI
Product Type:
–
UPC
–
Product Family:
Lumi
Shipping Weight:
0.5 kg
PB Part No:
MOABRA0431
Product Model:
MPS06-1
Warranty:
12 months *
* Warranty period is as stated above unless the manufacturer has chosen to specify a longer period.
All warranties are return to base unless otherwise specified.
Why is there a reasonable price displayed?
Discover the reason behind our incredibly reasonable prices! At our company, we prioritize your satisfaction and work tirelessly to offer you access to top-notch brands without breaking the bank. Our commitment to minimizing profit margins enables us to deliver affordability without compromising on quality. Shop with confidence and explore a wide range of reputable products at budget-friendly rates. Your satisfaction is our priority!
LUMI MPS06-1 PROFESSIONAL MICROPHONE BOOM ARM STAND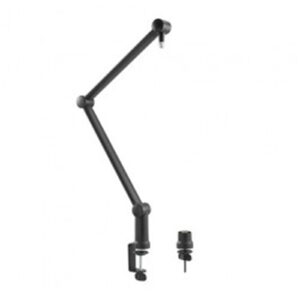 Have you tired of squeaky, flimsy scissor booms? We are, too! Lumiaudio's MDS06-1 features a premium aluminum construction, internal springs and built-in cable management to provide you a studio-grade professional experience. The interior spring ensures an effortless full-degree adjustment means you're covered for any application. With 3/8 & 5/8 universal thread ports and pre-weighted arms, MDS06-1 is compatible with most broadcast mics in the market. No matter game streaming, podcasting and broadcasting, this is a perfect solution for you and will impress your audience or your composition. - 360° Rotatable Boom with Rotary Knob: provides flexible angle adjustment and shift - Clip-On Cable Holder: keeps cords out of the way - Dual Suspension Springs on Each Boom Arm: protect microphone from shaking, suddenly dropping and making noise - Foldable Scissor Arm Design: for compact storage and easy transport - Thread Microphone Holder: suitable for most vocal and dynamic microphones
Product SKU: BT-MPS06-1
Product Currency: NZD
Price Valid Until: 1970-01-01
Product In-Stock: SoldOut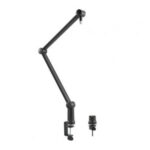 LUMI Lumi MPS06-1 PROFESSIONAL MICROPHONE BOOM ARM STAND
Your review
* Review is required
Email
* Email is required
Add photos or video to your review