Logitech Enterprise H650e USB Wired Headset
Roll over image to zoom in
Click to open expanded view
$249.00
or 6 weekly interest-free payments from $41.50 with
Calculate shipping price
Please fill in the fields below with the shipping destination details in order to calculate the shipping cost.
Features:
In-call LED red-light indicator
Located on the backside of the boom, this red light provides a visual alert to those behind you that you are on a call, preventing accidental disturbances during calls.
Flexible microphone boom
Rotate the boom up or down and bend it left or right to move it closer to your mouth, enabling optimal placement for voice pickup.
Quick-access inline controller
Control the call with answer/end, volume up/down and mute buttons. The volume-up button is strategically built higher than the others providing a point of reference for your fingers and allowing you to control the call without looking away from your work.
Certified for Skype for Business; Cisco compatible; compatible with most leading UC platforms
Ensures enterprise-quality audio and an integrated experience with most all business-grade UC platforms.
Acoustic echo cancelation and noise-canceling microphone
Optimized so you can hear and be heard even in noisy workspaces.
Plug-and-play USB connectivity
Easily connects to PCs or Macs with no additional software required.
Double-ear (stereo) corded design
Ideal for employees who need to block off surrounding noise for laser-like focus during desktop calls.
Specifications:
General
Application Compatibility
Compatible with most leading UC platforms such as Skype and Skype for Business, Google Hangouts Pro, Cisco, and more
Certifications
Certified for Skype for Business; Cisco® compatible*
Drivers/Software Downloads
Recommended: Plug-ins for Jabber and Skype
Microphone (Tx)
Type
Bi-directional ECM
Frequency response
100 Hz – 10 KHZ
Sensitivity: Type
-45 dB +/- 3 dB
Distortion
<10% @ 1kHz, 15dBPa (MRP) input Operating voltage 1.4 - 5.0V DC Product Dimensions Width 6.75 in (174 mm) Height 6.5 in (165 mm) Depth 2 in (50 mm) Weight 4.2 oz (120 g) Speakers (Rx) Frequency response 50 Hz - 10 kHz (Diffuse field) Sensitivity 90dB ±3 dB at 1KHz, Input 0.56V/10 mm free field Distortion < 4% @ 1kHz, 0dBm0, 1kHz System Requirements System Requirements Windows Vista®, Windows® 7 or Windows 8 (32-bit or 64-bit) Mac OS® 10.7 or higher Linux Available USB port Manufacturer Part No: 981-000545 Brand: Logitech Product Type: Headset UPC 097855096777 Product Family: Enterprise H650e Shipping Weight: 0.252 kg PB Part No: HSTLOG2440282 Product Model: - Warranty: 24 months * * Warranty period is as stated above unless the manufacturer has chosen to specify a longer period. All warranties are return to base unless otherwise specified.
Why is there a reasonable price displayed?
Discover the reason behind our incredibly reasonable prices! At our company, we prioritize your satisfaction and work tirelessly to offer you access to top-notch brands without breaking the bank. Our commitment to minimizing profit margins enables us to deliver affordability without compromising on quality. Shop with confidence and explore a wide range of reputable products at budget-friendly rates. Your satisfaction is our priority!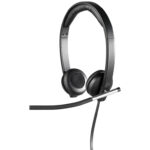 Logitech Enterprise H650e USB Wired Headset
Your review
* Review is required
Email
* Email is required
Add photos or video to your review