IK Multimedia iRig Mic Studio Portable Large Diaphragm Digital Microphone – Black
Out Of Stock
Roll over image to zoom in
Click to open expanded view
Email when stock available
Features:
IK Multimedia iRig Mic Studio, Portable Large-Diaphragm Digital Microphone (Black)
The black iRig Mic Studio from IK Multimedia is a portable large-diaphragm digital condenser microphone with a 1″ diameter condenser capsule for iPhone, iPad, iPod touch, Mac, PC, and Android devices. It can be used to capture audio in applications for musicians, vocalists, producers, podcasters, broadcasters, voice-over artists, and much more.
– 1″ Diameter Condenser Capsule
– 24-Bit with 44.1/48 kHz Sampling Rate
– Compact Size
– Low-Noise High-Definition Preamp
– Multicolor LED Status/Level Indicator
– Headphone Output
– Gain and Headphone Level Controls
– Includes a Suite of IK Apps
– Includes Tripod Tabletop Stand
– Lightning, Micro-USB, and USB Cables
Notably, other features of the iRig Mic Studio include a 24-bit converter with a 44.1/48 kHz sampling rate, a low-noise, high-definition preamp, a headphone output, and a multicolor LED status/level indicator that are built into the mic. In addition, its compact size makes it easy to carry around. Furthermore, several accessories are included such as a portable tripod tabletop stand, a storage bag, a mic clamp, Lightning, OTG, and USB connection cables.
Finally, iRig Mic Studio comes equipped with a suite of vocal apps that match its cross-platform compatibility. iPhone, iPad and iPod touch users will be able to enjoy VocaLive, which is an effects processor and multi-track recording app with 12 real-time vocal effects. Likewise, EZ Voice is a streamlined sing-along app that allows vocalists to practice with any song in their music library. Additionally, there are also straight forward apps for field recording such as podcasting, note taking, and much more.
Big Sound, Small Size
It features a large 1″ diameter back electret condenser capsule, a 24-bit audiophile-grade A/D converter (with 44.1/48 kHz sample rate), and a built-in low-noise high-definition preamp
133 dB SPL Rating
Allows for optimal recording at any sound pressure level – it can capture everything from the subtle and nuanced dynamics of the human voice to the full-on bombast of an amplified electric guitar, and everything in between
Specifications:
Type
Condenser, back electret
Capsule Size
1″ (25 mm)
Polar Pattern
Cardioid
Interface Type
USB digital microphone, built-in low-noise high-definition preamp
Frequency Response
20 Hz to 20 kHz, -3 dB
Gain Range
40 dB
Maximum Sound Pressure Level (SPL)
133 dB
Sensitivity
-42 ±3 dB at 1 kHz, 0 dB=1 V/Pa
Resolution and Sample Rate
24-bit up to 48 kHz recording
Connector Type
Standard Micro-USB
Headphone Output
1/8″ (3.5 mm) jack
Power
Powered by connected device
Controls
Built-in gain and headphone volume controls
LED Status Indicators
Status and audio level indication
Dimensions (L x W)
4.61 x 1.77″ (117 x 45 mm)
Weight
7.69 oz (218 g)
Compatible iOS Devices
iPhone 6 Plus, iPhone 6, iPhone 5s, iPhone 5c, iPhone 5, iPhone 4S*, iPhone 4*, iPod touch (4th and 5th generation), iPad Air 2, iPad mini 3, iPad Air, iPad mini 2, iPad 4th generation, iPad mini, and iPad 3rd generation. iOS 5.1 or later is required.
Compatible Android Devices
Android devices that support Samsung Professional Audio technology, like the Samsung Galaxy Note 4 and Galaxy Note Edge. Samsung Galaxy S5 and Galaxy Note 3 require Android 5. Compatible with Android devices with USB (OTG) connector running Android apps that use USB (OTG) audio input
Compatible with any Android devices with USB (OTG) connector running Android 5
Compatible with Computers
Mac: Mac OS X 10.6 or later; One free USB port
Windows: Support using the ASIO4ALL driver on Windows XP/Vista/7/8
Manufacturer Part No:
IP-IRIG-MICSTDBLA-IN
Brand:
IK Multimedia
Product Type:
–
UPC
–
Product Family:
iRig
Shipping Weight:
1.01 kg
PB Part No:
AUDIKM1004
Product Model:
–
Warranty:
12 months *
* Warranty period is as stated above unless the manufacturer has chosen to specify a longer period.
All warranties are return to base unless otherwise specified.
Why is there a reasonable price displayed?
Discover the reason behind our incredibly reasonable prices! At our company, we prioritize your satisfaction and work tirelessly to offer you access to top-notch brands without breaking the bank. Our commitment to minimizing profit margins enables us to deliver affordability without compromising on quality. Shop with confidence and explore a wide range of reputable products at budget-friendly rates. Your satisfaction is our priority!
IK Multimedia iRig Mic Studio Portable Large Diaphragm Digital Microphone - Black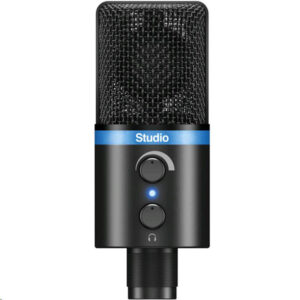 IK Multimedia iRig Mic Studio, Portable Large-Diaphragm Digital Microphone (Black) The black iRig Mic Studio from IK Multimedia is a portable large-diaphragm digital condenser microphone with a 1" diameter condenser capsule for iPhone, iPad, iPod touch, Mac, PC, and Android devices. It can be used to capture audio in applications for musicians, vocalists, producers, podcasters, broadcasters, voice-over artists, and much more. - 1" Diameter Condenser Capsule - 24-Bit with 44.1/48 kHz Sampling Rate - Compact Size - Low-Noise High-Definition Preamp - Multicolor LED Status/Level Indicator - Headphone Output - Gain and Headphone Level Controls - Includes a Suite of IK Apps - Includes Tripod Tabletop Stand - Lightning, Micro-USB, and USB Cables Notably, other features of the iRig Mic Studio include a 24-bit converter with a 44.1/48 kHz sampling rate, a low-noise, high-definition preamp, a headphone output, and a multicolor LED status/level indicator that are built into the mic. In addition, its compact size makes it easy to carry around. Furthermore, several accessories are included such as a portable tripod tabletop stand, a storage bag, a mic clamp, Lightning, OTG, and USB connection cables. Finally, iRig Mic Studio comes equipped with a suite of vocal apps that match its cross-platform compatibility. iPhone, iPad and iPod touch users will be able to enjoy VocaLive, which is an effects processor and multi-track recording app with 12 real-time vocal effects. Likewise, EZ Voice is a streamlined sing-along app that allows vocalists to practice with any song in their music library. Additionally, there are also straight forward apps for field recording such as podcasting, note taking, and much more. Big Sound, Small Size It features a large 1" diameter back electret condenser capsule, a 24-bit audiophile-grade A/D converter (with 44.1/48 kHz sample rate), and a built-in low-noise high-definition preamp 133 dB SPL Rating Allows for optimal recording at any sound pressure level - it can capture everything from the subtle and nuanced dynamics of the human voice to the full-on bombast of an amplified electric guitar, and everything in between
Product SKU: IP-IRIG-MICSTDBLA-IN
Product Brand: IK Multimedia
Product Currency: NZD
Price Valid Until: 1970-01-01
Product In-Stock: SoldOut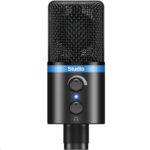 IK Multimedia iRig Mic Studio Portable Large Diaphragm Digital Microphone - Black
Your review
* Review is required
Email
* Email is required
Add photos or video to your review