iBASE Fanless wide temp solution AMS300M i7-7700T, 16G/512GB X2, with WIFI, DVI x1, DP x1, USB x6, RJ45 x3. 180W/24V Power adaptor
Out Of Stock
Roll over image to zoom in
Click to open expanded view
Email when stock available
Features:
The AMS300 is a compact, yet expandable fanless system designed for industrial control and measurement processes in smart factory automation applications. It is powered by 7th/6th Gen Intel® Core™ i7/i5/i3 processors and comes integrated with 8GB memory as well as 64GB of industrial-grade SSD storage. An optional 2MB MRAM expansion module is available to store data even without power. The AMS300 is built with two module compartments for PCI-E/PCI cards and Fieldbus modules, giving flexibility to customers to configure the various I/O required. The unit also features high vibration and shock resistance crucial for deployment in harsh conditions and all interfaces situated on one side for easy assembly and expansion.
Built with a passive finned heat sink, the rugged AMS300 boasts of superb thermal performance while reliably operating at a temperature range of -10°C to 60°C. It adopts wall, side and DIN-rail mounting to securely fit in space-constrained and industrial environments. Advanced features include iAMT (11.6) for remote management and repair of systems and IBASE's owned iSMART technology that enables energy-efficient systems with various power-saving functions. AMS300 offers extensive I/O connectivity including a drive bay with RAID 0/1 support, a 24V DC terminal block, 4x USB 3.0 which can be used as machine vision camera interface, 2x USB 2.0, 2x COM, 2x Gigabit Ethernet and video outputs for DVI-I and DisplayPort interface.
Frequently asked questions
Can I swap out parts and/or add/change/remove operating systems in a PB Tech PC?
We can add any part to a PC for a small fee as long as we don't need to remove an existing part for it to fit, for example adding more RAM, an extra hard drive, installing a Windows OS, or adding a graphics card to a PC without one (we can even SLI/Crossfire for you if it is compatible). We cannot change components that are part of an existing build e.g. Upgrade an existing graphics card or add a SSD with Windows installed if the PC only has a single hard drive (as the OS is already pre-installed). If you do have a specific requirement, then one of our experienced sales team will be happy to build a system that suits your needs.
Contact our WebSales team here
What parts are used in this PC?
The parts are subject to change depending on stock availability but the specifications listed in the title will always be correct. If you have specific parts you are after, one of our experienced sales team will be happy to build a system that suits your needs.
Once again, you can
contact our WebSales team here
Specifications:
System Mainboard
MB300 with Intel® Q170 PCH
CPU Type
7th/6th Generation Intel® Core™ i7/i5/i3 Desktop processors (35W TDP)
System Speed
Up to 3.4GHz
Memory
2x DDR4-2133 SO-DIMM, Max. 32GB
Construction
Aluminum & steel
Chassis Color
Sliver
Front Panel External I/O
2x Antenna hole for WLAN module
Rear Panel External I/O
1x DVI-I + 1x DisplayPort connector
1x Audio jack for Line-out
4x USB 3.0 ports, 2x USB 2.0 ports
1x Red HDD LED, 1x Green PWR LED, 2x error LED by programming
1x power button
1x 2-pin terminal block for external power button
1x RS232/422/485 port for COM#1
1x RS232 port for COM#2
2x RJ45 Gigabit Ethernet port
1x 3-pin DC-in terminal block type for 24V
Expansion Slots
1x Mini PCI-E socket (full-sized)
Storage/ M.2
2x 2.5" SSD (1x internal & 1x external-accessible) +
1x mSATA socket
Mounting
Desktop or wall mounting (wall mount kit included)
Side mounting
DIN rail mounting (optional)
Weight
2.7kg
Dimensions
275mm (W) x 140mm (D) x 70mm (H)
10.83″ (W) x 5.51″ (D) x 2.76″ (H)
Operating Temperature
-10°C to 60°C (14°F~140°F) *with air flow
-10°C to 50°C (14°F to 122°F) without air flow
Storage Temperature
-20°C to 80°C (-4°F to 176°F)
Relative Humidity
5~90% @ 45°C, (non-condensing)
Vibration
Operating: 3 grms / 5~500Hz / random operation (storage is mSATA)
Certification
CE / LVD / FCC Class B
Manufacturer Part No:
ams300mplus
Brand:
iBASE
Product Type:
i7-7700T, 16G/512GB X2,
UPC
–
Product Family:
Fanless wide temp solution
Shipping Weight:
5.527 kg
PB Part No:
WKSIBA300B
Product Model:
AMS300M
Warranty:
36 months *
* Warranty period is as stated above unless the manufacturer has chosen to specify a longer period.
All warranties are return to base unless otherwise specified.
Why is there a reasonable price displayed?
Discover the reason behind our incredibly reasonable prices! At our company, we prioritize your satisfaction and work tirelessly to offer you access to top-notch brands without breaking the bank. Our commitment to minimizing profit margins enables us to deliver affordability without compromising on quality. Shop with confidence and explore a wide range of reputable products at budget-friendly rates. Your satisfaction is our priority!
iBASE Fanless wide temp solution AMS300M i7-7700T, 16G/512GB X2, with WIFI, DVI x1, DP x1, USB x6, RJ45 x3. 180W/24V Power adaptor
The AMS300 is a compact, yet expandable fanless system designed for industrial control and measurement processes in smart factory automation applications. It is powered by 7th/6th Gen Intel® Core™ i7/i5/i3 processors and comes integrated with 8GB memory as well as 64GB of industrial-grade SSD storage. An optional 2MB MRAM expansion module is available to store data even without power. The AMS300 is built with two module compartments for PCI-E/PCI cards and Fieldbus modules, giving flexibility to customers to configure the various I/O required. The unit also features high vibration and shock resistance crucial for deployment in harsh conditions and all interfaces situated on one side for easy assembly and expansion. Built with a passive finned heat sink, the rugged AMS300 boasts of superb thermal performance while reliably operating at a temperature range of -10°C to 60°C. It adopts wall, side and DIN-rail mounting to securely fit in space-constrained and industrial environments. Advanced features include iAMT (11.6) for remote management and repair of systems and IBASE's owned iSMART technology that enables energy-efficient systems with various power-saving functions. AMS300 offers extensive I/O connectivity including a drive bay with RAID 0/1 support, a 24V DC terminal block, 4x USB 3.0 which can be used as machine vision camera interface, 2x USB 2.0, 2x COM, 2x Gigabit Ethernet and video outputs for DVI-I and DisplayPort interface. Frequently asked questions Can I swap out parts and/or add/change/remove operating systems in a PB Tech PC? We can add any part to a PC for a small fee as long as we don't need to remove an existing part for it to fit, for example adding more RAM, an extra hard drive, installing a Windows OS, or adding a graphics card to a PC without one (we can even SLI/Crossfire for you if it is compatible). We cannot change components that are part of an existing build e.g. Upgrade an existing graphics card or add a SSD with Windows installed if the PC only has a single hard drive (as the OS is already pre-installed). If you do have a specific requirement, then one of our experienced sales team will be happy to build a system that suits your needs. Contact our WebSales team here What parts are used in this PC? The parts are subject to change depending on stock availability but the specifications listed in the title will always be correct. If you have specific parts you are after, one of our experienced sales team will be happy to build a system that suits your needs. Once again, you can contact our WebSales team here
Product SKU: ams300mplus
Product Brand: iBASE
Product Currency: NZD
Price Valid Until: 1970-01-01
Product In-Stock: SoldOut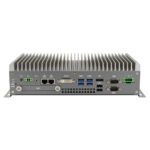 iBASE Fanless wide temp solution AMS300M i7-7700T, 16G/512GB X2, with WIFI, DVI x1, DP x1, USB x6, RJ45 x3. 180W/24V Power adaptor
Your review
* Review is required
Email
* Email is required
Add photos or video to your review