Grandstream GUV3000 HD USB Headset
$45.37
or 6 weekly interest-free payments from $7.56 with
Calculate shipping price
Please fill in the fields below with the shipping destination details in order to calculate the shipping cost.
Features:
Grandstream GUV3000
The Grandstream GUV3000 and GUV3005 are HD USB Headsets that pair with laptops, computers, IP phones and other devices to offer high-quality sound. Ideal for remote workers and busy environments, these USB headsets feature a noise cancellation microphone that minimises background noise to provide crisp HD audio. The GUV3000 and GUV3005 provide all day comfort thanks to adjustable headbands and soft ear cushions while audio is easily adjusted using the in-line controls. GUV series headsets are compatible with any device that offers a USB connection, including laptops and Grandstream IP phones. They support all major third-party communication platforms, apps and softphones as well as Grandstream's IPVideoTalk Meetings and Wave app. By offering crystal-clear HD audio, comfortable use and wide compatibility, the GUV series is ideal for remote workers, call centres, receptionists, sales teams and more.
– HD Audio for crystal clear and easy communication
– Noise cancelling technology to minimise background noise
– USB 2.0 connection provides flexibility to support any device with USB compatibility, including laptops, desktop computers and Grandstream IP Phones (GRP series IP phones, GXV series IP
– Video Phones, and soon GXP series IP phones)
– A busy light (GUV3005) to indicate a call in-progress
– Adjustable leather headband for all day comfort; left or right wearing style
– In-line controls offer quick and easy control of volume and mute
– Compatible with all major third-party communication platforms, applications and softphones as well as Grandstream's IPVideoTalk Meetings and Wave app
Specifications:
Manufacturer's Product Code
GUV3000
Connection Type
USB2.0, USB-A
Wearing Style
Adjustable Headband
Busy Light
None
Application Compatibility
Support popular communication applications (such as Zoom, Teams, Slack, WebEx, IPVideoTalk, Grandstream Wave, Counterpath, 3CX soft phones) and IP phone devices
Cable Length
2m
Manufacturer Part No:
GUV3000
Brand:
Grandstream
Product Type:
Headset
UPC
–
Product Family:
GUV3000
Shipping Weight:
0.2 kg
PB Part No:
IPHGSM379787
Product Model:
HD
Warranty:
12 months *
* Warranty period is as stated above unless the manufacturer has chosen to specify a longer period.
All warranties are return to base unless otherwise specified.
Why is there a reasonable price displayed?
Discover the reason behind our incredibly reasonable prices! At our company, we prioritize your satisfaction and work tirelessly to offer you access to top-notch brands without breaking the bank. Our commitment to minimizing profit margins enables us to deliver affordability without compromising on quality. Shop with confidence and explore a wide range of reputable products at budget-friendly rates. Your satisfaction is our priority!
Grandstream GUV3000 HD USB Headset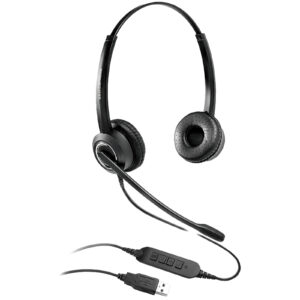 Grandstream GUV3000 The Grandstream GUV3000 and GUV3005 are HD USB Headsets that pair with laptops, computers, IP phones and other devices to offer high-quality sound. Ideal for remote workers and busy environments, these USB headsets feature a noise cancellation microphone that minimises background noise to provide crisp HD audio. The GUV3000 and GUV3005 provide all day comfort thanks to adjustable headbands and soft ear cushions while audio is easily adjusted using the in-line controls. GUV series headsets are compatible with any device that offers a USB connection, including laptops and Grandstream IP phones. They support all major third-party communication platforms, apps and softphones as well as Grandstream's IPVideoTalk Meetings and Wave app. By offering crystal-clear HD audio, comfortable use and wide compatibility, the GUV series is ideal for remote workers, call centres, receptionists, sales teams and more. - HD Audio for crystal clear and easy communication - Noise cancelling technology to minimise background noise - USB 2.0 connection provides flexibility to support any device with USB compatibility, including laptops, desktop computers and Grandstream IP Phones (GRP series IP phones, GXV series IP - Video Phones, and soon GXP series IP phones) - A busy light (GUV3005) to indicate a call in-progress - Adjustable leather headband for all day comfort; left or right wearing style - In-line controls offer quick and easy control of volume and mute - Compatible with all major third-party communication platforms, applications and softphones as well as Grandstream's IPVideoTalk Meetings and Wave app
Product SKU: GUV3000
Product Brand: Grandstream
Product Currency: NZD
Product Price: 45.37
Price Valid Until: 1970-01-01
Product In-Stock: PreOrder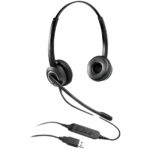 Grandstream GUV3000 HD USB Headset
Your review
* Review is required
Email
* Email is required
Add photos or video to your review