Fenix Battery Pack Tailored Replacement For Fenix LR80R ONLY,
Out Of Stock
Roll over image to zoom in
Click to open expanded view
Email when stock available
Features:
NOTE: This is a battery pack ONLY. The
Fenix LR80R flashlight
is NOT included.
Original Fenix replaceable battery. Dedicated to the LR80R flashlight.
The 12000 mAh capacity ensures a very long operating time of the flashlight. In turbo mode, it is 120 minutes and in ecco mode – up to 12 days. The high voltage allows proper operation of the flashlight with full 18,000 lumens of power.
The battery has a number of security features, which are protection against excessive overheating and reverse polarity. It also works with the low charge warning system in the flashlight and after installation it meets the IP68 standards.
Feature:
– Proprietary Rechargeable Battery/Body for Fenix LR80R Flashlight
– 7.2 Volt
– 12000 mAh large-capacity battery with outstanding performance
– The battery has triple over-heat protect for safety and reliability
– Built in over-charge, over-discharge protection circuit to ensure the maximum performance of the battery
– The circuit board has front and back protections to make it more impact-resistant and reliable
– No battery memory effect, negligible self discharge
Specifications:
Manufacturer Part No:
FNX-LR80RB
Brand:
Fenix
Product Type:
Tailored Replacement
UPC
–
Product Family:
Battery Pack
Shipping Weight:
0.02 kg
PB Part No:
TOLFNX0090
Product Model:
–
Warranty:
12 months *
* Warranty period is as stated above unless the manufacturer has chosen to specify a longer period.
All warranties are return to base unless otherwise specified.
Why is there a reasonable price displayed?
Discover the reason behind our incredibly reasonable prices! At our company, we prioritize your satisfaction and work tirelessly to offer you access to top-notch brands without breaking the bank. Our commitment to minimizing profit margins enables us to deliver affordability without compromising on quality. Shop with confidence and explore a wide range of reputable products at budget-friendly rates. Your satisfaction is our priority!
Fenix Battery Pack Tailored Replacement For Fenix LR80R ONLY,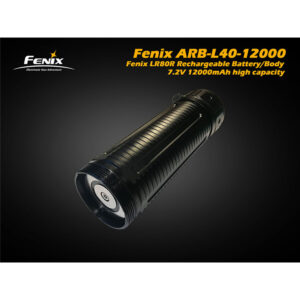 NOTE: This is a battery pack ONLY. The Fenix LR80R flashlight is NOT included. Original Fenix replaceable battery. Dedicated to the LR80R flashlight. The 12000 mAh capacity ensures a very long operating time of the flashlight. In turbo mode, it is 120 minutes and in ecco mode - up to 12 days. The high voltage allows proper operation of the flashlight with full 18,000 lumens of power. The battery has a number of security features, which are protection against excessive overheating and reverse polarity. It also works with the low charge warning system in the flashlight and after installation it meets the IP68 standards. Feature: - Proprietary Rechargeable Battery/Body for Fenix LR80R Flashlight - 7.2 Volt - 12000 mAh large-capacity battery with outstanding performance - The battery has triple over-heat protect for safety and reliability - Built in over-charge, over-discharge protection circuit to ensure the maximum performance of the battery - The circuit board has front and back protections to make it more impact-resistant and reliable - No battery memory effect, negligible self discharge
Product SKU: FNX-LR80RB
Product Brand: Fenix
Product Currency: NZD
Price Valid Until: 1970-01-01
Product In-Stock: SoldOut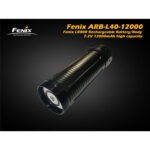 Fenix Battery Pack Tailored Replacement For Fenix LR80R ONLY,
Your review
* Review is required
Email
* Email is required
Add photos or video to your review