Roll over image to zoom in
Click to open expanded view
$129.00
or 6 weekly interest-free payments from $21.50 with
Calculate shipping price
Please fill in the fields below with the shipping destination details in order to calculate the shipping cost.
Features:
EPOS C10 USB Communication Headset For Business
– Stereo audio output
Work or study your way with a stylish, comfortable headset with superior stereo sound designed for the demands of today's hybrid life. Enjoy a wired headset with flexible and simple plug-and-play connectivity – in the office, at home, where you study. Experience flexibility and comfort, with a discreet boom arm design that folds neatly away into the headband. Smart audio technologies such as EPOS Voice provide a clear and natural listening experience that helps boost your performance.
Enhanced Comfort
Newly designed, on-ear earpads provide great comfort and noise damping, especially when using the leatherette earpads also provided in the box.
Plug-and-Play device connectivity
With the USB-C connector, versatile workers or students get simple, reliable functionality
Discreet boom arm
Guarantee high sound grade communication with a discreet boom arm, which folds away for a stylish look.
Microsoft Teams certified and UC
Microsoft Teams certified and UC optimized
Get a seamless work or study experience and jump straight into Microsoft Teams meetings with the dedicated Teams button.
EPOS BrainAdapt™ Technology
EPOS BrainAdapt™ is a group of pioneering technologies that work together to improve cognitive performance. Headsets that are built on?EPOS BrainAdapt™ technology are designed to support the brain's natural way of processing sound. This means less fatigue and more focus for both you and the people you are communicating with.
What's in the Box
– C10 Headset (Black)
– Leatherette earpad covers
– Carry pouch
Specifications:
Audio Output Mode
Stereo
Audio System Type
Headset
Colour
Black
Manufacturer Part No:
1001145
Brand:
EPOS
Product Type:
Headset
UPC
–
Product Family:
C10
Shipping Weight:
1 kg
PB Part No:
HSTEPS3001
Product Model:
–
Warranty:
12 months *
* Warranty period is as stated above unless the manufacturer has chosen to specify a longer period.
All warranties are return to base unless otherwise specified.
Why is there a reasonable price displayed?
Discover the reason behind our incredibly reasonable prices! At our company, we prioritize your satisfaction and work tirelessly to offer you access to top-notch brands without breaking the bank. Our commitment to minimizing profit margins enables us to deliver affordability without compromising on quality. Shop with confidence and explore a wide range of reputable products at budget-friendly rates. Your satisfaction is our priority!
EPOS C10 USB Headset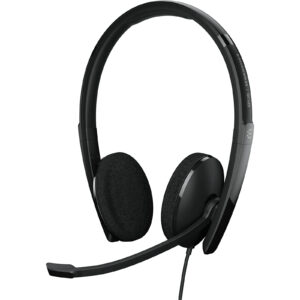 EPOS C10 USB Communication Headset For Business - Stereo audio output Work or study your way with a stylish, comfortable headset with superior stereo sound designed for the demands of today's hybrid life. Enjoy a wired headset with flexible and simple plug-and-play connectivity - in the office, at home, where you study. Experience flexibility and comfort, with a discreet boom arm design that folds neatly away into the headband. Smart audio technologies such as EPOS Voice provide a clear and natural listening experience that helps boost your performance. Enhanced Comfort Newly designed, on-ear earpads provide great comfort and noise damping, especially when using the leatherette earpads also provided in the box. Plug-and-Play device connectivity With the USB-C connector, versatile workers or students get simple, reliable functionality Discreet boom arm Guarantee high sound grade communication with a discreet boom arm, which folds away for a stylish look. Microsoft Teams certified and UC Microsoft Teams certified and UC optimized Get a seamless work or study experience and jump straight into Microsoft Teams meetings with the dedicated Teams button. EPOS BrainAdapt™ Technology EPOS BrainAdapt™ is a group of pioneering technologies that work together to improve cognitive performance. Headsets that are built on?EPOS BrainAdapt™ technology are designed to support the brain's natural way of processing sound. This means less fatigue and more focus for both you and the people you are communicating with. What's in the Box - C10 Headset (Black) - Leatherette earpad covers - Carry pouch
Product SKU: 1001145
Product Brand: EPOS
Product Currency: NZD
Product Price: 129.00
Price Valid Until: 1970-01-01
Product In-Stock: PreOrder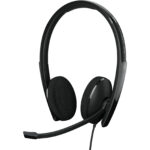 EPOS C10 USB Headset
Your review
* Review is required
Email
* Email is required
Add photos or video to your review