EKWB EK-Quantum Torque Rotary, 14mm Offset, Black
Roll over image to zoom in
Click to open expanded view
$29.00
or 6 weekly interest-free payments from $4.83 with
Calculate shipping price
Please fill in the fields below with the shipping destination details in order to calculate the shipping cost.
Features:
Details
EK-Quantum Torque Rotary Offset 14 – Black is a premium revolvable male+female threaded offset adapter fitting. It is commonly used to distance or offset G1/4″ ports in tight spaces or to perfectly align hard tubing to another port in order to have aesthetically pleasant parallel tubing. Aesthetically, it is a perfect match with the EK-Quantum Torque series fittings and adapters.
Made from CNC machined brass with a satin black finish. Sealed with quality EPDM O-rings. These offsets adapter fittings are rotary and they can be rotated around their axis in 360 degrees to fine-tune and find the exact positioning required.
EK-Quantum Torque series products received the prestigious iF Design Award. A robust and industrial aesthetic sets the Torque family apart by highlighting the precise manufacturing processes used to create them. In addition, enthusiasts can add a unique color ring to give a personal accent to the fitting line. The Torque family of fittings offers a secure and modular system of connections between liquid cooling components and tubing within a PC. Quantum Torque series products cover angled adapters, rotary and static extenders, splitters, G1/4″ plugs, drain valves, fittings, and much more.
Technical data:
Threading: 2 x G1/4″ (Male – Female)
Thread length: 4.5mm
Material: Brass
Finish: Black
Offset: 14mm
Specifications:
Manufacturer Part No:
EK-Quantum Torque Rotary Offset 14 – Black
Brand:
EKWB
Product Type:
Rotary,
UPC
–
Product Family:
EK-Quantum
Shipping Weight:
0.2 kg
PB Part No:
WTREKW832868
Product Model:
Torque
Warranty:
12 months *
* Warranty period is as stated above unless the manufacturer has chosen to specify a longer period.
All warranties are return to base unless otherwise specified.
Why is there a reasonable price displayed?
Discover the reason behind our incredibly reasonable prices! At our company, we prioritize your satisfaction and work tirelessly to offer you access to top-notch brands without breaking the bank. Our commitment to minimizing profit margins enables us to deliver affordability without compromising on quality. Shop with confidence and explore a wide range of reputable products at budget-friendly rates. Your satisfaction is our priority!
EKWB EK-Quantum Torque Rotary, 14mm Offset, Black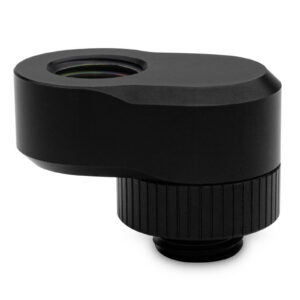 Details EK-Quantum Torque Rotary Offset 14 - Black is a premium revolvable male+female threaded offset adapter fitting. It is commonly used to distance or offset G1/4" ports in tight spaces or to perfectly align hard tubing to another port in order to have aesthetically pleasant parallel tubing. Aesthetically, it is a perfect match with the EK-Quantum Torque series fittings and adapters. Made from CNC machined brass with a satin black finish. Sealed with quality EPDM O-rings. These offsets adapter fittings are rotary and they can be rotated around their axis in 360 degrees to fine-tune and find the exact positioning required. EK-Quantum Torque series products received the prestigious iF Design Award. A robust and industrial aesthetic sets the Torque family apart by highlighting the precise manufacturing processes used to create them. In addition, enthusiasts can add a unique color ring to give a personal accent to the fitting line. The Torque family of fittings offers a secure and modular system of connections between liquid cooling components and tubing within a PC. Quantum Torque series products cover angled adapters, rotary and static extenders, splitters, G1/4" plugs, drain valves, fittings, and much more. Technical data: Threading: 2 x G1/4" (Male - Female) Thread length: 4.5mm Material: Brass Finish: Black Offset: 14mm
Product SKU: EK-Quantum Torque Rotary Offset 14 - Black
Product Brand: EKWB
Product Currency: NZD
Price Valid Until: 1970-01-01
Product In-Stock: PreOrder
Additional information
| | |
| --- | --- |
| Brand | |
| Part Number | |
| MPN | |
| GTIN | |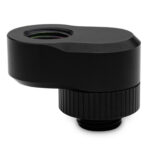 EKWB EK-Quantum Torque Rotary, 14mm Offset, Black
Your review
* Review is required
Email
* Email is required
Add photos or video to your review