ECS Elitegroup Mini PC LIVA Z3 N6000 RAM 4G eMMC 128GB
Out Of Stock
Roll over image to zoom in
Click to open expanded view
Email when stock available
Features:
Quiet Operation with Fanless Design
With fanless design to support a 6-watt CPU, it safeguards against dust accumulation, preventing overheating problems, reducing potential malfunctions, and extending the lifespan of your mini PC.
Superior Performance
With Intel® Pentium® & Celeron® processors*, LIVA Z3 helps users collaborate, create, learn, play like never before. They empower you to finish day-to-day tasks faster and save valuable time as compared to previous generation.
(* Specifications may vary depending on model and/or SKUs.
**Performance benchmark results depends on the official announcement of Intel. )
Ultrafast Connectivity
LIVA Z3 with 802.11ax* MU-MIMO provides higher connection speeds up to 10 Gbps**, greater efficiency of data transmission to stream high quality movies and YouTube videos among multiple devices simultaneously.
( * Specifications may vary depending on model and/or SKUs.
** Actual speed is based on the system configuration and usage.)
See More, Do More
LIVA Z3 supports up to 2 independent displays through HDMI & mini DisplayPort. Giving you the flexibility to expand the desktop workspace and multitask on two monitors without any limitation.
Stunning Pictures
LIVA Z3 featuring 4K resolution at 60 fps gives four times as many pixels as the commonly used 1920 x 1080 resolution presenting much more vivid and clear visuals at a glance.
Universal Convenience
USB 3.2 Gen 2 Type-C retains all of the functional benefits that form the basis for the most popular interconnects of computing devices, and features reversible plug orientation and cable direction to transfer files at incredible speed up to 10 Gbps***.
( *** Actual speed is based on the system configuration and usage. )
Frequently asked questions
Can I swap out parts and/or add/change/remove operating systems in a PB Tech PC?
We can add any part to a PC for a small fee as long as we don't need to remove an existing part for it to fit, for example adding more RAM, an extra hard drive, installing a Windows OS, or adding a graphics card to a PC without one (we can even SLI/Crossfire for you if it is compatible). We cannot change components that are part of an existing build e.g. Upgrade an existing graphics card or add a SSD with Windows installed if the PC only has a single hard drive (as the OS is already pre-installed). If you do have a specific requirement, then one of our experienced sales team will be happy to build a system that suits your needs.
Contact our WebSales team here
What parts are used in this PC?
The parts are subject to change depending on stock availability but the specifications listed in the title will always be correct. If you have specific parts you are after, one of our experienced sales team will be happy to build a system that suits your needs.
Once again, you can
contact our WebSales team here
Specifications:
Platform
Intel SoC Jasper Lake
Celeron N6000 (4 cores)
Storage
eMMC(5.1) 128GB
m.2 2280 SSD (PCIe)
Memory
Support 2 x SODIMM DDR4 2933MHz
dual channel up to 16GB
4GB Included
Rear IO
1 x DC_IN
1 x GIGA LAN
1 x HDMI 2.0-out
1 x mini DP
2 x USB2.0
Front IO
1 x Power button
3 x USB3.2 Gen 1×1 (Type A)
1 x USB 3.2 Gen 2×1 (Type C)
1 x Audio jack (combo)
D-Mic
1 x D-Mic
Thermal Solution
w/ Thermal Heat Sink
Wifi Module
m.2 2230 Slot (Intel AC3165)
Power Supply
19V / 3.42A 65W
Dimension
117*128**35 mm
Working Environment
Operation: 0-35 C
Storage: 0-80 C
Manufacturer Part No:
LIVA Z3 N6000
Brand:
ECS Elitegroup
Product Type:
–
UPC
–
Product Family:
Mini PC
Shipping Weight:
1 kg
PB Part No:
WKSECS21002
Product Model:
–
Warranty:
24 months *
* Warranty period is as stated above unless the manufacturer has chosen to specify a longer period.
All warranties are return to base unless otherwise specified.
Why is there a reasonable price displayed?
Discover the reason behind our incredibly reasonable prices! At our company, we prioritize your satisfaction and work tirelessly to offer you access to top-notch brands without breaking the bank. Our commitment to minimizing profit margins enables us to deliver affordability without compromising on quality. Shop with confidence and explore a wide range of reputable products at budget-friendly rates. Your satisfaction is our priority!
ECS Elitegroup Mini PC LIVA Z3 N6000 RAM 4G eMMC 128GB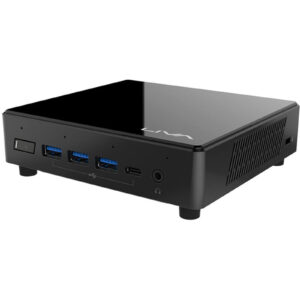 Quiet Operation with Fanless Design With fanless design to support a 6-watt CPU, it safeguards against dust accumulation, preventing overheating problems, reducing potential malfunctions, and extending the lifespan of your mini PC. Superior Performance With Intel® Pentium® & Celeron® processors*, LIVA Z3 helps users collaborate, create, learn, play like never before. They empower you to finish day-to-day tasks faster and save valuable time as compared to previous generation. (* Specifications may vary depending on model and/or SKUs. **Performance benchmark results depends on the official announcement of Intel. ) Ultrafast Connectivity LIVA Z3 with 802.11ax* MU-MIMO provides higher connection speeds up to 10 Gbps**, greater efficiency of data transmission to stream high quality movies and YouTube videos among multiple devices simultaneously. ( * Specifications may vary depending on model and/or SKUs. ** Actual speed is based on the system configuration and usage.) See More, Do More LIVA Z3 supports up to 2 independent displays through HDMI & mini DisplayPort. Giving you the flexibility to expand the desktop workspace and multitask on two monitors without any limitation. Stunning Pictures LIVA Z3 featuring 4K resolution at 60 fps gives four times as many pixels as the commonly used 1920 x 1080 resolution presenting much more vivid and clear visuals at a glance. Universal Convenience USB 3.2 Gen 2 Type-C retains all of the functional benefits that form the basis for the most popular interconnects of computing devices, and features reversible plug orientation and cable direction to transfer files at incredible speed up to 10 Gbps***. ( *** Actual speed is based on the system configuration and usage. ) Frequently asked questions Can I swap out parts and/or add/change/remove operating systems in a PB Tech PC? We can add any part to a PC for a small fee as long as we don't need to remove an existing part for it to fit, for example adding more RAM, an extra hard drive, installing a Windows OS, or adding a graphics card to a PC without one (we can even SLI/Crossfire for you if it is compatible). We cannot change components that are part of an existing build e.g. Upgrade an existing graphics card or add a SSD with Windows installed if the PC only has a single hard drive (as the OS is already pre-installed). If you do have a specific requirement, then one of our experienced sales team will be happy to build a system that suits your needs. Contact our WebSales team here What parts are used in this PC? The parts are subject to change depending on stock availability but the specifications listed in the title will always be correct. If you have specific parts you are after, one of our experienced sales team will be happy to build a system that suits your needs. Once again, you can contact our WebSales team here
Product SKU: LIVA Z3 N6000
Product Currency: NZD
Price Valid Until: 1970-01-01
Product In-Stock: SoldOut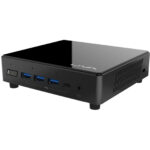 ECS Elitegroup Mini PC LIVA Z3 N6000 RAM 4G eMMC 128GB
Your review
* Review is required
Email
* Email is required
Add photos or video to your review