Dynamix 0.75m Cat6A 10G White Ultra-Slim Component Level UTP Patch Lead (30AWG)withRJ45Unshielded50µGold Plated Connectors. Supports PoE IEEE 802.3af (15.4W) at (30W) bt (60W)
$7.36
or 6 weekly interest-free payments from $1.22 with
Calculate shipping price
Please fill in the fields below with the shipping destination details in order to calculate the shipping cost.
Features:
DYNAMIX 0.75M Cat6 White Slimline
DYNAMIX 0.75M Cat6 White Slimline Component Level UTP Patch Lead
Specifications:
LENGTH
0.75m
Manufacturer Part No:
PLSW-C6-0.75
Brand:
Dynamix
Product Type:
–
UPC
–
Product Family:
–
Shipping Weight:
0.5 kg
PB Part No:
CABDNX0956
Product Model:
–
Warranty:
60 months *
* Warranty period is as stated above unless the manufacturer has chosen to specify a longer period.
All warranties are return to base unless otherwise specified.
Why is there a reasonable price displayed?
Discover the reason behind our incredibly reasonable prices! At our company, we prioritize your satisfaction and work tirelessly to offer you access to top-notch brands without breaking the bank. Our commitment to minimizing profit margins enables us to deliver affordability without compromising on quality. Shop with confidence and explore a wide range of reputable products at budget-friendly rates. Your satisfaction is our priority!
Dynamix 0.75m Cat6A 10G White Ultra-Slim Component Level UTP Patch Lead (30AWG)withRJ45Unshielded50µGold Plated Connectors. Supports PoE IEEE 802.3af (15.4W) at (30W) bt (60W)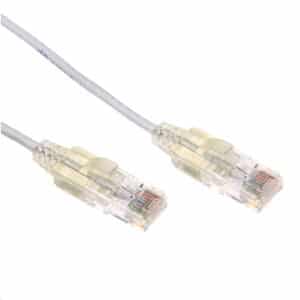 DYNAMIX 0.75M Cat6 White Slimline DYNAMIX 0.75M Cat6 White Slimline Component Level UTP Patch Lead
Product SKU: PLSW-C6-0.75
Product Brand: Dynamix
Product Currency: NZD
Product Price: 7.36
Price Valid Until: 1970-01-01
Product In-Stock: InStock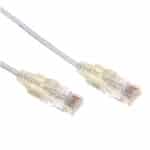 Dynamix 0.75m Cat6A 10G White Ultra-Slim Component Level UTP Patch Lead (30AWG)withRJ45Unshielded50µGold Plated Connectors. Supports PoE IEEE 802.3af (15.4W) at (30W) bt (60W)
Your review
* Review is required
Email
* Email is required
Add photos or video to your review