DEEPCOOL N9 Notebook Cooler (Up To 17″), Angle Adjustable, Antislip, Aluminium, 18cm Fan, 3x USB
$92.91
or 6 weekly interest-free payments from $15.48 with
Calculate shipping price
Please fill in the fields below with the shipping destination details in order to calculate the shipping cost.
Features:
– 180mm cooling fan, big airflow, high performance.
– Entire Aluminum panel efficiently dissipate heat.
– Creative airflow channels give better and faster ways for heat to go away.
– 6 using angles offer you more choices for comfort in use.
– 4 USB ports, make it more convenient for you to work with external USB devices.
– Adjustable fan speed balances between performance and silence.
– Three protection backup for safety use at any angles.
Specifications:
Overall Dimension
380X279X34mm
Fan Dimension
F180X15mm
Net Weight
1700g
Bearing Type
Hydro Bearing
Rated Voltage
5VDC
Operating Voltage
4.5~5VDC
Started Voltage
2.8VDC
Rated Current
0.12±10%~0.22±10%A
Power Input
0.6~1.1W
Fan Speed
600±150~1000±10%RPM
Max. Air Flow
84.7CFM
Noise
16~20dB(A)
Manufacturer Part No:
N9
Brand:
DEEPCOOL
Product Type:
–
UPC
–
Product Family:
–
Shipping Weight:
1 kg
PB Part No:
UNC001001126
Product Model:
–
Warranty:
Not applicable
Why is there a reasonable price displayed?
Discover the reason behind our incredibly reasonable prices! At our company, we prioritize your satisfaction and work tirelessly to offer you access to top-notch brands without breaking the bank. Our commitment to minimizing profit margins enables us to deliver affordability without compromising on quality. Shop with confidence and explore a wide range of reputable products at budget-friendly rates. Your satisfaction is our priority!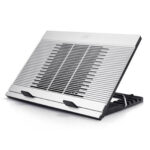 DEEPCOOL N9 Notebook Cooler (Up To 17"), Angle Adjustable, Antislip, Aluminium, 18cm Fan, 3x USB
Your review
* Review is required
Email
* Email is required
Add photos or video to your review