Dahua PFM920I-6UN-C Blue 305M UTP CAT6 CABLE ROLL Conductor: 0.53mm, OFC(99.97%)Sheath: PVC, meet CE CPR Eca flame retardant class certified
$424.35
or 6 weekly interest-free payments from $70.72 with
Calculate shipping price
Please fill in the fields below with the shipping destination details in order to calculate the shipping cost.
Features:
UTP CAT6 Cable
– 305 m (1000 ft)/carton UTP CAT6, power over Ethernet, compatible with one cable
– High-purity oxygen-free copper conductor
– Customized PVC outer sheath; CE CPR Eca flame retardant class certified
Specifications:
Conductor
Material
Oxygen free copper (99.97% purity)
Diameter
0.53 mm ± 0.01 mm
Insulation
Material
HDPE
Min. Average Thickness
0.21 mm
Diameter
0.95 mm ± 0.1 mm
Color (4 Pairs)
Blue, white/blue; orange, white/orange; green, white/green; brown, white/brown
Separator
Material
PE
Specification
Translucent 4.5 × 0.4 mm
Rip Cord
Material
Polyester
Specification
500D
Sheath
Material
PVC
Min. Average Thickness
0.5 mm
Diameter
6.0 mm ± 0.3 mm
Color
White
Electrical
Max. DC Resistance of a Single Conductor
8.7O/100 m
Min. Insulation Resistance
5000MO·km
Max. DC Resistance Unbalance
2% (pair intra), 4% (pairs inter)
Dielectric Strength
No breakdown with 1KV DC for 1 min
Transmission
Characteristic Impedance
100 ± 15O
Near End Cross Talk
=39.30 dB/100
[email protected] MHz
Max. Attenuation
34.8 dB/100
[email protected] MHz
Return Loss
=17.3 dB/100
[email protected] MHz
Mechanical
Tensile Strength
Sheath=13.5 MPa, insulation=16 MPa
Elongation at Break
Sheath=150%, insulation=300%
Installation Bending Radius
>8 times of outer cable diameter
Conductor Elongation at Break
=10%
Environmental
Shrinkage of Insulation
=5%
Color Migration Resistance of Insulation
No migration
Sheath Tensile Strength and Elongation at Break after Aging
=12.5 MPa, =100%
Low Temperature Bending Test
No cracking after the test
Heat Shock Test
No cracking after the test
Operating Temperature
-20°C to +60°C (-4°F to 140°F)
Installation Temperature
0°C to +50°C (32°F to 122°F)
Storage Temperature and Humidity
-10°C to +40°C (14°F to 104°F), <60% (RH) Security Vertical Fire Propagation Test Comply with IEC 60332-1-2 Packaging Cable Length 305.0 m (1000.66 ft) ± 1.5 m (4.92 ft) Inner Carton Dimensions 416.0 mm × 412.0 mm × 220.0 mm (16.38" × 16.22" × 8.66") (L × W × H) Packaging Method 305.0 m (1000.66 ft) a carton, 36 pcs/pallet Net Weight =10.5 kg (23.15 lb) Gross Weight =11.5 kg (25.35 lb) Compliance Executive Standards Q/DXJ 067-2019, EN50575-2014 Certification Certification CPR Eca Manufacturer Part No: DH-PFM920I-6UN-C Brand: Dahua Product Type: - UPC - Product Family: - Shipping Weight: 12 kg PB Part No: CCTDHA1595 Product Model: PFM920I-6UN-C Blue Warranty: 60 months * * Warranty period is as stated above unless the manufacturer has chosen to specify a longer period. All warranties are return to base unless otherwise specified.
Why is there a reasonable price displayed?
Discover the reason behind our incredibly reasonable prices! At our company, we prioritize your satisfaction and work tirelessly to offer you access to top-notch brands without breaking the bank. Our commitment to minimizing profit margins enables us to deliver affordability without compromising on quality. Shop with confidence and explore a wide range of reputable products at budget-friendly rates. Your satisfaction is our priority!
Dahua PFM920I-6UN-C Blue 305M UTP CAT6 CABLE ROLL Conductor: 0.53mm, OFC(99.97%)Sheath: PVC, meet CE CPR Eca flame retardant class certified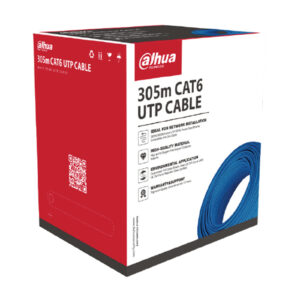 UTP CAT6 Cable - 305 m (1000 ft)/carton UTP CAT6, power over Ethernet, compatible with one cable - High-purity oxygen-free copper conductor - Customized PVC outer sheath; CE CPR Eca flame retardant class certified
Product SKU: DH-PFM920I-6UN-C
Product Brand: Dahua
Product Currency: NZD
Product Price: 271.24
Price Valid Until: 1970-01-01
Product In-Stock: InStock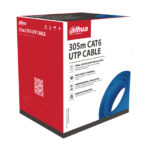 Dahua PFM920I-6UN-C Blue 305M UTP CAT6 CABLE ROLL Conductor: 0.53mm, OFC(99.97%)Sheath: PVC, meet CE CPR Eca flame retardant class certified
Your review
* Review is required
Email
* Email is required
Add photos or video to your review