Brateck Lumi DWS21-C02 17″~27″ Dual Monitor Gas Spring Sit-Stand Desk Converter – Folding Keyboard Tray – Counter-Balance Gas Spring – Integrated Ball-Joint – 2 easily accessible USB3.0 Ports
Roll over image to zoom in
Click to open expanded view
$142.00
or 6 weekly interest-free payments from $23.66 with
Calculate shipping price
Please fill in the fields below with the shipping destination details in order to calculate the shipping cost.
Features:
BRATECK 17″~27″ Dual Monitor Gas Spring Sit-Stand Desk Converter. Folding Keyboard Tray. Counter-Balance Gas Spring. Integrated Ball-Joint. 2 easily accessible USB3.0 Ports.
Brateck's Dual Monitor Premium Gas Spring Sit-Stand Workstation Desk Mount provides both elegant appearance and functionality. The flexible side-to-side motion accommodates any size or desired position – perfect for shared work areas. The accessory area provides space for smartphones or other office accessories and dual 3.0 USB ports provide power for charging devices. The keyboard to monitor distance has been ergonomically optimized to reduce fatigue and eye strain.
– Folding Keyboard Tray saves space when not in use
– Counter-Balance Gas Spring creates smooth and quick transitions
– Integrated Ball-Joint allows screen tilt, pan and rotation adjustment
– 2x Easily accessible USB 3.0 ports
– Full-Motion Mechanism for the most optimized viewing position
– Second storage tray for phones, stationery, and other accessories
– Cable Management elegantly hides any cables that are attached to displays
– Locking Rotary Knob ensures toolless height adjustment
Specifications:
Product Category:
Tabletop Workstation
Rank:
Premium
Material:
Steel, Aluminum, Plastic
Colour:
Black
Dimensions:
717x928x1212mm
Fit Screen Size:
17″~27″
VESA Compatible:
75×75, 100×100
Monitor Weight Capacity (per screen):
0~6kg
Tilt Range:
+10°~-10°
Swivel Range:
+10°~-10°
Screen Rotation:
+180°~-180°
Keyboard Tray Weight Capacity:
1kg
Height Range:
-10~505mm
Height Adjustment:
Manual
Quick Release VESA Plate:
Yes
Installation:
Clamp, Grommet
Suggested Desktop Thickness:
Clamp:10~84mm
Grommet:10~84mm
Accessory Kit Package:
Normal/Ziplock Polybag, Compartment Polybag
Manufacturer Part No:
DWS21-C02
Brand:
Brateck
Product Type:
–
UPC
–
Product Family:
Lumi
Shipping Weight:
13.1 kg
PB Part No:
MOABRA0375
Product Model:
DWS21-C02
Warranty:
60 months *
* Warranty period is as stated above unless the manufacturer has chosen to specify a longer period.
All warranties are return to base unless otherwise specified.
Why is there a reasonable price displayed?
Discover the reason behind our incredibly reasonable prices! At our company, we prioritize your satisfaction and work tirelessly to offer you access to top-notch brands without breaking the bank. Our commitment to minimizing profit margins enables us to deliver affordability without compromising on quality. Shop with confidence and explore a wide range of reputable products at budget-friendly rates. Your satisfaction is our priority!
Brateck Lumi DWS21-C02 17"~27" Dual Monitor Gas Spring Sit-Stand Desk Converter - Folding Keyboard Tray - Counter-Balance Gas Spring - Integrated Ball-Joint - 2 easily accessible USB3.0 Ports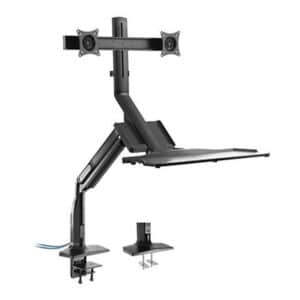 BRATECK 17"~27" Dual Monitor Gas Spring Sit-Stand Desk Converter. Folding Keyboard Tray. Counter-Balance Gas Spring. Integrated Ball-Joint. 2 easily accessible USB3.0 Ports. Brateck's Dual Monitor Premium Gas Spring Sit-Stand Workstation Desk Mount provides both elegant appearance and functionality. The flexible side-to-side motion accommodates any size or desired position - perfect for shared work areas. The accessory area provides space for smartphones or other office accessories and dual 3.0 USB ports provide power for charging devices. The keyboard to monitor distance has been ergonomically optimized to reduce fatigue and eye strain. - Folding Keyboard Tray saves space when not in use - Counter-Balance Gas Spring creates smooth and quick transitions - Integrated Ball-Joint allows screen tilt, pan and rotation adjustment - 2x Easily accessible USB 3.0 ports - Full-Motion Mechanism for the most optimized viewing position - Second storage tray for phones, stationery, and other accessories - Cable Management elegantly hides any cables that are attached to displays - Locking Rotary Knob ensures toolless height adjustment
Product SKU: DWS21-C02
Product Brand: Brateck
Product Currency: NZD
Product Price: 142.00
Price Valid Until: 1970-01-01
Product In-Stock: PreOrder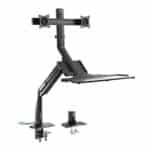 Brateck Lumi DWS21-C02 17"~27" Dual Monitor Gas Spring Sit-Stand Desk Converter - Folding Keyboard Tray - Counter-Balance Gas Spring - Integrated Ball-Joint - 2 easily accessible USB3.0 Ports
Your review
* Review is required
Email
* Email is required
Add photos or video to your review