BLUE Yeti Nano Premium USB Microphone – 2 Blue-proprietary 14mm condenser capsules ,Shadow Grey
Email when stock available
Features:
Legendary Blue Broadcast Sound
Yeti Nano is a premium USB microphone designed for broadcast-quality podcasting, YouTube productions, game streaming, Skype/VoIP and voiceover work. Inspired by the #1-selling Blue Yeti microphone, Yeti Nano features 24-bit sound quality, a compact design, and plug 'n play operation for instant streaming with your PC or Mac. The premium finish looks great on camera and on any desktop. With a no-latency headphone output and controls for headphone volume, mic mute and pickup pattern, Yeti Nano is the essential mic for today's broadcasters.
Small Footprint. Big Sound.
Yeti Nano includes everything you need to broadcast your message with crystal clarity. We designed two new proprietary mic capsules specifically tuned to give your voice exceptional presence and detail. Plus, Yeti Nano supports high-quality 24-bit/48kHz recording, so you can give your podcast, video or Twitch stream the production value it deserves. Whether you're gaming, making a business call, or recording, you'll be heard loud and clear every time.
Designed for Easy Streaming and Recording
Every aspect of Yeti Nano is designed to help you record and stream easily. The compact footprint and all-new aesthetic fits perfectly on any desktop and looks great on camera. The built-in metal stand makes it easy to adjust the angle of the mic exactly where you need it.
Capture Your Voice, or Many
Whether you plan to record a single source, or multiple sources at once, Yeti Nano gives you flexibility with two pickup-pattern modes to choose from. Simply tap the pattern-selection button to set the one that's right for your project.
Cardioid Mode
Perfect for podcasts with a single host, game streaming, Skype calls, vocal performances, voiceovers and instruments. Cardioid mode records sound sources that are directly in front of the microphone, delivering rich, full-bodied sound.
Omnidirectional
Record or stream sound equally from all around the mic. Omnidirectional mode is best used in situations when you want to have a conference call with multiple participants in the same room, or a multi-person interview on a podcast.
Works Great With Your
Favorite
Applications
Specifications:
Power Required/Consumption
5V 50.5mA (maximum)
Sample Rates
32kHz, 44.1kHz, and 48kHz
Bit Rate
16bit and 24bit
Capsules
2 Blue-proprietary 14mm condenser capsules
Polar Patterns
Cardioid, Omnidirectional
Frequency Response
20Hz – 20kHz
Sensitivity
-37dB (1kHz, 1Pa, 0dB=1Va/Pa)
Max SPL
110dB
Dimensions (with stand)
L = 10.9cm, W = 9.6cm, H = 21.1cm
Weight (with stand)
1.39lbs (0.63kg)
Manufacturer Part No:
90024675
Brand:
BLUE
Product Type:
Premium USB Microphone
UPC
836213000281
Product Family:
–
Shipping Weight:
0.708 kg
PB Part No:
MICBLU1510
Product Model:
Yeti Nano
Warranty:
12 months *
* Warranty period is as stated above unless the manufacturer has chosen to specify a longer period.
All warranties are return to base unless otherwise specified.
Why is there a reasonable price displayed?
Discover the reason behind our incredibly reasonable prices! At our company, we prioritize your satisfaction and work tirelessly to offer you access to top-notch brands without breaking the bank. Our commitment to minimizing profit margins enables us to deliver affordability without compromising on quality. Shop with confidence and explore a wide range of reputable products at budget-friendly rates. Your satisfaction is our priority!
BLUE Yeti Nano Premium USB Microphone - 2 Blue-proprietary 14mm condenser capsules ,Shadow Grey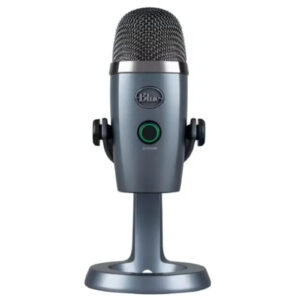 Legendary Blue Broadcast Sound Yeti Nano is a premium USB microphone designed for broadcast-quality podcasting, YouTube productions, game streaming, Skype/VoIP and voiceover work. Inspired by the #1-selling Blue Yeti microphone, Yeti Nano features 24-bit sound quality, a compact design, and plug 'n play operation for instant streaming with your PC or Mac. The premium finish looks great on camera and on any desktop. With a no-latency headphone output and controls for headphone volume, mic mute and pickup pattern, Yeti Nano is the essential mic for today's broadcasters. Small Footprint. Big Sound. Yeti Nano includes everything you need to broadcast your message with crystal clarity. We designed two new proprietary mic capsules specifically tuned to give your voice exceptional presence and detail. Plus, Yeti Nano supports high-quality 24-bit/48kHz recording, so you can give your podcast, video or Twitch stream the production value it deserves. Whether you're gaming, making a business call, or recording, you'll be heard loud and clear every time. Designed for Easy Streaming and Recording Every aspect of Yeti Nano is designed to help you record and stream easily. The compact footprint and all-new aesthetic fits perfectly on any desktop and looks great on camera. The built-in metal stand makes it easy to adjust the angle of the mic exactly where you need it. Capture Your Voice, or Many Whether you plan to record a single source, or multiple sources at once, Yeti Nano gives you flexibility with two pickup-pattern modes to choose from. Simply tap the pattern-selection button to set the one that's right for your project. Cardioid Mode Perfect for podcasts with a single host, game streaming, Skype calls, vocal performances, voiceovers and instruments. Cardioid mode records sound sources that are directly in front of the microphone, delivering rich, full-bodied sound. Omnidirectional Record or stream sound equally from all around the mic. Omnidirectional mode is best used in situations when you want to have a conference call with multiple participants in the same room, or a multi-person interview on a podcast. Works Great With Your Favorite Applications
Product SKU: 90024675
Product Brand: BLUE
Product Currency: NZD
Price Valid Until: 1970-01-01
Product In-Stock: SoldOut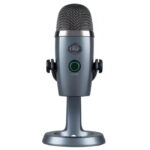 BLUE Yeti Nano Premium USB Microphone - 2 Blue-proprietary 14mm condenser capsules ,Shadow Grey
Your review
* Review is required
Email
* Email is required
Add photos or video to your review