Audio-Technica AT2040 Audio Technica Hypercardioid Dynmanic Podcast Microphone
Email when stock available
Features:
The AT2040 microphone offers podcasters and content creators all the features needed to get started or to upgrade their setups for a more professional sound.
Enjoy outstanding audio without having to worry about background noise: this microphone's unique design produces consistent audio quality at a close range without annoying pops, and the integrated shock mount further minimizes noises, shocks, or vibrations.
Delivering excellent vocal isolation, multiple AT2040 mics can be used in close proximity without issue, so hosting podcast interviews or collaborations will require minimal post-production editing. Setup is quick and easy with the XLR output connecting to professional broadcast equipment or interfaces for Mac and PC. The dynamic design provides warm, rich, and professional-sounding vocals for content creators of all levels.
The AT2040 dynamic mic offers professional-quality broadcast sound in an affordable package. Although designed for podcasting, the AT2040 can also be used for other content creation setups, such as live streaming, gaming, or doing voice-over work.
This microphone's large diaphragm element delivers smooth, natural sound, no matter the application. The special internal multistage windscreen (combining foam mesh and a nonwoven pop filter) paired with the hypercardioid polar pattern results in highly directional, tight pickup that reduces external noises while producing a warm, classic sound. The AT2040 podcast microphone makes it easy to record single or dual vocals while in the same room, so even when using two mics to record two-person podcasts, users will enjoy great audio pickup.
So, whether you're a beginner or professional podcaster, the Audio-Technica AT2040 Hypercardioid Dynamic Podcast Microphone is a great option for under $100.
Included Accessories: The AT2040 comes complete with a pivoting stand mount, 5/8″-27 to 3/8″-16 threaded adapter, and a soft protective pouch.
The Perfect Podcasting Mic
Hypercardioid polar pattern provides maximum vocal isolation for professional-quality sound.
Clean Articulation
The AT2040's multistage foam mesh windscreen includes a nonwoven filter to allow close-up use without annoying pops.
Quiet, Professional Performance
The mic features a specially designed, integrated shock mount that tames any noise, shock and vibration that might be transmitted through a mic stand, boom or mount.
Why Choose a Dynamic Over a Condenser?
Dynamic Mic Characteristics
– Minimizes room noise – perfect for sonically untreated rooms
– Smooth audio capture with classic warm broadcast sound
– Robust construction with no external power requirements
Condenser Mic Characteristics
– Extremely sensitive – picks up the subtlest sounds in any environment
– Very articulate audio with a detailed high-frequency capture
– Requires external power to operate (phantom or battery)
How Does a Dynamic Mic Work?
Dynamic microphones use a diaphragm (1) connected to a coil of wire (2) that surrounds a magnet (3).
The diaphragm is moved by changing sound pressure. This moves the coil, which causes current to flow as it moves through the magnetic field. An electrical signal is then sent to your recording device or speakers which records or amplifies the audio.
Dynamic microphones are extremely durable and can handle very high sound pressure levels (SPL).
Features
– Dynamic microphone delivers warm, assertive broadcast sound that's perfect for podcasting
– Large diaphragm for smooth, natural sound and low noise
– Multistage foam mesh windscreen provides superior internal pop filtering
– Integrated shock mount attenuates noise, shock and vibration transmitted through mic stands, booms and mounts
– Hypercardioid polar pattern reduces pickup of sounds from the sides and rear for maximum vocal isolation
– Includes pivoting stand mount, 5/8″-27 to 3/8″-16 threaded adapter, and a soft protective pouch
Specifications:
Element
Dynamic
Polar Pattern
Hypercardioid
Frequency Response
80-16,000 Hz
Open Circuit Sensitivity
-53 dB (2.2 mV) (0 dB=1 V/Pa, 1 kHz)
Impedance
600 ohms
Weight
615 g (21.7 oz)
Dimensions
145.3 mm (5.72″) long, 52 mm (2.05″) maximum body diameter
Output Connector
Integral 3-pin XLRM-type
Accessories Included
AT8487 mounting clamp, 5/8″-27 to 3/8″-16 threaded adapter, Pouch
Audio-Technica Case Style
R13
Manufacturer Part No:
AT2040
Brand:
Audio-Technica
Product Type:
–
UPC
–
Product Family:
–
Shipping Weight:
0.4 kg
PB Part No:
AUDATC1009
Product Model:
AT2040
Warranty:
12 months *
* Warranty period is as stated above unless the manufacturer has chosen to specify a longer period.
All warranties are return to base unless otherwise specified.
Why is there a reasonable price displayed?
Discover the reason behind our incredibly reasonable prices! At our company, we prioritize your satisfaction and work tirelessly to offer you access to top-notch brands without breaking the bank. Our commitment to minimizing profit margins enables us to deliver affordability without compromising on quality. Shop with confidence and explore a wide range of reputable products at budget-friendly rates. Your satisfaction is our priority!
Audio-Technica AT2040 Audio Technica Hypercardioid Dynmanic Podcast Microphone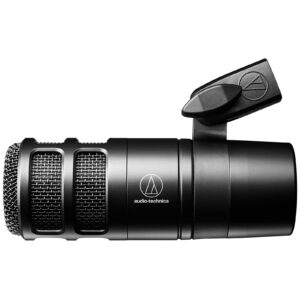 The AT2040 microphone offers podcasters and content creators all the features needed to get started or to upgrade their setups for a more professional sound. Enjoy outstanding audio without having to worry about background noise: this microphone's unique design produces consistent audio quality at a close range without annoying pops, and the integrated shock mount further minimizes noises, shocks, or vibrations. Delivering excellent vocal isolation, multiple AT2040 mics can be used in close proximity without issue, so hosting podcast interviews or collaborations will require minimal post-production editing. Setup is quick and easy with the XLR output connecting to professional broadcast equipment or interfaces for Mac and PC. The dynamic design provides warm, rich, and professional-sounding vocals for content creators of all levels. The AT2040 dynamic mic offers professional-quality broadcast sound in an affordable package. Although designed for podcasting, the AT2040 can also be used for other content creation setups, such as live streaming, gaming, or doing voice-over work. This microphone's large diaphragm element delivers smooth, natural sound, no matter the application. The special internal multistage windscreen (combining foam mesh and a nonwoven pop filter) paired with the hypercardioid polar pattern results in highly directional, tight pickup that reduces external noises while producing a warm, classic sound. The AT2040 podcast microphone makes it easy to record single or dual vocals while in the same room, so even when using two mics to record two-person podcasts, users will enjoy great audio pickup. So, whether you're a beginner or professional podcaster, the Audio-Technica AT2040 Hypercardioid Dynamic Podcast Microphone is a great option for under $100. Included Accessories: The AT2040 comes complete with a pivoting stand mount, 5/8"-27 to 3/8"-16 threaded adapter, and a soft protective pouch. The Perfect Podcasting Mic Hypercardioid polar pattern provides maximum vocal isolation for professional-quality sound. Clean Articulation The AT2040's multistage foam mesh windscreen includes a nonwoven filter to allow close-up use without annoying pops. Quiet, Professional Performance The mic features a specially designed, integrated shock mount that tames any noise, shock and vibration that might be transmitted through a mic stand, boom or mount. Why Choose a Dynamic Over a Condenser? Dynamic Mic Characteristics - Minimizes room noise - perfect for sonically untreated rooms - Smooth audio capture with classic warm broadcast sound - Robust construction with no external power requirements Condenser Mic Characteristics - Extremely sensitive - picks up the subtlest sounds in any environment - Very articulate audio with a detailed high-frequency capture - Requires external power to operate (phantom or battery) How Does a Dynamic Mic Work? Dynamic microphones use a diaphragm (1) connected to a coil of wire (2) that surrounds a magnet (3). The diaphragm is moved by changing sound pressure. This moves the coil, which causes current to flow as it moves through the magnetic field. An electrical signal is then sent to your recording device or speakers which records or amplifies the audio. Dynamic microphones are extremely durable and can handle very high sound pressure levels (SPL). Features - Dynamic microphone delivers warm, assertive broadcast sound that's perfect for podcasting - Large diaphragm for smooth, natural sound and low noise - Multistage foam mesh windscreen provides superior internal pop filtering - Integrated shock mount attenuates noise, shock and vibration transmitted through mic stands, booms and mounts - Hypercardioid polar pattern reduces pickup of sounds from the sides and rear for maximum vocal isolation - Includes pivoting stand mount, 5/8"-27 to 3/8"-16 threaded adapter, and a soft protective pouch
Product SKU: AT2040
Product Brand: Audio-Technica
Product Currency: NZD
Price Valid Until: 1970-01-01
Product In-Stock: SoldOut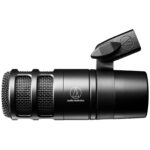 Audio-Technica AT2040 Audio Technica Hypercardioid Dynmanic Podcast Microphone
Your review
* Review is required
Email
* Email is required
Add photos or video to your review