Alogic Elements ELMDPHD-01 Cable Mini DisplayPort Male to HDMI Male 1m – Black Connect Mini DisplayPort Source to a HDMI Display
$9.49
or 6 weekly interest-free payments from $1.58 with
Features:
This ELEMENTS range of Alogic cables provides an easy and effective connectivity solution. Elements range of products are designed for affordability and value for money for your everyday applications.  Elements Mini DisplayPort to HDMI cable connects a DisplayPort enabled computer to HDMI enabled monitor. The cables support a maximum resolution of Full HD 1920 x 1080. The cable will connect a Mini DisplayPort source such a computer/docking station to a monitor/projector.
Features
– Connect Mini DisplayPort Source to an HDMI Display
– Enables connection from a Mini DisplayPort enabled source to HDMI enabled monitor
– Premium connectors for best connectivity
– Meets the requirements of high performance application
– Warranty: 1 Year
Specifications:
Part No.
ELMDPHD-01
Physical Characteristics
Black Color | ABS Construction | Jacket: PVC
Warranty
1 Year
Input
Mini DisplayPort X 1 | HDMI X 1
Resolution
1920×1080
Manufacturer Part No:
ELMDPHD-01
Brand:
Alogic
Product Type:
Cable
UPC
–
Product Family:
Elements
Shipping Weight:
0.171 kg
PB Part No:
CABALG00147
Product Model:
ELMDPHD-01
Warranty:
60 months *
* Warranty period is as stated above unless the manufacturer has chosen to specify a longer period.
All warranties are return to base unless otherwise specified.
Why is there a reasonable price displayed?
Discover the reason behind our incredibly reasonable prices! At our company, we prioritize your satisfaction and work tirelessly to offer you access to top-notch brands without breaking the bank. Our commitment to minimizing profit margins enables us to deliver affordability without compromising on quality. Shop with confidence and explore a wide range of reputable products at budget-friendly rates. Your satisfaction is our priority!
Alogic Elements ELMDPHD-01 Cable Mini DisplayPort Male to HDMI Male 1m - Black Connect Mini DisplayPort Source to a HDMI Display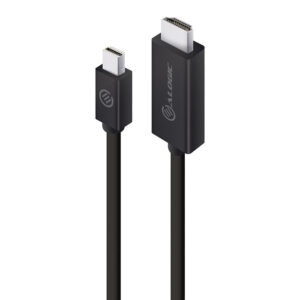 This ELEMENTS range of Alogic cables provides an easy and effective connectivity solution. Elements range of products are designed for affordability and value for money for your everyday applications.  Elements Mini DisplayPort to HDMI cable connects a DisplayPort enabled computer to HDMI enabled monitor. The cables support a maximum resolution of Full HD 1920 x 1080. The cable will connect a Mini DisplayPort source such a computer/docking station to a monitor/projector. Features - Connect Mini DisplayPort Source to an HDMI Display - Enables connection from a Mini DisplayPort enabled source to HDMI enabled monitor - Premium connectors for best connectivity - Meets the requirements of high performance application - Warranty: 1 Year
Product SKU: ELMDPHD-01
Product Brand: Alogic
Product Currency: NZD
Product Price: 9.69
Price Valid Until: 1970-01-01
Product In-Stock: InStock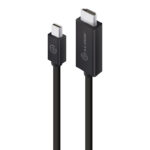 Alogic Elements ELMDPHD-01 Cable Mini DisplayPort Male to HDMI Male 1m - Black Connect Mini DisplayPort Source to a HDMI Display
Your review
* Review is required
Email
* Email is required
Add photos or video to your review