AKG D5C DYNAMIC CARDIOID VOCAL MIC – HIGH SPL
Email when stock available
Features:
The D5 C is a dynamic vocal microphone that you can depend on, from small live gigs to large concert halls. The cardioid shaped polar pattern makes it your most versatile companion giving you freedom on stage while ensuring minimum feedback.
Since the D5 C can withstand massive pressure levels up to 160 dB and the internal dual shock mount eliminates handling noise, you will hit the stage with confidence.
The D5 CS has the same mechanical, electrical, and acoustic characteristics as the D5 and features a noiseless on/off switch.
Patented laminated Varimotion diaphragm
for crisp sound that cuts through every mix
Cardioid polar pattern
for a wide variety of applications
Dual shock mount of microphone capsule
eliminates any kind of handling noise
Integrated pop filter
for elimination of pops and wind noise
Spring-steel wire-mesh grille
withstands every live performance
Specifications:
General Specifications
Audio frequency bandwidth
20 – 17000 Hz
Sensitivity
2.6 mV/Pa
Electrical impedance
600 Ohms
Recommended load impedance
2000 Ohms
Polar Pattern
Cardroid
Dimensions
Length
185 mm
Diameter
51 mm
Net Weight
mic only 320 g
Design
Body
metal
Finish
dark stage blue
Audio Output
Type
Balanced XLR
Gender
Male
Contacts
3-pin
Application
Live Vocal
Yes
Live Instrument
Yes
Instrument
Vocals
Yes
Horns / Woodwinds
Yes
Piano / Strings
Yes
Manufacturer Part No:
3138X00340
Brand:
AKG
Product Type:
–
UPC
–
Product Family:
–
Shipping Weight:
1.01 kg
PB Part No:
AUDAKG0048
Product Model:
–
Warranty:
12 months *
* Warranty period is as stated above unless the manufacturer has chosen to specify a longer period.
All warranties are return to base unless otherwise specified.
Why is there a reasonable price displayed?
Discover the reason behind our incredibly reasonable prices! At our company, we prioritize your satisfaction and work tirelessly to offer you access to top-notch brands without breaking the bank. Our commitment to minimizing profit margins enables us to deliver affordability without compromising on quality. Shop with confidence and explore a wide range of reputable products at budget-friendly rates. Your satisfaction is our priority!
AKG D5C DYNAMIC CARDIOID VOCAL MIC - HIGH SPL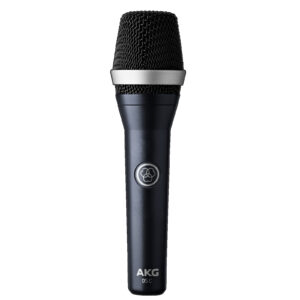 The D5 C is a dynamic vocal microphone that you can depend on, from small live gigs to large concert halls. The cardioid shaped polar pattern makes it your most versatile companion giving you freedom on stage while ensuring minimum feedback. Since the D5 C can withstand massive pressure levels up to 160 dB and the internal dual shock mount eliminates handling noise, you will hit the stage with confidence. The D5 CS has the same mechanical, electrical, and acoustic characteristics as the D5 and features a noiseless on/off switch. Patented laminated Varimotion diaphragm for crisp sound that cuts through every mix Cardioid polar pattern for a wide variety of applications Dual shock mount of microphone capsule eliminates any kind of handling noise Integrated pop filter for elimination of pops and wind noise Spring-steel wire-mesh grille withstands every live performance
Product SKU: 3138X00340
Product Currency: NZD
Price Valid Until: 1970-01-01
Product In-Stock: SoldOut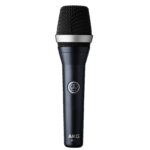 AKG D5C DYNAMIC CARDIOID VOCAL MIC - HIGH SPL
Your review
* Review is required
Email
* Email is required
Add photos or video to your review