AKG D5 3138X00070 Professional dynamic supercardioid vocal microphone
Email when stock available
Features:
https://www.akg.com/Microphones/Dynamic%20Microphones/D5.html
Cuts through the mix
The D5 professional dynamic vocal microphone for lead and backing vocals delivers a powerful sound even on the noisiest stage. Its frequency-independent supercardioid polar pattern ensures maximum gain before feedback. The D5 stands for a crisp sound that cuts through every mix. The dual shock mount eliminates any kind of mechanical noise for trouble-free live use. The audience will hear the pristine sound of your voice! The D5 S has the same mechanical, electrical, and acoustic characteristics as the D5 and features a noiseless on/off switch.
Patented laminated Varimotion diaphragm
– For crisp sound that cuts through every mix
High feedback suppression with supercardioid polar pattern
– For trouble-free use with on stage monitoring
Dual shock mount of microphone capsule
– Eliminates any kind of handling noise
Integrated pop filter
– For elimination of pops and wind noise
Spring-steel wire-mesh grille and rugged die-cast housing
– Withstand every live performance
Specifications:
Audio frequency bandwidth
70 – 20000 Hz
Sensitivity
2.6 mV/Pa
Electrical impedance
600 Ohms
Recommended load impedance
2000 Ohms
Polar Pattern
Supercardioid
Dimensions
Length
185 mm
Diameter
51 mm
Net Weight
320 g
Design
Body
metal
Finish
dark stage blue
Audio Output
Type
Balanced XLR
Gender
Male
Contacts
3-pin
Application
Live Vocal
Yes
Live Instrument
Yes
Instrument
Vocals
Yes
Piano / Strings
Yes
Horns / Woodwinds
Yes
What's in the Box
Package Contents
1 x D5 Microphone
1 x SA61 Stand Adaptor
1 x Microphone Bag
Manufacturer Part No:
3138X00070
Brand:
AKG
Product Type:
–
UPC
885038018575
Product Family:
D5
Shipping Weight:
1.01 kg
PB Part No:
AUDAKG0135
Product Model:
3138X00070
Warranty:
12 months *
* Warranty period is as stated above unless the manufacturer has chosen to specify a longer period.
All warranties are return to base unless otherwise specified.
Why is there a reasonable price displayed?
Discover the reason behind our incredibly reasonable prices! At our company, we prioritize your satisfaction and work tirelessly to offer you access to top-notch brands without breaking the bank. Our commitment to minimizing profit margins enables us to deliver affordability without compromising on quality. Shop with confidence and explore a wide range of reputable products at budget-friendly rates. Your satisfaction is our priority!
AKG D5 3138X00070 Professional dynamic supercardioid vocal microphone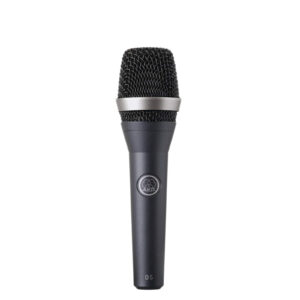 https://www.akg.com/Microphones/Dynamic%20Microphones/D5.html Cuts through the mix The D5 professional dynamic vocal microphone for lead and backing vocals delivers a powerful sound even on the noisiest stage. Its frequency-independent supercardioid polar pattern ensures maximum gain before feedback. The D5 stands for a crisp sound that cuts through every mix. The dual shock mount eliminates any kind of mechanical noise for trouble-free live use. The audience will hear the pristine sound of your voice! The D5 S has the same mechanical, electrical, and acoustic characteristics as the D5 and features a noiseless on/off switch. Patented laminated Varimotion diaphragm - For crisp sound that cuts through every mix High feedback suppression with supercardioid polar pattern - For trouble-free use with on stage monitoring Dual shock mount of microphone capsule - Eliminates any kind of handling noise Integrated pop filter - For elimination of pops and wind noise Spring-steel wire-mesh grille and rugged die-cast housing - Withstand every live performance
Product SKU: 3138X00070
Product Currency: NZD
Price Valid Until: 1970-01-01
Product In-Stock: SoldOut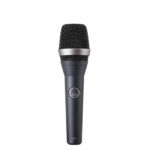 AKG D5 3138X00070 Professional dynamic supercardioid vocal microphone
Your review
* Review is required
Email
* Email is required
Add photos or video to your review