AKG C44-USB LYRA ULTRA-HD MULTIMODE USB MICROPHONE
Email when stock available
Features:
The Center of Your Creative Universe
Whether you're podcasting, making YouTube videos, live streaming, or recording your next hit, easily do it all and sound like a pro with the AKG Lyra Ultra HD, multimode USB microphone. For more than 70 years, the world's greatest recordings and performances have been captured through AKG microphones; now it's your turn. Simply plug Lyra into your PC, Mac, phone or tablet and you're ready to go. System requirements: Windows 8 or higher, Mac OS 10.7 or higher, Android 9 or higher, iOS 10 or higher. iOS support may require Apple Camera Connection Kit, Android support may require OTG adapter cable, available separately. 24-bit/192kHz maximum audio performance is dependent on host device and software capabilities.
Ultra-HD Quality Audio
High resolution 24-bit/192kHz converters
Adaptive Capsule Array
Four-capsule mic array provides four user-friendly capture modes
Easy Set Up with Phone, Tablet, PC/Mac
Intuitive, plug-and-play setup and operation with support for Mac® and PC, plus iOS® and Android™ tablets and phones
Specifications:
Transfer Protocol
USB 2.0
Transducer
4 proprietary, permanently polarized back plate, condenser capsules
Capture Modes
Selectable; Front, Front & Back, Tight Stereo and Wide Stereo
Frequency Response
20Hz – 20kHz
Bit Depth / Sample Rate
24-bit / 192 kHz
Maximum SPL
129 dB SPL (0.5% THD)
Power Requirement/Consumption
5V USB / 75 mA
Headphone Impedance
16 ohms
Headphone Power Output (RMS)
43 mW
Headphone THD
<0.009% Headphone Frequency Response 20 Hz - 22kHz Headphone S/N Ratio 98.0 dB Height 247.5 mm (9.72 in.) Width 107.90 mm (4.23 in.) Length 152.50 mm (6 in.) Manufacturer Part No: C44-USB Brand: AKG Product Type: - UPC - Product Family: - Shipping Weight: 1.01 kg PB Part No: AUDAKG0082 Product Model: C44-USB Warranty: 12 months * * Warranty period is as stated above unless the manufacturer has chosen to specify a longer period. All warranties are return to base unless otherwise specified.
Why is there a reasonable price displayed?
Discover the reason behind our incredibly reasonable prices! At our company, we prioritize your satisfaction and work tirelessly to offer you access to top-notch brands without breaking the bank. Our commitment to minimizing profit margins enables us to deliver affordability without compromising on quality. Shop with confidence and explore a wide range of reputable products at budget-friendly rates. Your satisfaction is our priority!
AKG C44-USB LYRA ULTRA-HD MULTIMODE USB MICROPHONE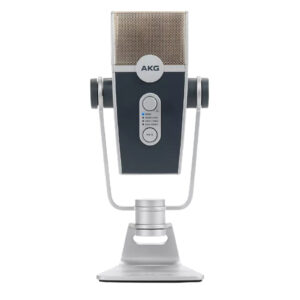 The Center of Your Creative Universe Whether you're podcasting, making YouTube videos, live streaming, or recording your next hit, easily do it all and sound like a pro with the AKG Lyra Ultra HD, multimode USB microphone. For more than 70 years, the world's greatest recordings and performances have been captured through AKG microphones; now it's your turn. Simply plug Lyra into your PC, Mac, phone or tablet and you're ready to go. System requirements: Windows 8 or higher, Mac OS 10.7 or higher, Android 9 or higher, iOS 10 or higher. iOS support may require Apple Camera Connection Kit, Android support may require OTG adapter cable, available separately. 24-bit/192kHz maximum audio performance is dependent on host device and software capabilities. Ultra-HD Quality Audio High resolution 24-bit/192kHz converters Adaptive Capsule Array Four-capsule mic array provides four user-friendly capture modes Easy Set Up with Phone, Tablet, PC/Mac Intuitive, plug-and-play setup and operation with support for Mac® and PC, plus iOS® and Android™ tablets and phones
Product SKU: C44-USB
Product Currency: NZD
Price Valid Until: 1970-01-01
Product In-Stock: SoldOut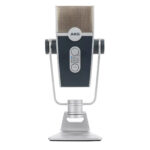 AKG C44-USB LYRA ULTRA-HD MULTIMODE USB MICROPHONE
Your review
* Review is required
Email
* Email is required
Add photos or video to your review