AKG AKG-C22-USB Professional Dual-Pattern USB Condenser Microphone
Email when stock available
Features:
The AKG Ara two-pattern USB microphone lets podcasters, communicators, bloggers, gamers and musicians capture pro-quality, high-resolution sound right from their desktops.
Whether you're streaming, meeting or recording, capture audio at 24-bit, 96kHz resolution for crystal-clear speech clarity and stunning vocal and instrument tracks.
Ara's dual pickup patterns let you focus on a single voice or instrument or everyone in the room: Choose the directional Front (cardioid) pattern to focus on sound directly in front of the mic while rejecting sound from other sides; use the Front + Back (omni) pattern to pick up sounds all around the mic, such as multiple speakers or a group of performers.
Use Ara with the integrated base stand (included), on a desktop boom arm, or with a common microphone stand. On the go? Take an OTG adapter or Apple Camera Adapter with you, and use Ara when away from your desktop computer. It's plug-and-play simple, thanks to USB connectivity and class-compliant drivers.
Pro-Grade, High-Quality Sound
24-bit/96kHz High-resolution audio
Two Audio Capture Modes
Two-capsule mic array provides two user-friendly capture modes
Easy Setup and Universal Compatibility
Intuitive, plug-and-play setup and operation with support for Mac and PC, plus iOS and Android tablets and phones
Headphone Output and Volume Control
Zero latency monitoring while tracking with full control over output volume, mic gain and mute
Versatile Mounting Options
Used with the integrated base stand, with a desktop boom arm, or a common microphone stand
Modern Design
Camera-ready styling for on-screen appeal
Complete Production Solution
Includes Ableton Live 11 Lite audio production software
Specifications:
General Specifications
Microphone Transfer Protocol
USB 2.0
Microphone Transducer
2 fixed-charge back plate, permanently polarized condenser capsules
Microphone Capture Modes
Selectable; Front, Front & Back
Microphone Frequency Response
20 Hz – 20 kHz
Microphone Bit Depth / Sample Rate
24-bit / 96 kHz (The technical specification on the packaging of Harman's AKG Ara incorrectly states that this microphone supports 192 kHz. The correct specification is 96 kHz. Harman is actively working to correct this error, and will have corrected AKG Ara packaging available after November 1, 2021.)
Maximum SPL
120 dB SPL (0.5% THD)
Microphone Power Requirement / Consumption
5V USB / 75 mA
Headphone Output Impedance
16 ohms
Headphone Power Output (RMS)
12 mv (16 ohm)
Headphone THD
0.03% (USB -20dbfs input) ; 0.35% ( Acoustic 94dbfs input)
Headphone Frequency Response
20 Hz – 20 kHz
Headphone S/N Ratio
91db (USB input) ; 76db ( Acoustic 94dbfs input)
Dimensions
Box Dims (L x W x H)
182 x 114 X 221 mm
Product Weight
0.665 kg
Other
What's in the box?
1 x AKG Ara Microphone
1 x 2m USB-C to USB-A cable
1 x 3/8″ to 5/8″ Microphone Stand Adapter
1 x Quick Start Guide
1 x Regulatory Documents
1 x Ableton Live 11 Lite Registration Card
Manufacturer Part No:
AKG-C22-USB
Brand:
AKG
Product Type:
–
UPC
885038048442
Product Family:
–
Shipping Weight:
0.95 kg
PB Part No:
AUDAKG0022
Product Model:
AKG-C22-USB
Warranty:
12 months *
* Warranty period is as stated above unless the manufacturer has chosen to specify a longer period.
All warranties are return to base unless otherwise specified.
Why is there a reasonable price displayed?
Discover the reason behind our incredibly reasonable prices! At our company, we prioritize your satisfaction and work tirelessly to offer you access to top-notch brands without breaking the bank. Our commitment to minimizing profit margins enables us to deliver affordability without compromising on quality. Shop with confidence and explore a wide range of reputable products at budget-friendly rates. Your satisfaction is our priority!
AKG AKG-C22-USB Professional Dual-Pattern USB Condenser Microphone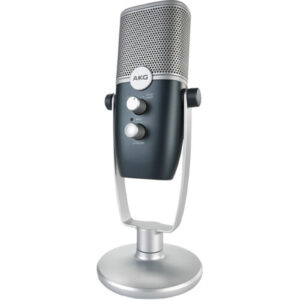 The AKG Ara two-pattern USB microphone lets podcasters, communicators, bloggers, gamers and musicians capture pro-quality, high-resolution sound right from their desktops. Whether you're streaming, meeting or recording, capture audio at 24-bit, 96kHz resolution for crystal-clear speech clarity and stunning vocal and instrument tracks. Ara's dual pickup patterns let you focus on a single voice or instrument or everyone in the room: Choose the directional Front (cardioid) pattern to focus on sound directly in front of the mic while rejecting sound from other sides; use the Front + Back (omni) pattern to pick up sounds all around the mic, such as multiple speakers or a group of performers. Use Ara with the integrated base stand (included), on a desktop boom arm, or with a common microphone stand. On the go? Take an OTG adapter or Apple Camera Adapter with you, and use Ara when away from your desktop computer. It's plug-and-play simple, thanks to USB connectivity and class-compliant drivers. Pro-Grade, High-Quality Sound 24-bit/96kHz High-resolution audio Two Audio Capture Modes Two-capsule mic array provides two user-friendly capture modes Easy Setup and Universal Compatibility Intuitive, plug-and-play setup and operation with support for Mac and PC, plus iOS and Android tablets and phones Headphone Output and Volume Control Zero latency monitoring while tracking with full control over output volume, mic gain and mute Versatile Mounting Options Used with the integrated base stand, with a desktop boom arm, or a common microphone stand Modern Design Camera-ready styling for on-screen appeal Complete Production Solution Includes Ableton Live 11 Lite audio production software
Product SKU: AKG-C22-USB
Product Currency: NZD
Price Valid Until: 1970-01-01
Product In-Stock: SoldOut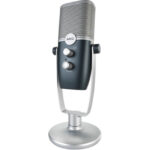 AKG AKG-C22-USB Professional Dual-Pattern USB Condenser Microphone
Your review
* Review is required
Email
* Email is required
Add photos or video to your review